Vanderbilt plan to come out 'aggressive' after 4-0 loss to Texas that forces 2nd bracket final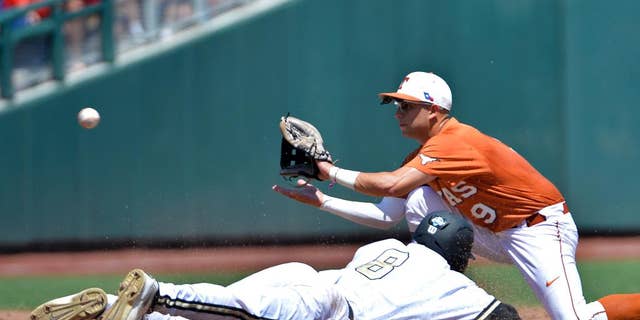 OMAHA, Neb. – Vanderbilt hopes to use its experience from super regionals to stay alive at the College World Series.
Texas' Nathan Thornhill and John Curtiss combined on a 4-0 shutout on Friday that forced a second bracket final between the teams on Saturday.
"We faced a very similar situation at Stanford, and I can tell just coming off the field that it's a very similar mindset," Commodores pitcher Brian Miller said. "We just know that when our backs are against the wall, we're going to come out really aggressive and strong just like we did against Stanford, and it's definitely going to be fun to play tomorrow."
The Longhorns (46-20) and Commodores (48-20) will be playing for a spot in the best-of-three finals against Virginia or Mississippi. Those teams played a bracket final Friday night.
The Commodores were without third baseman Xavier Turner, who was ruled ineligible by the NCAA for the rest of the CWS for an unspecified rules violation. Tyler Campbell, who had appeared in 14 games and had a total of 15 at-bats, started in Turner's place and went 2 for 3.
"I thought he came in today and gave us a shot in the arm, stayed inside two balls, drove them to right-center today, made a great glove play," Vanderbilt coach Tim Corbin said. "I'm happy for him."
Vanderbilt came out strong in the decisive third game of super regionals, scoring five runs in the first inning on its way to a 12-5 win.
It would be asking a lot to expect the same performance against a dominating Texas pitching staff.
For the second straight game, Texas pitchers didn't allow a runner past second base. The Longhorns have held opponents scoreless 19 straight innings and have given up four runs in their four games in Omaha.
Chad Hollingsworth and Travis Duke combined on a four-hit shutout against UC Irvine on Wednesday, and Thornhill (9-3) allowed six hits while leading Texas to its 13th shut of the season.
Texas scored twice in each of the first two innings to lead 4-0, with a couple of the runs crossing the plate as a result of quirky plays.
Vanderbilt starter Tyler Ferguson (8-4) lasted just two-thirds of an inning.
"Just couldn't handle the moment," Corbin said. "That's too bad because the kid deserves better. He works very hard, and he's got great stuff, and you didn't see Tyler Ferguson today, unfortunately."
Miller went the rest of the way, holding Texas to four hits and striking out eight.
The Longhorns scored in some unusual ways to take the early lead.
Texas' first run came home when C.J. Hinojosa sent a low line drive up the middle with bases loaded. Second baseman Dansby Swanson was there to start a possible double play, but umpire Mark Uyl couldn't dodge the ball. The ball struck Uyl, meaning the play was dead, and runners were allowed to advance one base. That allowed Brooks Marlow to score from third.
Marlow tripled in a run in the second and scored when Miller, after tagging Mark Payton on a close play at first, dropped the ball as he rolled on his back after a near collision. First-base umpire Jeff Head initially called Payton out, then reversed himself, and the call stood after an umpire conference.
"We did a good job of stopping them for the most part," Corbin said. "I would say they are dangerous. You know, we helped them a little bit. I don't say that in a negative way. You don't want to be playing uphill early in the game like we did."