Van Gaal unsure if De Gea will still be at United on Tuesday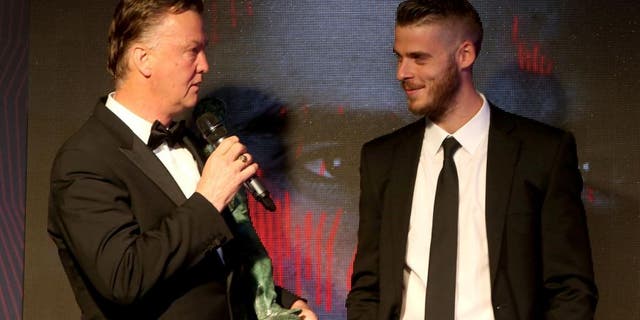 NEWYou can now listen to Fox News articles!
Louis van Gaal "does not know" if David De Gea will still be a Man United player on Tuesday - with the Spanish window due to shut on Monday.
Van Gaal insisted 10 days ago that De Gea would not be leaving the club, despite the Spain international banished to the sidelines this season amid strong interest from Real Madrid so far this season.
However, Van Gaal's stance appeared to soften following United's 2-1 Premier League defeat to Swansea on Sunday, despite new goalkeeper Sergio Romero gifting the home side their winning goal.
The Spanish transfer window closes at midnight on Monday - 18 hours before it does so in England - so any deal to take De Gea to the Bernabeu must be done well ahead of the English deadline of 6pm on Tuesday.
When asked whether the 23-year-old would stay at United, Van Gaal replied: "I don't know.
"We have to wait and see but I don't want to interfere.
"As a manager we have divided our tasks and the task is for Ed Woodward (United chief executive) and not for me.
"You can ask all the players but you have to wait and see until Manchester United make an announcement, or the club where he is going to make an announcement. Otherwise he stays.
"But we have coped with the situation by buying Romero. That is what we have done as a club to settle that issue. We have done it well."
Van Gaal also refused to discuss reports linking Javier Hernandez with a move to German club Bayer Leverkusen, but he was more forthcoming in his defense of Romero.
"You can write everything you want," Van Gaal said when asked about Romero's performance.
"What I always say is defending starts in front and not only in the last line.
"You can always analyze errors but I don't think that is a good way.
"You have to see the way the team is defending as a team and then I know what errors have been made.
"At the end, of course, the pressure for the last defender or goalkeeper is always higher. I don't agree when you only say the goalkeeper was not so good."