Valencia's hot start making fast impression on new A's teammates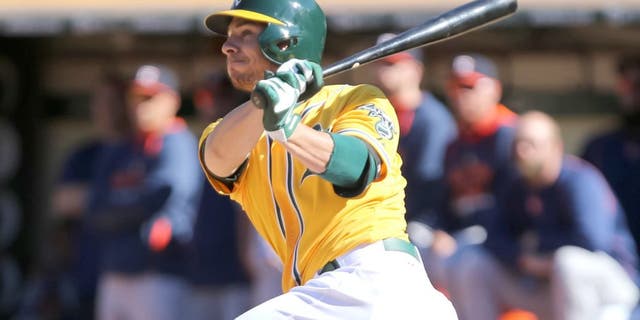 Ever since the Oakland Athletics acquired Danny Valencia off waivers from the Toronto Blue Jays in early August, things have gone quite well. Valencia has had an eventful early tenure with the Green and Gold, culminating in a series vs. the Houston Astros in which he went 6-11 with two home runs and a walk-off RBI single in Sunday's 5-4 win.
Said Valencia to MLB.com's Trevor Hass after Sunday's game: "The team's been great to me, and I've been fortunate enough to come through with some hits and we've won some games. So it's been fun so far."
His new A's teammates are absolutely thrilled to have him on board, judging by their quotes. As pitcher Chris Bassitt told Hass after Sunday's walk-off, "We got a gift-wrapped present from Toronto, I promise you that. My goodness. How he got [designated for assignment] is shocking to every single person on this team, including coaches. I don't know how we got him. I really don't. He is unreal."
Matt Kawahara of the Sacramento Bee passed on a similar quote from catcher Stephen Vogt: "Surprised we got him. He's got some pretty outrageous numbers to be DFA'd (designated for assignment)."
As for how Valencia is fitting in alongside his new teammates, pitcher Jesse Chavez had this to say to Kawahara: "He's had good at-bats, he's been good in the clubhouse, and he's been good in the dugout. It's been a (small) sample size, but it's a sample size we look forward to going forward."
First impressions are everything, they say, and so far Danny Valencia is doing everything right with his new team.