Valencia battle back twice to draw with ten-man Real Madrid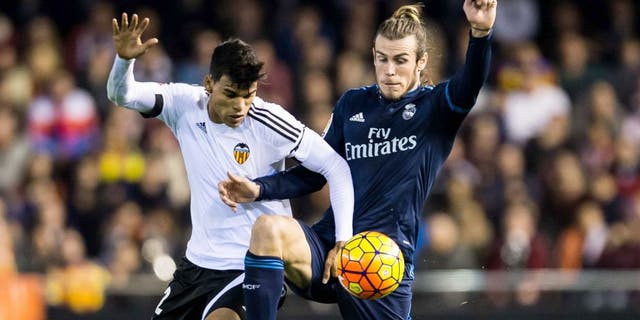 Gary Neville is still looking for his first La Liga win as the manager of Valencia, but the English boss will no doubt take huge satisfaction with a 2-2 Sunday draw that denied Real Madrid a chance to move second in the table and may have piled more pressure on their embattled boss, Rafa Benitez.
Real Madrid twice led, first through Karim Benzema, then again thanks to Gareth Bale, but Valencia got even just before halftime on a Daniel Parejo penalty, then answered Bale's go-ahead goal with a reply from Paco Alacacer that left honors even.
So Atletico Madrid remain top of the league table, two points clear of Barcelona and four ahead of their city rival. Barcelona, which had dropped two points of its own on Saturday in a draw with Espanyol, has a match in hand on both of its challengers.
There was a little bit of everything on display in the Mestalla as a sellout crowd saw a high-paced, often tense match that managed to straddle the line between physical commitment and questionable contact.
Real Madrid finished with 10 men after Mateo Kovacic was sent off in the 68th minute but Valencia was not able to take real control after the visitors were playing a man short. Indeed Bale's header came after the ejection, while Alcacer's immediate reply redressed the balance and produced a fair result.
Benzema's 16th minute goal was a wonderful piece of football that had to be appreciated even by the partisans of the hosts. The French international began the move when he recovered possession straight out some 25 yards from goal and spotted Bale on his right. Bale accepted the pass with a back-heeled delivery to Cristiano Ronaldo, who was standing on the 18 yard line between defenders.
Ronaldo didn't hesitate, but quickly side-footed the ball into the path of Benzema, now steaming between defenders and into the box. Benzema controlled with one touch, then slid the ball into the left corner with Jaume Domenech completely beaten. It was sublime, special and happened in the blink of an eye.
It was a passionate, physical first half that tilted toward Valencia after Real took the lead. The home team should probably have scored twice before getting even, both opportunities thanks to moves created by Rodrigo De Paul. Joao Cancelo headed an open chance wide of the left post in the 31st minute and Andre Gomes sliced a shot wide of the same woodwork seven minutes later before making the run which resulted in Valencia getting level.
Andre Gomes made still another run down the inside left, outpacing Pepe before going down when clipped from behind by the Real defender. Daniel Parejo gave Keylor Navas no chance to save his spot kick and the teams went off level at the break.
Gomez came close again in the 64th minute, forcing Navas to make a reaction parry to a hard drive that was dipping away from the Madrid goalkeeper but neither team was able to establish control.
The match boiled over in the 69th minute when, first, Ronaldo was denied a penalty claim at one end, then Kovacic saw the direct red card after a sliding studs-showing tackle. Ronaldo seemed to have been pushed away from a chance by Aymen Abdennour but referee Sanchez Martinez turned a blind eye. He had no choice but to send Kovacic off after his wild tackle on Cancelo in the immediate aftermath of that penalty box incident.
Bale's 82nd minute header put Real back on top with a grand finish from the right side of the box, the Welshman rising to Toni Kroos' raking free kick and directing it to the far left corner with perfect execution.
DePaul then laid the equalizer on for Valencia a minute later, Paco Alcacer with his own answering header that left Navas with no chance after Rodrigo headed the initial ball back across the face of the Real Madrid net.
And there was more to come, both teams nearly winning it in stoppage time with Navas called upon to make the save of the match to preserve the point.