UW will be no trouble for Stanford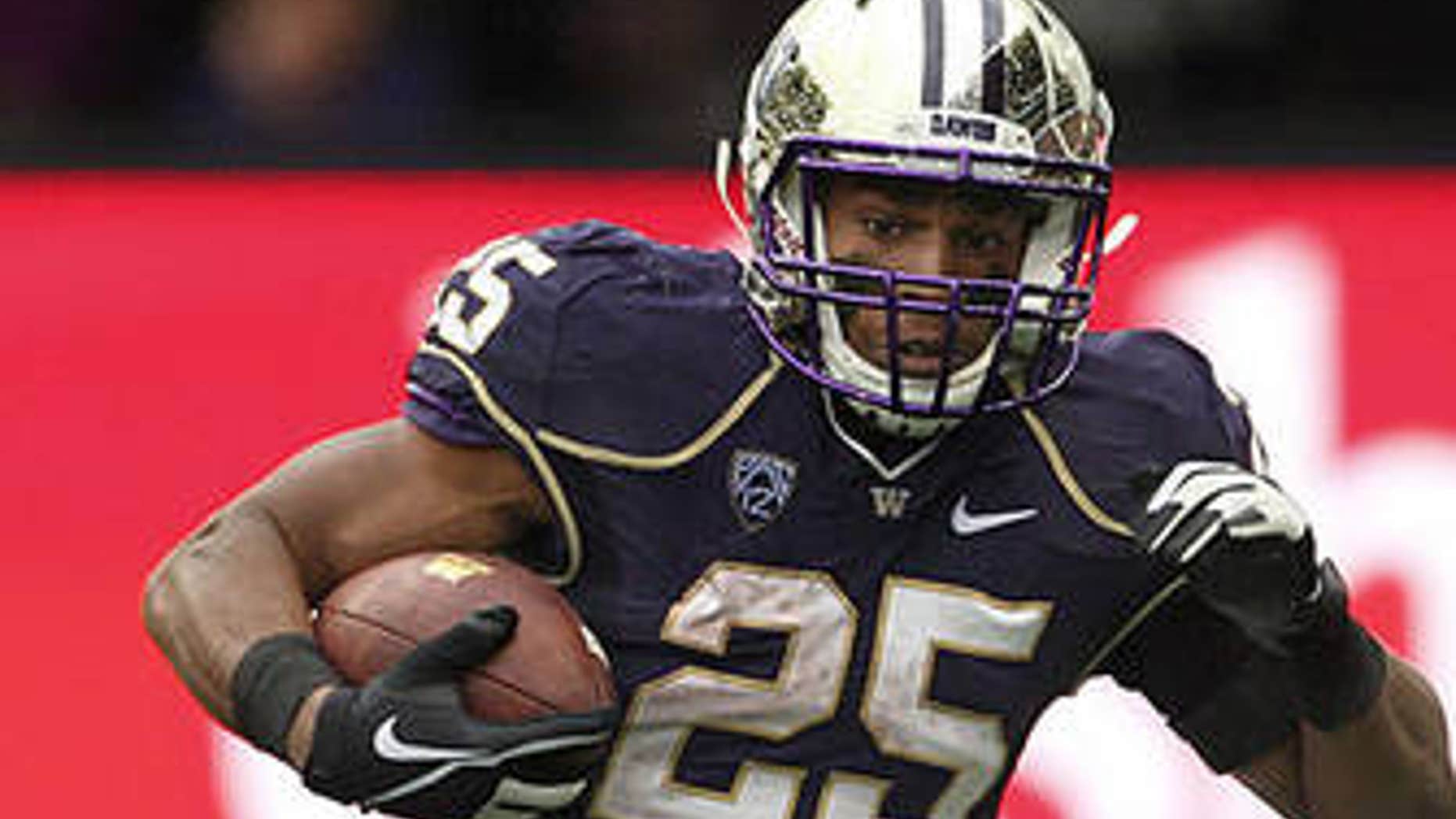 The best game in Week 6 of the college football season will be played in Palo Alto, Calif., when No. 15 Washington visits No. 5 Stanford.
Both teams are coming off big wins last week – with Washington beating Arizona and Stanford taking down Washington State – and now our focus turns to a Pac-12 game that some believe could result in an upset. Given the relative strengths of these two teams, the game will likely be determined on the outcome of one specific battle: Washington's run game against Stanford's front seven.
The Husky run game has been sledding through opposing defenses so far this season, with the lead Dawg being Bishop Sankey. A junior, Sankey leads the nation in rushing with 151.8 yards per game – a byproduct of him also leading the country in attempts per game with 26 – and has six total touchdowns (five rushing, one receiving) in Washington's first four games.
Meanwhile, Stanford's defense suffocated opposing offenses last season like Dexter in a kill room, allowing only 97 yards per game on the ground, which was fifth-best in the nation. The Cardinal returned a slew of run stoppers this year -- including first-team All Pac-12 linebacker Trent Murphy and second-team defensive linemen Ben Gardner and Henry Anderson -- and this Saturday will be their biggest challenge yet.
Will the Cardinal crumble under the force of Washington's run game and be an upset victim this weekend?
I don't see that happening. I see Stanford stuffing Sankey and the UW running attack and moving onto Utah next week without much of a hitch.
How will Stanford's defense accomplish that? Here are the three keys to shutting down Sankey.
1. Set the defense quickly and be ready
One of the most dynamic aspects of Washington's offensive resurgence in 2013 is its quickened tempo. Last year UW averaged 65 snaps per game. This year the Huskies are blazing turf with 85 plays per game.
They don't run the "hurry-up" offense the entire game, rather only in select moments when they are attempting to gain a competitive advantage on the defense (e.g. After picking up a first down, UW might then shift into high gear and run the hurry-up, catching the defense in a vulnerable position. Then, in a subsequent series, they'll return to a normal tempo, waiting for their next opportunity to kick it up and strike. This ebb and flow is the heart of the hurry-up attack.)
When the Huskies do pick up the pace, however, it's crucial for Stanford to be ready.
Take a look at this photo from Washington's game against Arizona last week to see an example of a defense not in position when the ball is snapped:
As you can see, Washington has snapped the ball and both of Arizona's linebackers have their backs turned away from the U-Dub offense. They were oblivious to the fact the play had started, as they tried to get the defense set into the correct play call. Sankey hit Arizona for about a 10-yard gash on this play.
When you watch the game this week, take note of the blistering pace at which Washington's offense can roll (every 14 seconds, at times), and check to see if the Stanford players receive the defensive play call quickly enough and are ready to rock when the ball is snapped.
2. Be disciplined in run gaps
Washington's run game can be difficult to defend at times because of its confusing blocking schemes.
When offensive linemen simply block the person in front of them, it's easy for defensive players to defend the run gap for which they are responsible. It's usually the one directly in front of them.
But when one of the offensive linemen "pulls," or suddenly moves after the ball is snapped to block a different gap, the defensive player must quickly recognize that his run gap responsibility has changed too. The defender must also pull along with the offensive lineman to defend his new gap.
As you can see in the photo below, the linebacker for Arizona did not adjust when his run gap changed, which left him the same gap as one of his teammates. No bueno.
The linebacker's new gap, to which he should've moved after the ball was snapped, was left wide open and Sankey was able to hit Arizona for big yardage. It's imperative for Stanford to be disciplined in fitting its run gaps against a back as talented as Sankey.
3. Keep contain
When you flip on the film of Washington, it doesn't take long to see that Sankey is really good at "hitting the edge" of the defense.
He runs around the corner of a defense faster than a jackrabbit running to a hot date. He sets up his outside runs well by making it look like he's going to run inside before bursting out around the edge.
This is able to happen when the edge defender (the defensive player responsible to keep all run plays contained) gets nosey and leaves his responsibility to try to get in on the action that he thinks is going to happen in the gut of the defense.
Defenders who are responsible for containing plays often get burned by running backs with great vision and sneakiness, like Sankey, who sell the inside run but then dart around the edge where the defender should have been. On every play, whether they are cornerbacks, linebackers or safeties, Stanford's edge defenders must be disciplined and keep contain.
If the Cardinal fail to do any of these three things against Washington, then the Huskies will have a shot – perhaps even a good one -- to knock off the No. 5 team on the road.
But given how detailed and disciplined David Shaw's team typically is, I don't foresee this weekend being a great test for the Cardinal. That will come later.