USADA confirms Jon Jones 'B' sample positive for banned substance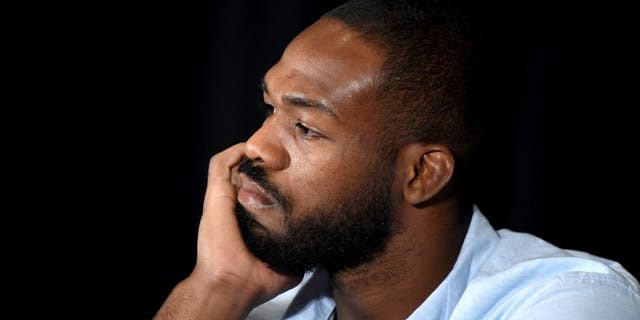 NEWYou can now listen to Fox News articles!
Jon Jones has a long road ahead of him before he will fight again.
The interim light heavyweight champion was pulled from UFC 200 on Wednesday after he was flagged for a potential doping violation stemming from an out-of-competition drug test administered by USADA (United States Anti-Doping Agency) representatives on June 16.
Jones then asked for his 'B' sample to be tested to confirm the validity of the first test where a banned substance was found in his system.
Those results are now back and the 'B' sample confirms the same findings of the 'A' sample.
"I can confirm that Mr. Jones' 'B' sample results have been reported by the laboratory and the results confirm the findings of the 'A' sample," Ryan Madden, USADA spokesman told FOX Sports on Friday.
During a press conference on Thursday morning after he was pulled from UFC 200, Jones fought through a veil of tears as he denied knowingly taking any banned substances during his preparation for the upcoming fight with Daniel Cormier.
Jones' manager Malki Kawa stated that the fighter had requested that the 'B' sample would be tested, but they both understood that the chance of the result being any different was slim to none.
Now those findings have been returned and confirmed.
At this point, Jones is still afforded a full appeals process through USADA, who administers the UFC's anti-doping policy.
Jones and his manager hinted on Thursday that they believe he may have been the victim of a tainted supplement that caused the positive drug test result, but it's too early to speculate on what that may have been considering they were just notified on Wednesday.
As of now, Jones will have to wait for his appeals process to play out before he can make any plans to fight again.
Jones could face a two-year suspension depending on the circumstances surrounding his doping violation, but if those sanctions are levied, they won't be handed down until a later date.
With Jones out of UFC 200, former middleweight champion Anderson Silva stepped in to replace him and he now faces Cormier on the historic card Saturday night.