USA Track to keep national champ off Worlds roster over shoe dispute?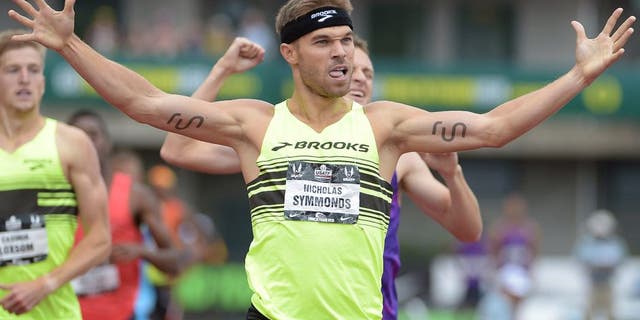 What to wear, what to wear?
Nick Symmonds, America's national champion and the defending world runner-up at 800 meters, expects to be sitting home when the track world championships start later this month, all because of a feud over what he can and cannot wear during the trip to Beijing.
Symmonds refused to sign a contract USA Track and Field requires all athletes to sign by Sunday to be officially named to the team.
The team will be named Monday morning. Worlds start Aug. 22.
"I don't think USATF is bluffing," Symmonds told The Associated Press on Sunday night. "I think they're dumb enough to leave me home."
The issue is Nike's standing as USATF's official uniform sponsor. Anyone going to China on the U.S. team is required to wear Nike gear at all team functions. Symmonds is sponsored by a rival shoe company, Brooks, and wants it clearly spelled out what constitutes a team function.
He says he's willing to skip the trip to China, which would likely cost the United States in the medal table, but could also cost him prize money.
A fight worth fighting, says the 31-year-old who's training in Seattle. Symmonds is known for speaking his mind on social and business issues that surround what he believes is a widely corrupt world of track and field. He couldn't hold his tongue on this topic, believing that giving Nike so much power on what athletes can and can't wear at events such as worlds and the Olympics may hinder sponsorship deals down the road.
"You just can't give a monopoly to a company and expect there to be a healthy, viable sport," Symmonds said. "It's never going to change unless someone makes a stand. It's unfortunate that's going to have to be me. It's unfortunate it might leave me off the team to Beijing. But it's time to wrestle some of our power back from USATF, because they've taken a lot of it."
In a statement, USATF said the organization "respect(s) Nick and whatever decision he makes," but the language of the contract is the language.
"It is the industry standard across all sports that there are certain requirements for when a team uniform and apparel must be worn," the statement said. "Those specifications may vary from sport to sport, but all sports and teams have them.
"We all make our best efforts to balance athletes' personal interests with those of the sport, federation and team. Often times those interests are aligned, and sometimes they conflict."
Symmonds was a Nike-sponsored athlete for around seven years before switching over to Brooks on Jan. 1, 2014, because, "I needed a company that could work with me and match my personality a little bit better and Brooks' run-happy culture is what I needed to take my running to the next level," he explained.
He won the 800 at the national championships in June, finishing in a time of 1 minute, 44.53 seconds. Symonds elected to skip lucrative competitions in Europe to focus on training at home, just to be in tiptop shape for Beijing. He feels like he's in peak condition, maybe even better than when he captured silver at the 2013 world championships in Moscow.
"Now I don't even get to realize this fitness, which is terrible," he said. "My hands are tied right now. If I'm on the team, I've got my visa, my passport and my bags are packed. I'm good to go.
"If I'm not on the team, I'm going to sit down and have a chat with my lawyer."
He's hoping to keep this out of the courtroom, though. He wants to work with USATF CEO Max Siegel and come to some sort of amicable agreement. But time is running short.
"I've invested a lot of time, money and energy into preparing for Beijing," Symmonds said. "If all that sacrifice doesn't get to be realized and I don't get to go out and race and do what I do best, which is run for my country, I feel like some real damage has been done."