USA Hockey names 16 to IIHF World team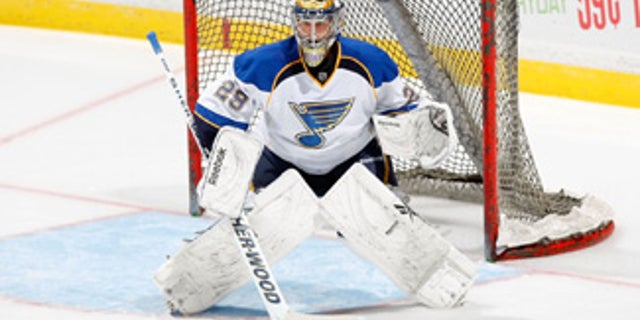 USA Hockey revealed the names of 16 players for the 2011 U.S. Men's National Team on Wednesday who will compete at the IIHF World Championship in Kosice and Bratislava, Slovakia, from April 29-May 15.
The list includes two goaltenders, four defensemen and 10 forwards, and features 14 players from the NHL. The average age of the 16 players is 23.8.
There are 11 players with U.S. national team experience, including New York Islanders goalie Al Montoya and Atlanta Thrashers defenseman Mark Stuart. Additionally, six of the 16 players are alumni of USA Hockey's National Team Development Program, including Montoya and Stuart, Toronto Maple Leafs forward Mike Brown and defenseman Mike Komisarek, St. Louis Blues defenseman Kevin Shattenkirk and Florida Panthers forward Jack Skille.
The Thrashers and Blues each have three players on the roster. Those players are Shattenkirk, goalie Ty Conklin and forward Chris Porter of the Blues and Stuart, Tim Stapleton and Blake Wheeler of the Thrashers.
Five players will be making their Team USA debut for the U.S. National Team, including New Jersey Devils defenseman Mark Fayne, and forwards Andy Miele of the Phoenix Coyotes, Nick Palmieri of the Devils, Porter and Stapleton. Miele, a senior at Miami University of Oxford (Ohio), was named the recipient of the 2011 Hobey Baker Memorial Award on April 8 in St. Paul, Minn. He received Central Collegiate Hockey Association Player of the Year honors and a First-Team league all-star berth. Miele's 24 goals and 71 points included 22 multiple-point games; his 47 assists were tops in the nation.
Team USA, which won the relegation pool last year to finish 13th in the 16-team field, placed fourth at the 2009 World Championship and won a bronze medal in 2004. All teams at the 2011 WC may begin the tournament with 20 skaters and three goalies -- an additional two players can be added after the first three games.
Scott Gordon will serve as head coach for the second consecutive year after leading the 2010 U.S. Men's National Team. He'll be assisted by Greg Cronin, Phil Housley and Barry Smith.
The team will open play April 30 against Austria before meeting Norway on May 2 and Sweden on May 4. The medal round is slated for May 15 at Orange Arena in Bratislava.