US Women's Open players arrive at Pinehurst No. 2 to prepare, catch finish of men's Open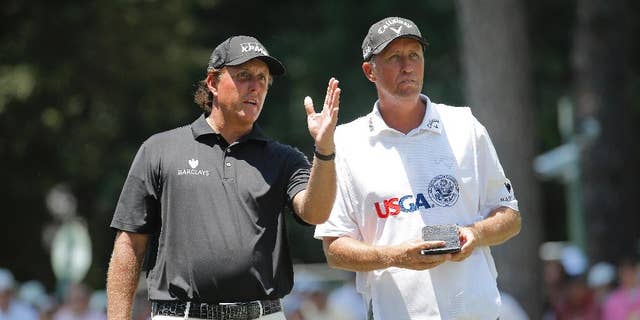 PINEHURST, N.C. – In the final group at a major for the first time, Rickie Fowler was on the putting green about 45 minutes before his tee time with six other players.
All were women.
Defending U.S. Open champion Justin Rose was walking over a bridge when he passed another player headed to the practice range. Rose stopped and turned his head. It was Pernilla Lindberg of Sweden.
Sunday at the U.S. Open was unlike any other.
Even as the men were wrapping up their championship, the women arrived to prepare for the U.S. Women's Open — the second half of an unprecedented doubleheader at Pinehurst No. 2.
"It's cool to run into the girls," Rory McIlroy said. "I would like to see it happen more often. I think it's a good thing. I think it's a good thing for women's golf to give them a little bit more exposure. ... I'm going to tune in on and watch next week just to see how they get on around here and see how they fare."
USGA officials had expressed hope for some cross-promotion between the events. They got that, from Natalie Gulbis taking swings at the driving range to Sandra Gal watching German countryman Martin Kaymer in the final men's group.
"I hope putting them back-to-back works out," Phil Mickelson said. "All of the execution from the USGA's side gets cut in half. You only have to do it once instead of twice, and hopefully they will be able to make it more profitable and put more money back into the game."
The U.S. Women's Open begins Thursday.
___
BERGER'S 66: Daniel Berger closed his first U.S. Open with one of the week's lowest scores at Pinehurst No 2.
The 21-year-old ranked 484th in the world finished at 4-under 66 in Sunday's final round. It was the lowest round outside of runaway leader Martin Kaymer's back-to-back 65s on Thursday and Friday.
"Today I hit a lot of greens, gave myself a lot of opportunities," Berger said. "And when you do that, you're bound to make some birdies."
Berger came into the final day at 11-over, with most of that damage coming from a 78 on Saturday. But after managing just six birdies so far, Berger had five birdies with his only bogey coming on the 14th Sunday.
His biggest improvement came with his putter. After tallying at least 32 putts in each round, Berger had 26 on Sunday.
Berger, on the Web.com Tour, turned pro last year out of Florida State and was the medalist at the sectional qualifier at Vero Beach, Florida, this month.
"When you play on such a big stage as this, the Web.com doesn't feel as big," Berger said. "But obviously I've got to kind of shift my focus back to Web.com, have a couple of good weeks, and if all goes well I'll be out here next year."
___
TODD BOUNCES BACK: Oddly enough, local favorite Brendon Todd felt relaxed Sunday after a nightmarish performance a day earlier.
His scorecard showed it, too. After shooting a 79 on Saturday, Todd had a 1-under 69 and finished three of his four rounds below par.
With more favorable pin placements, the 28-year-old Todd — who played high school golf about an hour's drive from here outside of Raleigh — shook off an early double bogey and finished with five birdies. He finished at 4 over for the tournament, with a first-round 69 and a second-round 67.
"A major championship, that's what we all play to win," Todd said. "So the fact that I put myself in position to play in the last group on the weekend in a major, I think that's going to be a huge experience for me going forward."
___
JOHNSON'S ACE: Zach Johnson watched the ball drop into the ninth hole, flipped his club in the air then ran around high-fiving fans.
Managing an ace in the U.S. Open deserved a good celebration.
His shot landed about 20 feet left of the flag on the 172-yard hole, bounced twice, then curled down a ridge into the cup. It was the 44th ace in Open history and the third straight year that a player had a hole-in-one.
Johnson, who finished at 9 over, said it was his first in competition.
"I mean, it makes a pretty sour to average week a little sweeter right?" Johnson said. "Especially on Father's Day."
___
REMEMBERING PAYNE: Matt Kuchar was the latest player to pay tribute to the late Payne Stewart at the site of his final victory.
The heels of Kuchar's shoes bore the silhouette of Stewart thrusting his fist while standing on one leg. That's the pose he struck after hitting the 15-foot putt that won the U.S. Open the first time it was held here in 1999. Stewart died four months later in a plane crash.
Rickie Fowler played the first round wearing plus-fours and knee-high argyle socks, the outfit that became Stewart's trademark.
___
FITZPATRICK'S FINALE: Matthew Fitzpatrick completed his final event as an amateur with a bit of history.
The Englishman had a 1-under 69 on Sunday as the only amateur to make the cut. That made him the first to hold the title of low amateur at the U.S. Open and British Open at the same time since Bobby Jones in 1930.
The 19-year-old U.S. Amateur champion finished the Open at 11 over and will make his pro debut next week in the Irish Open.
___
AP Golf Writer Doug Ferguson and AP Sports Writer Joedy McCreary contributed to this report.
___
Follow Aaron Beard on Twitter at http://www.twitter.com/aaronbeardap