US women win 1st gold in Olympic water polo, led by high scoring 19-year old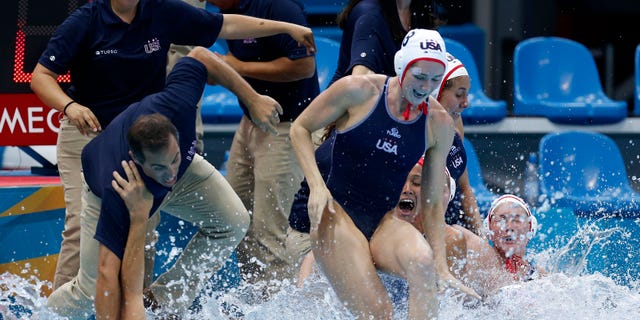 NEWYou can now listen to Fox News articles!
In her first Olympics, Maggie Steffens wanted to make sure Brenda Villa and Heather Petri won that long-elusive gold medal in their last.
The 19-year-old Steffens on Thursday capped a stunning two-week performance in London, scoring five goals to power the U.S. past Spain 8-5 and give the Americans their first ever Olympic women's water polo title.
The win was extra sweet for Villa and Petri, two decorated veterans playing in their last Olympics. They had medaled for the U.S. at every games since women's water polo made its debut in 2000, but had never won gold — until now.
"I am speechless. It still hasn't sunk in," Villa said. "I can't describe it. It's the end of a journey, and I got my fairy-tale ending."
The U.S. has long been a power in women's water polo, but the Americans had never translated their success at other major competitions to the Olympics, finishing third in 2004 and second in 2000 and 2008.
After the disappointment of Beijing, Villa and Petri and five other veterans from 2008 came back this year, and were joined by a talented batch of new players, chief among them Steffens.
"The moment she came into training camp, you never would have thought she's a kid. She plays like a veteran," Villa said. "For me, one of the oldest on the team, it's an honor to play with someone so talented. She brought a spark to the team that was needed."
Steffens brought more than a spark to the Olympics. Her five-goal effort in the final came as a bookend to her stunning seven-goal Olympic debut to open the games, on her way to racking up a tournament high tally of 21.
Against Spain she was unstoppable, scoring with long-distance shots, outmuscling Spanish defenders in front of goal to score from close range and even slotting home a penalty shot.
"I'd say she was the best player in the world in this tournament," coach Adam Krikorian said.
"But there's no way we do this without everyone else."
Certainly not against an unbeaten Spain team that tied the U.S. 9-9 in the preliminary round and had impressed in London with sharp shooting and an effecient defense.
But after a tight first quarter in the final, it was the U.S. defense, with goalkeeper Betsey Armstrong batting away shots and defenders swarming Spain's shooters, that turned the game in the Americans' favor.
"We got some momentum there defensively, and once we get some momentum defensively, oh man, it's tough to get the ball past us," Krikorian said.
As the defense locked Spain down, Steffens was heating up on the other end of the pool, scoring three goals over a six minute stretch to give the U.S. a 5-2 lead by halftime. Spain looked stunned by the onslaught, and never really challenged the rest of the way.
After the final buzzer sounded, Villa hugged Armstrong in front of the goal and the rest of the team — and coaching staff — jumped into the pool celebrate.
The silver marked a remarkable step for Spain, which entered the tournament as a dark horse.
"This is a historic achievement," coach Miguel Oca said. "This is our first Olympic Games and we have won the silver medal. We are happy with silver, although we were going for the gold medal. But the U.S. team were physically much stronger this time."
For Steffens, who will head off to Stanford this fall for her freshman year, it was just the send off she'd imagined having for Villa and Petri as they leave water polo behind.
"I've looked up to Brenda and Peti, and I was at the 2008 games and I felt that passion of the loss," she said. "I wanted this for Brenda and Peti — to be able to retire and go out with the happiness of having gold, and for the '08 girls, to fill that void, to get the gold medal."