US Open umpire scrutinized for talking with Nick Kyrgios mid-match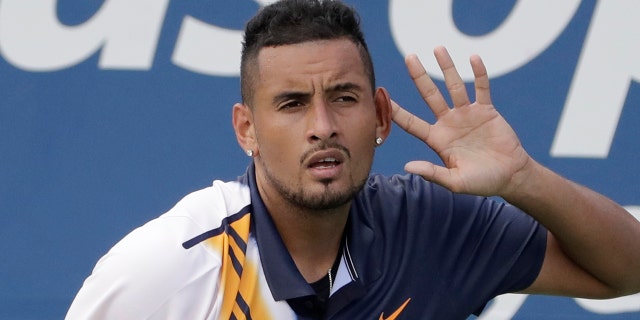 A U.S. Open umpire drew scrutiny Thursday after he appeared to be coaching up controversial tennis star Nick Kyrgios during his match against Pierre-Hughes Herbert.
Mohamed Lahyani, one of the most well-known tennis umpires, climbed down from his chair and held a conversation with Kyrgios after he went down 3-0 in the first set of the second-round match. Lahyani appeared to have thought Kyrgios wasn't giving 100 percent in his match, which the tennis player had admitted to in the past.
A brief recording captured the conversation between Lahyani and Kyrgios, ESPN reported.
"I want to help you, I want to help you," Lahyani purportedly told Kyrgios. "I've seen your matches: you're great for tennis … I can see that … I know this is not you."
The alleged pep talk appeared to inspire Kyrgios. He came back to beat Herbert, 4-6, 7-6 (6), 6-3, 6-0.
Herbert said the conversation between his opponent and the umpire didn't really affect him as he was trying to focus on himself during the match. However, he did say he thought the meeting was unnecessary and he didn't think Leyhani needed to become Kyrgios' coach at that moment.
Herbert released a second statement after reviewing the video of the two, saying he was "angry" with the umpire.
Kyrgios contended that Lehyani wasn't giving him a pep talk and that the same thing happened to him in Shanghai.
"The same thing happened to me in Shanghai, before," Kyrgios said. "The chair umpire said the same thing. 'This does not look good for the integrity of the sport. Doesn't have a good look.' It had no effect at all."
Kyrgios said the conversation didn't affect his play.
"If I had come back to win six games in a row, then [the accusation is] fair. But it didn't help me at all, to be honest," he said.
The U.S. Tennis Association defended Lehyani's decision to talk to Kyrgios in a statement, saying the umpire left his chair because he was concerned about the players' health.
"Lahyani was concerned that Kyrgios might need medical attention. Lahyani told Kyrgios that if he was feeling ill, that the tournament could provide medical help. He also informed Kyrgios that if his seeming lack of interest in the match continued, that as the chair umpire, he would need to take action," the organization said in a statement.
Chris Widmaier, a USTA spokesman, told the Associated Press on Friday that Lehyani's chat with Kyrgios went "beyond our protocol," but the umpire wasn't going to be sanctioned.
The Associated Press contributed to this report.