US men's basketball squeaks by in first Olympic test against Lithuania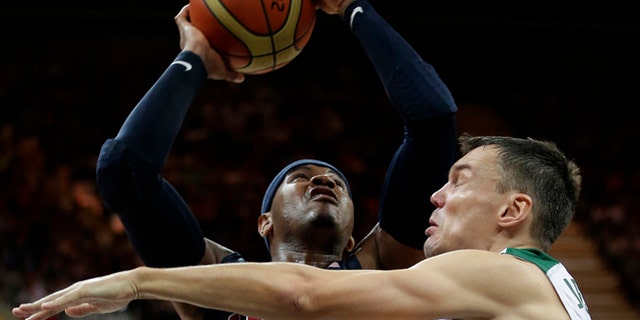 LONDON – The U.S. men's basketball team survived its first test of the Olympics Saturday, beating Lithuania 99-94 after trailing in the fourth quarter.
Two nights after beating Nigeria by 83 points and scoring an Olympic-record 156 points, the Americans didn't take the lead for good until Chris Paul's 3-pointer with 5:38 remaining.
LeBron James took over late, scoring eight of his 20 points in the final four minutes to help the Americans remain unbeaten and avoid their first loss in the Olympics since falling to Argentina in the 2004 semifinals. Carmelo Anthony also scored 20 and Kevin Durant had 16.
The U.S. could never gain control of the game, leading just 55-51 at halftime after a poor defensive effort and yielding 58 percent shooting for the game.
Linas Kleiza led Lithuania with 25 points.