US judo fighter expelled from Olympics after testing positive for marijuana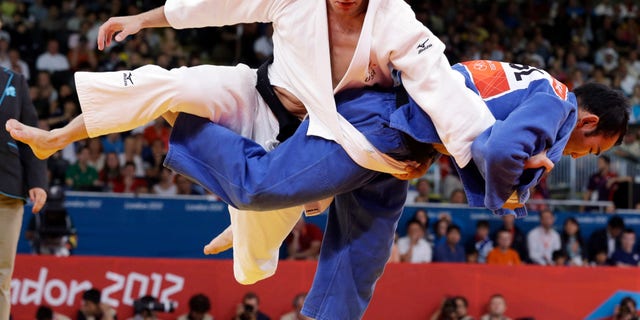 LONDON – American judo fighter Nick Delpopolo was expelled from the Olympic Games on Monday after testing positive for marijuana he said he ate accidentally before arriving in London.
Delpopolo is the first of the 10,500 games athletes to fail an in-competition doping test.
His case is the fifth positive test for a banned substance reported by the IOC since its official London Games testing period began in mid-July. The other four athletes were caught before competing.
The International Olympic Committee said it disqualified Delpopolo from the men's 73-kilogram class, where he placed seventh.
Delpopolo tested positive for metabolites of cannabis after competing on July 30.
He apologized to the United States team in a statement acknowledging he was "embarrassed by this mistake."
"My positive test was caused by my inadvertent consumption of food that I did not realize had been baked with marijuana, before I left for the Olympic Games," Delpopolo said in a statement released by the U.S. Olympic Committee.
"I look forward to representing my country in the future, and will rededicate myself to being the best judo athlete that I can be," he said.
Delpopolo "shall have his Olympic identity and accreditation card canceled and withdrawn immediately," the IOC said.
USOC spokesman Patrick Sandusky said the team was "absolutely committed to clean competition" and supported Delpopolo's disqualification.
"Any positive test, for any banned substance, comes with the appropriate consequences," Sandusky said.
The IOC said it would ask the International Judo Federation to alter the standings in Delpopolo's event. He beat opponents from Hong Kong and Belgium, then lost to fighters from South Korea and Mongolia.
Delpopolo faces further sanctions as the IOC requested that judo's governing body "consider any further action within its own competence."
The 23-year-old Delpopolo commented on his official games biography that he found training for London to be intense and he would like to return to study.
"I would also like to try and get a job wherever; it wouldn't matter to me," he is quoted as saying on the official website. "These two things would be a good change of pace from the 'always train' life I live now.
"Don't get me wrong, I would still practice, train and compete judo but not as intense or as much as I am now. But in 2014 I would start preparing for the 2016 Games again."
Delpopolo was born Petra Perovic in the former Yugoslavia in what is now the independent republic of Montenegro, the biography said.
He was adopted by an American family, who named him Nick, and he grew up in New Jersey.