US hockey hero Oshie is latest success story from tiny Minn. town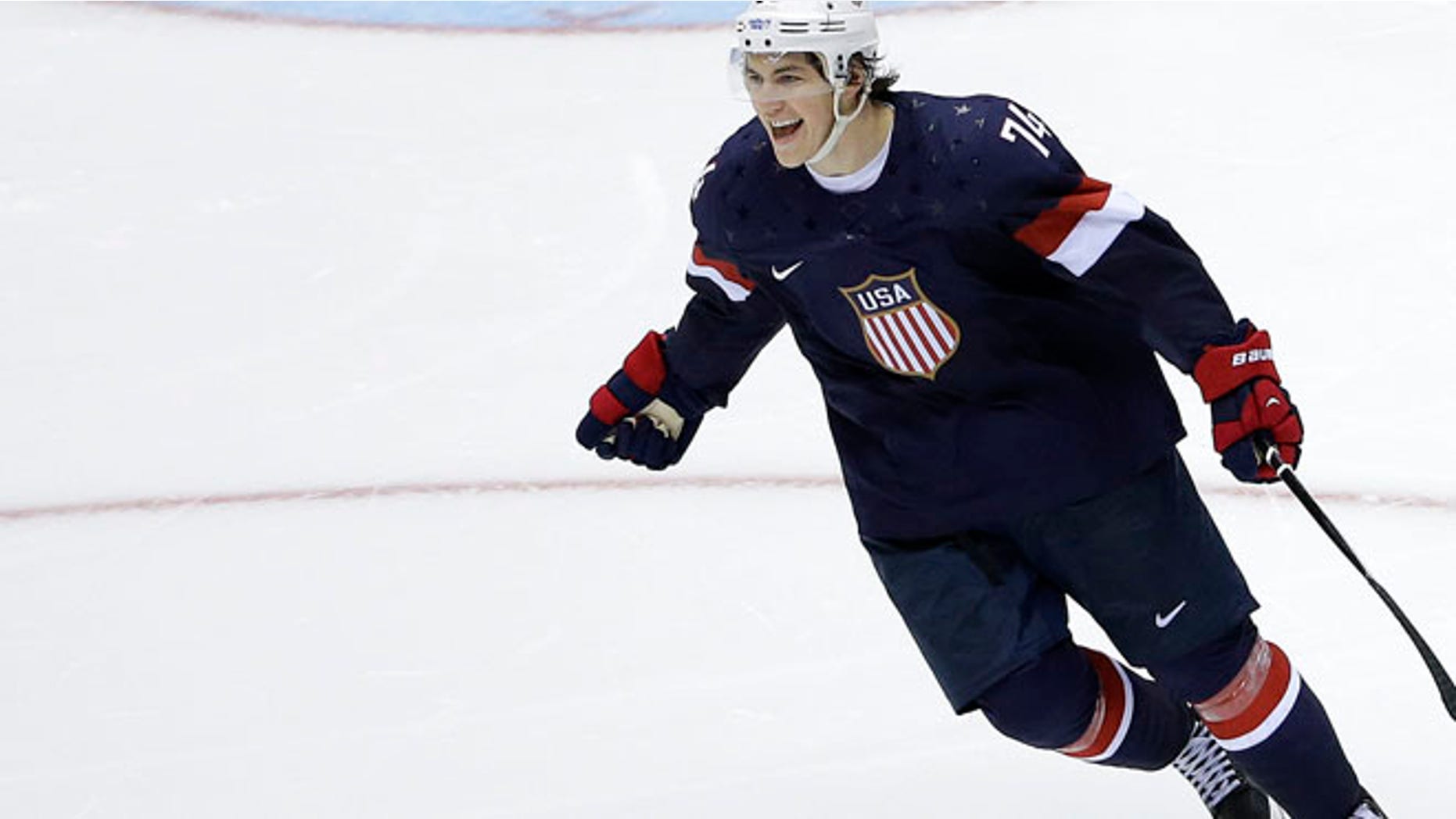 WARROAD, Minn. – As T.J. Oshie led the U.S. men's Olympic team to a dramatic 3-2 shootout win over Russia on Saturday, people in his tiny northern Minnesota hometown were screaming in joy at their televisions, daring to hope that the 27-year-old would be the latest from Warroad to bring home Olympic gold.
Warroad, a town of fewer than 2,000 people that's six miles south of the Canadian border, has the Midas touch. No U.S. men's team has ever won a gold medal without having a Warroad player on its roster.
"I think it's pretty amazing that we're such a small town and we get such big opportunities," said Sarah Casperson, 16, a sophomore at Warroad High School. "People here are so talented."
Oshie, a forward with the NHL's St. Louis Blues, is one of two residents playing hockey in the Sochi Olympics. The other is Gigi Marvin, his former high school classmate and homecoming queen when he was king in 2005, the Belleville (Ill.) News-Democrat reported.
The tiny town is filled with tributes to Oshie and Martin. Store windows are plastered with posters wishing the Olympians good luck, and huge U.S. flags hang everywhere.
Casperson joked that kids in Warroad -- which bills itself as "Hockeytown USA" -- learn to skate before they can walk, but there's truth to it.
"From the time kids are tiny their parents have them in skates," said Marnie Swedberg, who owns a retail store in town. "From the time they're 2 or 3, they've got them in the rink."
There's a long history of hockey greatness in this rural outpost, where the cold winters make for perfect ice-skating conditions. All six hockey Olympians, including Marvin, have medaled in past games, according to USA Hockey, the sport's governing body.
Warroad native Dave Christian was part of the Miracle on Ice team that topped Russia in 1980 for the gold medal, and is one of five from Warroad in the U.S. Hockey Hall of Fame. His father, Bill Christian, and uncle, Roger Christian, won medals in 1960 and 1964 and are Hall of Famers. Another uncle, Gord Christian, took silver in 1956.
Henry Boucha, an Ojibwa Indian, won silver with the U.S. men's team in 1972 and was inducted into the Hall of Fame in 1995.
And Marvin, the granddaughter of Hall of Famer and former national team coach Cal Marvin, won a silver medal with the U.S. women's team in 2010.
Whether Oshie can duplicate the success of his predecessors remains to be seen, though his four shootout goals during Saturday's preliminary round game have put him in the spotlight.
University of North Dakota hockey coach Dave Hakstol, for whom Oshie played for three years, remembered his protege as an intense competitor who had a knack for rising to the occasion.
The bigger the stage, the better Oshie plays, Hakstol said.
"I don't think anybody's surprised by what he did today," Hakstol said. "You saw he had a little grin on his face before he took each shootout. That's just him out there having fun and competing."
Oshie has said he tries to be unpredictable with his shot selections in high-pressure situations, and he leads the NHL with seven shootout goals in 10 tries this season.
While Oshie might not be a household name, hockey fans respect him as one of the best, his former coach said.
"Today he introduced himself to the world," Hakstol said. "I think his personality will really endear people to him. He's such a humble, fun-loving guy. And then when he gets on the ice he competes as hard -- or harder -- than anybody out there."
After Saturday's win, Oshie addressed the expectations of his fans back home.
"I'm definitely going to try to represent the town and obviously the country as best I can," Oshie said. "There's some big shoes to fill in there so I'll just try to do my part."