US beach volleyball star Walsh won't let pinkeye dig quest for gold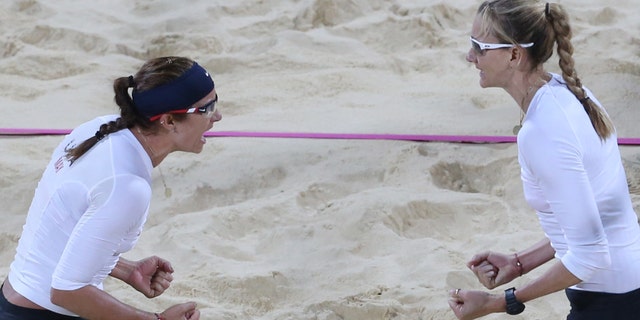 LONDON – She can't hold her children. High-fiving her teammate is risky. But two-time Olympic beach volleyball gold medalist Kerri Walsh Jennings said she won't let pinkeye affect her performance in the London Games.
"It's super minor," she said Tuesday at a meet-and-greet with reporters arranged by the FIVB, the sport's international governing body. "It just looks worse than it is."
Walsh Jennings' left eye was red and watery as she squinted through it, dabbing it repeatedly with a tissue to wipe away the gunk and teardrops. Her husband, fellow beach volleyball pro Casey Jennings, has it much worse.
"It looks like his eyeballs got their butts kicked," she said.
But her two sons don't have it yet, and Walsh Jennings is trying to avoid contact with them as much as possible. (Sundance, 2, already has a cold but has avoided the eye infection so far.)
"It's not pretty, so we're trying to keep that away from him," she said. "I didn't even get to hold Sundance last night. I saw him in the stands, and he looked at me like he was so mad at me. So I need to love him out today, but I can't kiss him or it would infect him. I don't want to give him this."
Beach volleyball is a two-person sport, and most teammates hug or slap hands after every point like NBA players on the free throw line. Walsh Jennings and partner Misty May-Treanor discussed a change in the routine, but that lasted only a few points before they decided it was silly.
Instead, Walsh Jennings has skipped the traditional pre- and post-match handshakes with opponents, but not before explaining to them that she doesn't mean to be rude.
"That's a big deal here," she said. "I really respect these girls and my whole thing is to give high-fives. That's normal for me. I don't want them to think I'm big-leaguing them or being a jerk. I didn't want to infect them. I just didn't want to leave any room for error."
At a media event, she declined to shake hands with a reporter and instead offered an "air high-five."
Walsh Jennings and May-Treanor have opened the London Games with victories in their first two matches in pool play -- a 16-game winning streak that stretches back to Athens. They are virtually assured of a spot in the knockout round regardless of what happens in Wednesday night's match against Austrian sisters Doris and Stefanie Schwaiger.
And opponents hoping for a sign of weakness should look elsewhere.
"I'm good," said Walsh Jennings said. "(The doctor) said 'You'd be in big trouble if you weren't as healthy as you are, because this could get really ugly really fast."'
Walsh Jennings said she is taking antibiotics for the infection, but with an ever-growing list of banned substances she gets nervous every time she pops a pill.
The doctors have told her the infection should last about 2 1/2 weeks, which means she'd have to deal with it through the Aug. 8 title. Told that the pictures wouldn't look so pretty, she said, "The gold medal makes everything look good."