Urijah Faber will retire following next fight at UFC in Sacramento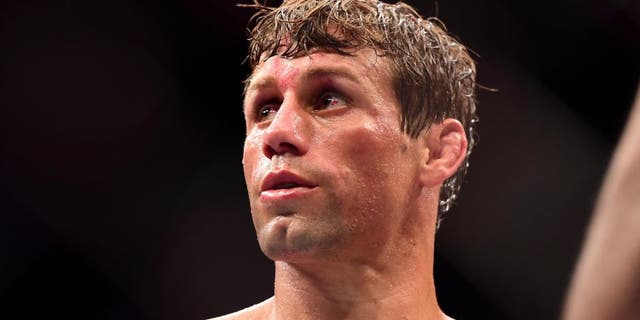 "The California Kid" is ready to call it a career.
Former WEC champion and multi-time UFC title challenger Urijah Faber announced on Monday that he will retire following his next fight against Brad Pickett at FOX UFC Fight Night in Sacramento on Dec. 17.
"I've been kind of waiting for this, and this is actually going to be my last fight," Faber told MMAFighting. "And it just feels right to do it in (Sacrament) in this new arena. It just feels like the right time and the right place.
"I've been waiting for this new arena to be built, I was waiting for that Dominick Cruz opportunity, and I feel like this is going to be an epic event and I can't wait to do it in front of the people I love."
The Golden 1 Center just opened in downtown Sacramento and will serve as host to the UFC event headlined by Faber's teammate Paige VanZant when she faces Michelle Waterson in a strawweight main event.
As for Faber's decision, he's hinted at retirement recently after a career that spans 13 years and more than 40 fights in multiple promotions.
Faber has gone 1-3 over his past four fights while losing back-to-back decisions to bantamweight champion Dominick Cruz and most recently dropping a bout to Jimmie Rivera at UFC 203 in September.
Despite those setbacks, Faber remains one of the top fighters in the world at 135 pounds, but he believes now is just the right time to have one last bout and then hang up his gloves.
"It took a long time to get to this point where I'm skilled enough and I'm in a position where I can fight and have a great time, but like my last fight, and my last couple fights, I haven't found that emotional rise or fall," Faber revealed. "That is kind of a strange thing for me.
"I still love what I'm doing and that's the reason why I'm doing it, but I just feel like this is going to be something that's going to be an emotional thing for me, it's going to be a passion thing. I'm going to train my butt off, and I just feel like right now is the right time."
Faber has been a stalwart of mixed martial arts in Sacramento after founding his gym, Ultimate Fitness, which serves as home to Team Alpha Male. It's there where Faber established himself as a top fighter and coach while bringing up several notable competitors including former bantamweight champion T.J. Dillashaw as well as current title contender Cody Garbrandt.
At 37, Faber will go to battle this last time against Pickett in his hometown and then he will retire from the sport once and for all.