Urijah Faber 'sad' to see TJ Dillashaw go, excited for Team Alpha Male future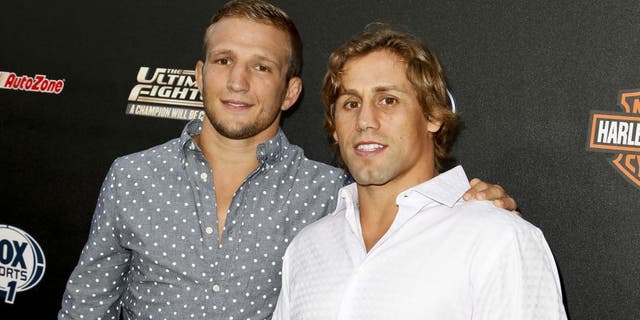 NEWYou can now listen to Fox News articles!
Earlier this week, UFC bantamweight champion TJ Dillashaw announced that he was leaving Sacramento's Team Alpha Male to join a new team in Colorado. The 135 pound title-holder was recruited into MMA by Team Alpha Male and its leader Urijah Faber, and the 29 year-old has enjoyed great success since that time.
Dillashaw appeared Tuesday on Stud Radio, and credited his time at Faber's team for his development. "I wouldn't trade that in for the world," he said.
"It's got me to where I'm at. It's helped me out. It's taught me the person I am. I've learned so much here. The experience I've had here has been unreal."
On Wednesday, Faber sent the following statement to FOX Sports, expressing sadness, but also pride and optimism. "We are sad to see TJ go," the former featherweight champion wrote us.
"He has been a product of our team and we are very proud of that. I'm excited for the future of our team, and the champions in the pipeline."
Dillashaw went on to explain that he simply could not turn down the money that was offered him to train in Colorado. "If anybody else was in my situation, they would take the exact same deal," he said.
"This is a very short-lived career. I have to do what's best for myself."
Dillashaw's move will put him closer to a former Team Alpha Male coach, Duane Ludwig, who has feuded with Faber and other members of the team for some time even before he left the team to start his own gym in Colorado.
Dillashaw split time between Sacramento and Colorado to prepare for his most recent title defense, in July.