Urijah Faber: Conor McGregor will be even more dangerous at lightweight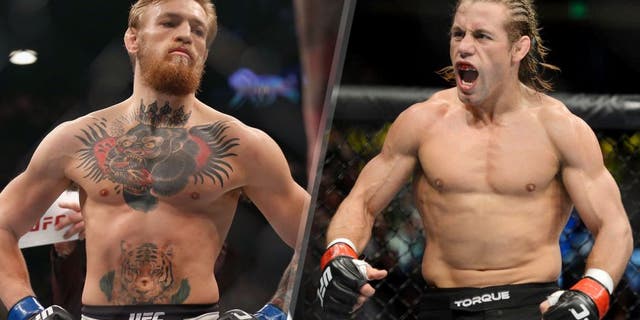 Urijah Faber may have had his share of heated verbal and physical exchanges with Conor McGregor in the past year, but even he has to admit that the way McGregor knocked Jose Aldo out at UFC 194 last month was impressive.
"You gotta be impressed with Conor," he recently told Jonathan Shrager of The Underground (above).
"The guy put his money where his mouth was. That's some legendary s--- right there. That is a legendary thing to do. The build-up, the way it was, with what Conor said, and then the way he delivered -- that's legendary."
Faber agreed that Aldo was more than likely affected by the Irishman's trash talk leading up to their featherweight title fight. "Pissed off and aggressive? 100 percent," he said of the long-time 145-pound champ.
"He was doing a step-over wind-up. He was looking to land a massive left, which he actually landed. Instead of kicking the leg like he usually does, or faking takedowns, etc. he was like, 'I'm going to drop a bomb on this dude.' It cost him dearly."
McGregor is next moving up in weight and fighting Rafael Dos Anjos for his 155-pound title. When he returns to featherweight, Faber believes that the next man to face "Notorious" should be former lightweight champ and No. 1 featherweight contender Frankie Edgar.
"You can't deny Frankie," he continued.
"It's unfortunate for Aldo. I don't think Aldo needs to fight someone else in order to get a rematch. I don't think he needs to fight his way back, but I think Frankie's the next guy. If I were Aldo, I would sit out, heal my head, work on whatever you need to work on, or think about, and then get that fight, again. I wouldn't fight, again, necessarily. I would just wait, heal, and get my chance."
When McGregor faces Dos Anjos in March, he'll be trying to make history as the first UFC champion to hold two titles at once. It will be an uphill task but Faber believes that he'll have at least some factors in his favor.
"To be honest, Conor has that knockout power, and being a little bit bigger, he's going to be even more dangerous," the Team Alpha Male leader predicted.
"But RDA is no dummy, and I think he'll probably learn from Aldo's mistakes and learn from Chad's success and work real hard to grapple and make it an ugly fight with Conor. If that's the case, it's going to be a bad day for Conor, unless Conor makes some big improvements, which I would think, and hope ... that he's wrestling every day, and he's doing jiu-jitsu every day.
"You can make some big leaps and bounds with the right people behind you and mentality."