Urban Meyer explains why Ohio State suddenly seems unstoppable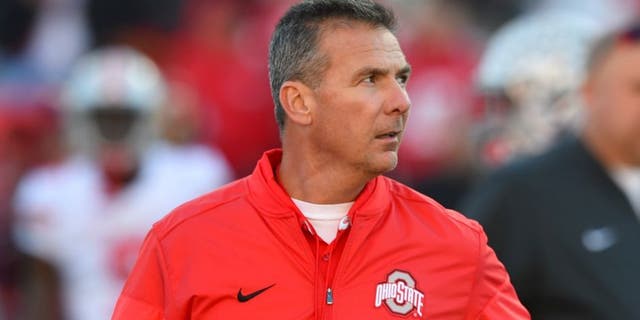 In the middle of the season, says Ohio State coach Urban Meyer, the Buckeyes "hit about a three-week wall." After averaging 53.2 points in their first five games, they failed to crack 25 in regulation at Wisconsin and Penn State and against Northwestern. They suffered their first defeat 24-21 in State College on Oct. 22.
"Those were tough road games, with Wisconsin coming off a bye week and Penn State coming off a bye week, and Northwestern is a good team," Meyer told FOX Sports on Sunday. "You get back at 5:30 a.m. -- we were completely off our schedule. On top of that, it's a young ream that's relatively inexperienced."
Suffice to say the 9-1 Buckeyes have broken through that wall the past two weeks, notching identical 62-3 routs against 8-2 Nebraska and at 5-5 Maryland. An offense that for several weeks could not get into a rhythm suddenly could not be stopped.
"There's a lot of reasons," for the explosion, said Meyer. "The offensive line is keeping our quarterback protected, we're throwing the ball much better. The receivers had their two best games, they're blocking each for other, and of course J.T. [Barrett] is playing better."
And then there's Curtis Samuel.
The Buckeyes' speedy H-back seemingly went missing for a few weeks, with Meyer faced weekly with questions about his lack of touches. But against Nebraska he caught a 75-yard touchdown pass and accounted for 178 yards on 13 rushes or catches. Against Maryland, three of his nine touches went for scores.
While Barrett is Ohio State's more recognizable star, Buckeyes fans are starting to push for Samuel to garner Heisman consideration. The junior is currently the only player in the country with more than 600 yards both rushing (637) and receiving (750).
"He hasn't been healthy his first two years, but the minute we saw Curtis in our first spring practice we thought we had something special," said Meyer, who considers Samuel his most impactful hybrid back since Percy Harvin at Florida. "A lot of it is creativity and finding ways to move him around. Defenses are pretty smart. You've got to have some answers."
Ohio State, which visits 3-7 Michigan State on Saturday, rose to No. 2 in the AP and coaches polls Sunday and will likely do the same in the selection committee's Tuesday rankings. But due to their Penn State loss, the Buckeyes may not be able to win the Big Ten East. It's an unusual position for a team that may be the nation's most formidable threat to No. 1 Alabama.
"We won't even talk about that," said Meyer. "All our laser lights are on Michigan State. We're playing well, we've got a lot of good chemistry."
And an offense that appears to be jelling at just at the right time.