Upon further review: Vikings vs. Chargers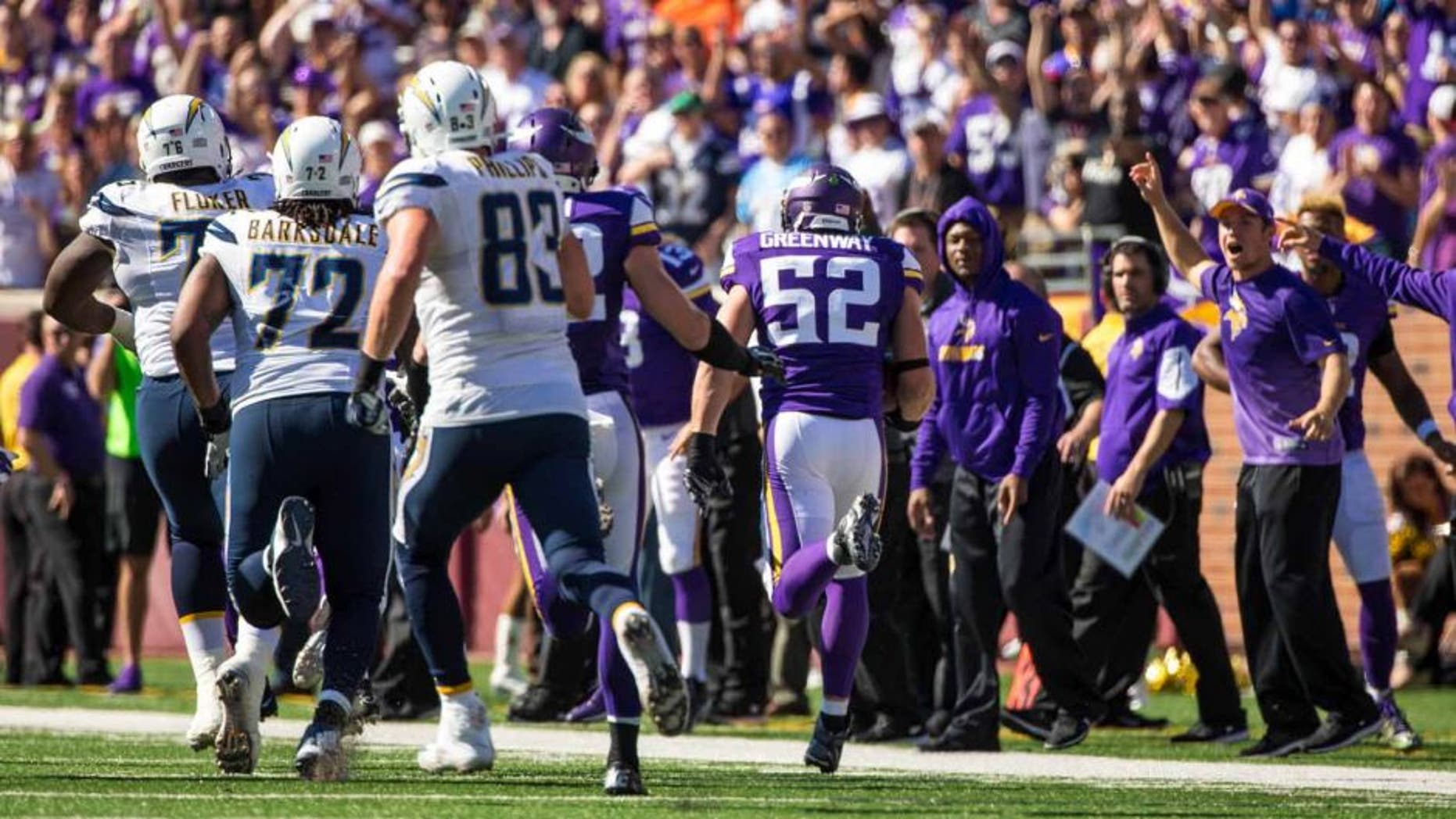 Adrian Peterson had gone 142 carries without a touchdown before reaching the end zone early in the second quarter on Sunday. At that point, Peterson was off and running.
And the Vikings' rout was on.
Peterson's two scores were just a couple highlights in Minnesota's resounding, 31-14 rout of San Diego at TCF Bank Stadium on Sunday.
Peterson produced the 44th 100-plus-yard rushing game of his career -- just hours after his wife gave birth to a boy named Axyl -- and the Vikings' defense pillaged the Chargers' backfield in a game that played out precisely how coach Mike Zimmer drew it up.
Here's a recap of a day in which Minnesota tormented Philip Rivers and company.
SUNDAY SCHOOL
-- Peterson was back in top form on this day. He scored the game's first touchdown with a two-yard plunge early in the second quarter, giving the Vikings star his first rushing score since Nov. 3, 2013 at Dallas. Later, Peterson used a vicious stiff-arm around right end to kick start a jaw-dropping, 43-yard scoring run. He ended with 20 carries for 126 yards in a performance that was vintage "All Day."
-- Minnesota's front seven on defense was ferocious. There were stars aplenty on this day, like rookie linebacker Eric Kendricks, who had a team-high nine tackles. Anthony Barr and Everson Griffen were also in Rivers' face often, limiting the Chargers star to 246 passing yards, one touchdown and one interception. If the Vikings can continue to create that much havoc up front, they should be able to create turnovers fairly consistently this season.
-- Xavier Rhodes' head injury will be worth watching. Minnesota's standout cornerback left Sunday's contest with 1:17 remaining before halftime, after colliding with teammate Andrew Sendejo. Rhodes was eventually diagnosed with a concussion. Other Vikings who got dinged up on Sunday: receiver Charles Johnson (rib injury); safety Andrew Sendejo (leg) and defensive end Justin Trattou (ankle).
-- Teddy Bridgewater was one minor negative for Minnesota on an otherwise encouraging day for the Vikings. The second-year signal-caller was only asked to be a game-manager on this day, which partially explains his modest stat-line (13 for 24, 121 passing yards). His one interception on the day was ugly, though, as he threw off his back foot into the end zone, early in the first quarter.
DULY NOTED
-- Vikings rookie cornerback Trae Waynes, who was the 11th overall pick in the 2015 NFL Draft, saw his first legitimate defensive snaps on Sunday. Waynes entered the game after Rhodes' aforementioned head injury, playing the right cornerback spot. Waynes acquitted himself well, getting in on five tackles, including four solo stops.
-- Minnesota played with improved discipline a week after committing 10 penalties against Detroit. The Vikings were flagged just four times for 50 yards against the Chargers. Conversely, visiting San Diego was saddled with 12 penalties for a whopping 138 yards.
-- There were connections galore between these two franchises. For example, Vikings offensive coordinator Norv Turner served as the Chargers' head coach from 2007-12, posting a 56-40 regular-season record. Also, Waynes and San Diego rookie running back Melvin Gordon both grew up in Kenosha, Wis., and were teammates at Bradford High School before both were selected in the first round of the 2015 NFL Draft.
-- Kicker Blair Walsh held up just fine for the first time in 2015. After his well-documented struggles in August and early September, the Vikings' kicker was a non-issue on Sunday, making his one field-goal attempt (from 24 yards) and all four of his PAT tries. That's nothing special, but for the much-maligned Walsh, it represents mild progress.
WHAT IT MEANT
After two straight wins, the 2015 Vikings are probably right where most pundits predicted they'd be after three weeks -- possessing a 2-1 record. Memories of that ugly Week 1 loss in San Francisco have been further suppressed.
PLAYER OF THE GAME
While Peterson produced most of the game's offensive highlights, the Vikings' defense left the biggest impression on fans (and on Rivers' rib cage). And Minnesota's top defensive performer was arguably Everson Griffen, who registered a game-high 1.5 sacks. Griffen's most impressive play came just before the first-half's two-minute warning, when he flew in and sacked Rivers for an eight-yard loss.
DON'T FORGET ABOUT ME
Barr co-starred on the Vikings' highlight reel against the Chargers, as he was credited with six tackles, one sack and one forced fumble. His forced fumble late in the first quarter set up the day's first score, a short field goal.
THAT MOMENT
At the 13:57 mark of the fourth quarter, Vikings veteran linebacker Chad Greenway sealed San Diego's fate. At that juncture, the linebacker corralled a tipped ball for an interception, then followed a convoy of teammates 91 yards into the end zone. You know that "pick-six" (the second of his career) had to be encouraging for the 32-year-old linebacker, whose role has been reduced this season.
THIS NUMBER
0. Minnesota has allowed zero points in the first quarter this season. Over the last two weeks, at least, that has helped the Vikings seize early control of games.
THEY SAID IT
"We want to hit the quarterback as many times as we can, that's for sure. We want to do it legally; we want to do it in the right target area. . . . The last two weeks we've hit these guys a few times." -- Minnesota head coach Mike Zimmer
"Believe it or not, I did play a lot of offense in high school, so I knew what to do with the football (on the 91-yard interception return). . . . Once I avoided the first tackle I just saw purple jerseys around." -- Minnesota linebacker Chad Greenway
"My son was born early this morning, so that right there kind of put things in perspective. It was just like, 'Wow, this is what life is really about.' So coming in here today . . . there was really only one way to end this today and a victory was it." -- Minnesota star Adrian Peterson
WHAT'S NEXT
Minnesota will face a stiff challenge from Peyton Manning and the Denver Broncos on the road next Sunday at 3:25 p.m.
Follow Kelly Beaton on Twitter