Upon further review: Vikings at Broncos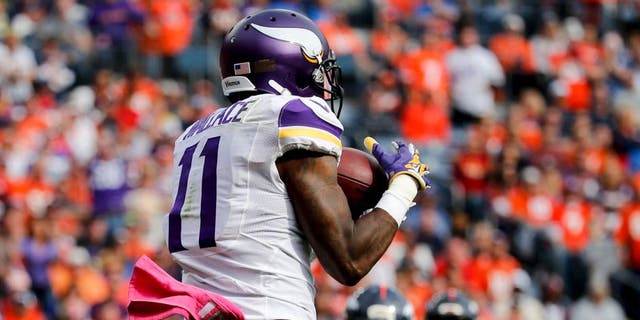 NEWYou can now listen to Fox News articles!
Adrian Peterson, Anthony Barr and Teddy Bridgewater did all they could to quiet a raucous crowd in Denver on Sunday. Unfortunately for the Vikings, their offensive line was unable to silence a ferocious Broncos pass rush.
Denver's front seven made noise all day, registering seven total sacks in the Broncos' 23-20 defeat of the Vikings.
Minnesota displayed some intestinal fortitude in rebounding from a slow start in the Mile High City, but Mike Zimmer's squad nevertheless fell to 2-2 on the young season.
Here's a recap of the biggest factors in Sunday's Vikings loss:
SUNDAY SCHOOL
-- The Vikings' defense appears to be playoff caliber. Yes, Peyton Manning recorded the 100th regular-season home win of his career on Sunday, but Minnesota made the future hall of famer look average at times, limiting him to 213 yards, one touchdown, two interceptions and a modest 68.9 passer rating. Anthony Barr especially got the best of Manning shortly before halftime, when Barr produced an interception in zone coverage and nearly completed a "pick-six" play.
-- Bridgewater took a step forward. Bridgewater led a few stalled drives early, before finding a higher gear throughout most of Sunday's fourth quarter. The 22-year-old completed 27 of 41 passes for 269 yards and one score (good for a solid, 92.4 passer rating) and rushed for 23 more yards in a gutsy performance. Bridgewater, despite being generously listed at 215 pounds, picked up a couple of third-and-longs with his feet. That should earn the QB even more respect from his teammates.
-- Stefon Diggs could still prove to be an impact rookie. Despite being relegated to the sidelines in the season's first three weeks, Diggs caught on quickly on Sunday, when he saw time due to injuries to fellow receivers like Charles Johnson and Jarius Wright. Diggs, a 6-foot, 191-pound 21-year-old out of Maryland, ended the day with six catches for a team-high 87 yards, and pulled in a few key third-down receptions.
-- Blair Walsh's kicking woes remain a continuing theme. Minnesota's 25-year-old kicker made both PATs and went 2 for 3 on field goals Sunday, which sounds innocuous enough. But his one field-goal miss was ugly, as Walsh pushed a 38-yard attempt wide left despite a perfect hold.
DULY NOTED
-- The purple and gold still need to find an answer at strong safety. Fourth-year man Robert Blanton struggled at times against the Broncos, occasionally utilizing poor pursuit angles. One such case occurred on Ronnie Tillman's 72-yard, second-quarter score -- the longest TD run in the NFL this year. Blanton finished with five tackles but looked overmatched at times, particularly when attempting to make open-field stops.
-- Minnesota's front seven continued to get after the quarterback. While the Vikings only officially recorded two sacks, they got after Manning fairly persistently, recording three QB hits. Zimmer dialed up some effective blitzes, like early in the second quarter, when rookie linebacker Eric Kendricks snuck in to drop Manning for a six-yard loss.
-- Veteran defensive lineman Linval Joseph had a disruptive day in the trenches, finishing with three tackles, one tackle for loss and one pass defensed. At the 1:11 mark of the third quarter, Joseph, a 6-4, 329-pound 26-year-old, moved the line of scrimmage, eventually dropping Denver's C.J. Anderson for the tackle for loss.
-- The Vikings' offense had just 11 yards in the third quarter. During that period, Denver's lead swelled to 20-10, forcing Minnesota to play catchup late in the game.
WHAT IT MEANT
In the grand scheme of things, Sunday's loss might not hurt Minnesota all that much. Few expected the Vikings to win (they were 6.5-point underdogs) and the visitors got a stern test from Manning, along with Denver's stout defense, and acquitted themselves respectably. At 2-2, Minnesota is probably right where most pundits expected it to be after four games this season.
PLAYER OF THE GAME
We mentioned Diggs earlier, but veteran receiver Mike Wallace also enjoyed a bit of a breakout performance with regard to his brief tenure as a Viking, as he registered a team-high eight receptions for 83 yards and one touchdown. The 29-year-old pass-catcher helped the visitors move the chains on multiple occasions, when Bridgewater had to throw into the teeth of Denver's fierce pass rush.
DON'T FORGET ABOUT ME
While second-year receiver Adam Thielen -- the pride of Detroit Lakes -- deserves honorable mention for his six-reception, 70-yard afternoon, Peterson's performance was even more underrated. Peterson was kept under wraps much of the day, before breaking loose on a fourth-and-1 play early in the fourth quarter, for a 48-yard scoring sprint. Peterson's patience was rewarded, as he ended with a respectable day that included 81 rushing yards on 16 carries and four short receptions.
THAT MOMENT
With barely 30 seconds left in regulation, Bridgewater was swarmed by Denver's pass rush, leading to the Broncos' seventh sack of the game. The Vikings' QB was also stripped of the football by safety T.J. Ward on that play, and the hosts recovered, effectively ending the game.
THIS NUMBER
9. Number of tackles for loss produced by Denver's defense. The Broncos had 11 total QB hits, as their speedy defense often overwhelmed the Vikings' patchwork offensive line.
THEY SAID IT
"My team will fight. They will keep competing. . . . We didn't block (Denver's pass rushers) good enough to win." -- Minnesota head coach Mike Zimmer
"It's definitely frustrating. I feel like (the Vikings' late fumble) was my fault. . . . Personally, I put that on me -- I've gotta come through and make that block for Teddy." -- Minnesota star Adrian Peterson
"We didn't get the win, but, like I said -- and I'm gonna say it a thousand times -- I'm really proud of my teammates. They kept fighting." -- Minnesota receiver Mike Wallace
WHAT'S NEXT
Minnesota will enjoy a bye next weekend, before returning to action on Sunday, Oct. 18, against Kansas City, at TCF Bank Stadium. The Chiefs are currently 1-3 after Sunday's 36-21 loss at Cincinnati.
Follow Kelly Beaton on Twitter