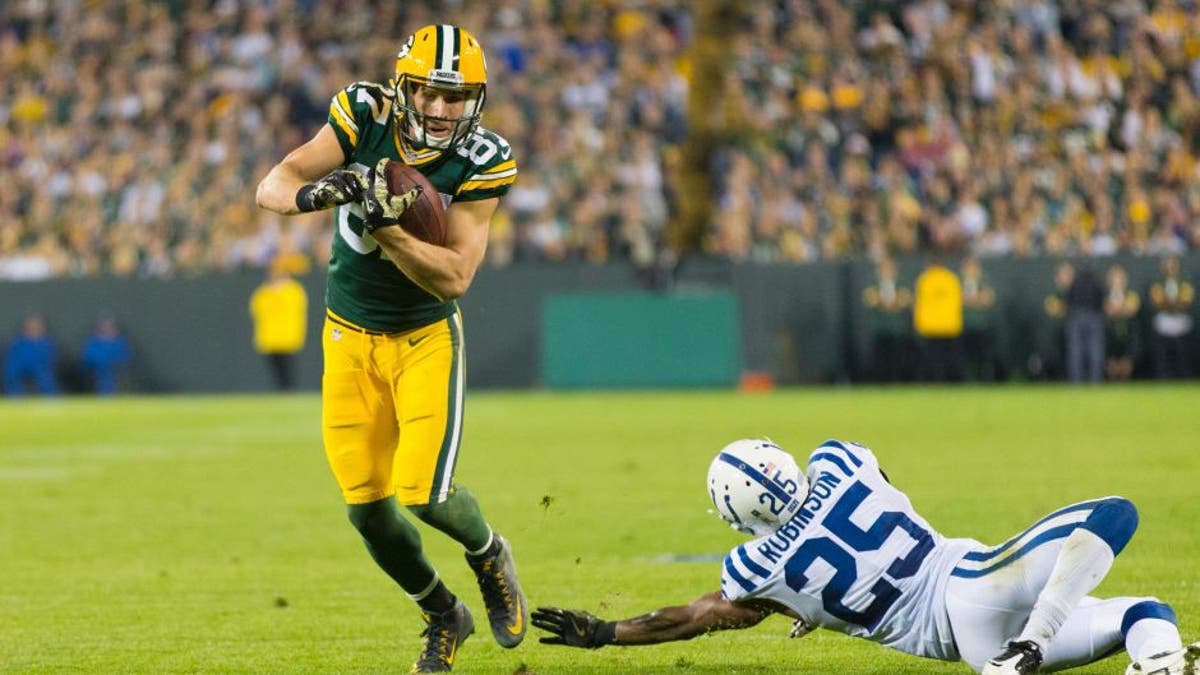 Green Bay looked to rebound from a loss in Atlanta against an Indianapolis team which has struggled this season due to a leaky offensive line and porous pass defense.
Yet, the Packers came out looking stale and Indianapolis took control from the start, leaving Green Bay to try and stage a late comeback only to fall short, 31-26.
Here's a recap of Sunday's game:
SUNDAY SCHOOL
-- There can be no more disastrous start to a game then having the opposing team return the opening kickoff for a touchdown. But that's exactly what happened to Green Bay. Mason Crosby's kick was short, giving Jordan Todman an opportunity. For some reason, the Packers overloaded the right side of the field, so Todman ran to his right (or the left side for Green Bay's kickoff team) and keyed by a block went 99 yards for the score. It was just 13 seconds into the game and the Colts would lead the rest of the way.
-- Green Bay once again pretty much gave up on its run game. The Packers ran the ball just 19 times, and six of those were by quarterback Aaron Rodgers. Ty Montgomery, who was back after a one-game absence, had a team-high seven carries while Don Jackson had four and Aaron Ripkowski two. The Packers did rush for 6.1 yards a carry and even taking out their two longest runs (24 yards by Montgomery and 21 by Rodgers), Green Bay still averaged 4.2 yards a clip. Yes, the NFL is pass-happy, but the threat of a run does help the aerial game.
-- Indianapolis entered with one of the worst passes defenses in the NFL. In eight games, the Colts had allowed 2,302 passing yards (287.8 per game). The Packers had just 77 passing yards at the half, although Rodgers did finish with 297 yards.
-- Green Bay picked up its blitzing against Andrew Luck. While it worked to some extent (two sacks, eight QB hurries), Luck overall got the better of the Packers' defense. After a Crosby missed field-goal attempt, Luck spread the ball around as Green Bay's blitzes came up short, leading the Colts to a Frank Gore touchdown. On the last real play from scrimmage in the game, on a third-and-2 the Packers again blitzed and Luck easily found T.Y. Hilton over the middle for a first down, allowing Indy to burn out the clock with kneeldowns. Live by the blitz, die by the blitz.
-- One big missed opportunity for Green Bay in the first half came on a deep pass to Jeff Janis, with the ball hitting off his facemask. At halftime, head coach Mike McCarthy noted how the Packers "have to catch the ball," a clear reference to this play. Janis was targeted only one more time in the game.
-- Randall Cobb was active but didn't play in the first half. He made his first appearance with around 12:30 to go in the third quarter and fumbled on his first touch (although it was nullified by a holding penalty). Cobb would redeem himself later with an 11-yard touchdown grab.
-- What is the value of a timeout? You only get three per half, so is it worth taking a five-yard delay of game penalty knowing you might need that TO later? Green Bay used one of its three second-half timeouts with 9:03 left in the third quarter (a big "Oof!" in my book). It was made worse after Rodgers was picked off on the next two plays (the first being wiped out due to offsetting penalties). The Packers could have perhaps used that extra time out late in the game. It might not have made a difference but the point remains: timeouts are gold and using one in the third quarter is more often than not, foolish.
-- As long as we're being critical, the decision to go for a two-point conversion down 31-19 was a curious one. Yes, if Green Bay converted the Packers would have been within 10 points. But fail, as the Packers did, and you're down 12 points, meaning no longer can a field goal and touchdown tie, but rather Green Bay needed two touchdowns to win. With just 7:40 left in the game, this seemed like a dubious decision (and this is not second-guessing, I said it before the play occurred, albeit you'll have to trust me on that).
-- One play after Micah Hyde was injured, his replacement Kentrell Brice was called for holding on Donte Moncrief, setting up another Gore touchdown. Meanwhile, Ladarius Gunter, filling in at cornerback due to injuries to Sam Shields and Damarious Randall, struggled against Moncried as well. He got turned around on an earlier TD pass to the Colts wideout and later was beaten on a 39-yard completion. The final completion to Hilton on third-and-2? Gunter was the defender.
-- With a missed field-goal attempt and allowing kick returns of 99 and 61 yards, the special teams film session won't be a fun one in Green Bay this week.
DULY NOTED
-- With a Mason Crosby field goal, the Packers scored on their opening possession for the sixth straight game.
-- It took until late in the game, but we finally saw some vintage Rodgers on Green Bay's final scoring drive. The Packers scored on seven plays in 1:59, amassing 80 yards. Rodgers was 6-of-6 passing and also had his 21-yard run.
-- Luck actually had more rushes than Rodgers, seven to six.
-- Luck completed passes to nine different receivers; Rodgers eight (although he targeted a ninth, Geronimo Allison, who did not have a catch.)
-- Green Bay was just 4 of 12 on third-down conversions while Indianapolis was 7 of 14.
-- Time of possession was basically even: 30:03 for Indianapolis and 29:57 for Green Bay.
-- There were only four three-and-outs the entire game; each team had two.
--Yes, a squirrel ran out on the field during play. We don't have a joke here as I'm sure you heard them all, but at least you can recall them now and smile.
WHAT IT MEANT
The loss drops Green Bay to third place behind 5-3 Minnesota and 5-4 Detroit. The good news is every team in the NFC North is flawed. The Vikings have lost three straight. The Lions are schizophrenic on offense. And the Bears, well, forget about Chicago. So the division title is still definitely within reach, but as this game shows, the Packers need to learn how to put together a complete four quarters.
PLAYER OF THE GAME
When a team allows 31 points it is hard to say the MVP was a defensive player, but Ha Ha Clinton-Dix did everything he could to help Green Bay win this game. He had two interceptions, both of which led to scoring opportunities. Used on the blitz occasionally, Clinton-Dix had a half-sack and a quarterback hurry. And in coverage he had two of Green Bay's five passes defensed.
DON'T FORGET ABOUT ME
Jordy Nelson was clearly Aaron Rodgers' go-to receiver, targeted 13 times. Nelson finished with game highs of seven receptions and 94 yards. His 26-yard touchdown reception was a clinic in a wide receiver fighting for the ball against a defender, as he seemingly tore it away from Darius Butler while in the air. Rodgers did try to force to Nelson a bit too much perhaps, throwing deep into double coverage on one play in the fourth quarter and on another the two weren't in sync, with Nelson cutting his route short. Nevertheless, he was Green Bay's best receiver by a long shot.
THAT MOMENT
Green Bay had Indianapolis pinned deep late in the first half, with the Colts having a third-and-9 at their own 5-yard line. But Andrew Luck found Phillip Dorsett over the middle for a 13-yard gain (just one of two receptions for Dorsett) for a first down. Indy would run 12 more plays in the drive, only two being on third downs -- and both third-and-short -- culminating in a touchdown to give the Colts a 24-10 lead at the half. The Packers would be chasing the rest of the game. Letting Indianapolis out of jail was the key play in this game.
THIS NUMBER
22-2 -- Green Bay's record at home when Jordy Nelson has a touchdown reception. It seemed a good omen when Nelson snagged his TD in the first quarter, but nothing is ever for certain and the Packers lost at Lambeau Field for just the second time when Nelson scores.
THEY SAID IT
"That was a difficult, disappointing home loss. Indianapolis jumped on us from the first play, and frankly, we never got it back." -- head coach Mike McCarthy
"You kind of felt it over the entire sideline. We didn't have the same kind of enthusiasm and encouragement that we had the previous two weeks. So we've got to look deep in the mirror there, because that's just not acceptable." -- quarterback Aaron Rodgers
WHAT'S NEXT
Green Bay begins a three-game road trip in Tennessee, where the Packers will play Marcus Mariota and the surprising Titans, who are 4-5 after winning just three games a season ago.
Dave Heller is the author of the upcoming book Ken Williams: A Slugger in Ruth's Shadow as well as Facing Ted Williams Players From the Golden Age of Baseball Recall the Greatest Hitter Who Ever Lived and As Good As It Got: The 1944 St. Louis Browns