Upon Further Review: Packers' offense in rhythm in win over Lions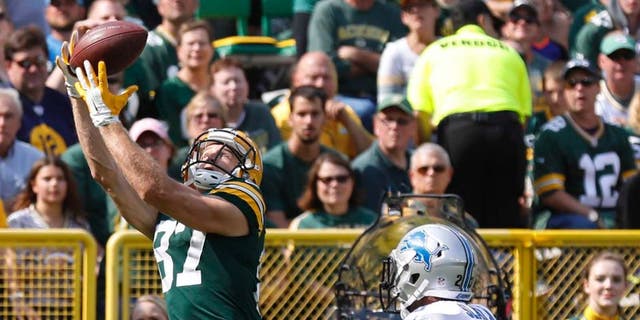 Aaron Rodgers and the Green Bay Packers offense struggled two Sundays ago in a loss to the Minnesota Vikings.
The unit ended the slump, however, with a dominant first half vs. the Detroit Lions.
Rodgers tied a career best with four first-half touchdown passes, including two to Jordy Nelson, as the Packers (2-1) held on for a 34-27 win over the Lions (1-2).
Rodgers finished the game 15-for-24 passing for 205 yards and a 129.3 passer rating, his best mark since Week 3 of last season. Nelson caught six passes for 101 yards, and Eddie Lacy rushed for 103 yards on 17 carries, his first 100-yard effort in his past eight games.
The Packers defense yielded 417 yards to the Lions, including 368 passing yards, as Detroit cut a 28-point Green Bay lead to seven by late in the fourth quarter. The Packers ran out the clock, however, with an eight-play drive.
Here's a recap of Sunday's game:
SUNDAY SCHOOL
-- The game started about as well as it could have for Rodgers and the Packers offense, as they drove 75 yards on eight plays and capped it with a 14-yard touchdown catch by Davante Adams. Rodgers was 4-for-5 passing for 64 yards on the drive, which included a 33-yard pass to Randall Cobb.
-- The Packers yielded a field goal on the Lions' first drive, after Detroit drove 52 yards on 15 plays and took 8:37 off the clock. The Lions converted three third downs on the drive but never completed a play of more than 14 yards. Matt Prater's 42-yard field goal cut the lead to 7-3.
-- Green Bay struck quickly on its next drive, with Rodgers completing a first-down pass to Nelson for 49 yards to the Detroit 11-yard line. Rodgers found Nelson for an eight-yard touchdown two plays later to give Green Bay a two-score lead.
-- The Green Bay offense continued to roll after a Lions three-and-out. Rookie wide receiver Trevor Davis drew a 66-yard pass interference penalty on first down, and Rodgers found Richard Rodgers for a two-yard score on the next play to make the score 21-3. Mason Crosby hit a field goal for the Packers about four minutes later, after Damarious Randall intercepted a Stafford pass.
-- Green Bay was not done with its first-half scoring, however. The Packers took over again at their own 33-yard line with 5:03 remaining in the first half and went seven plays for a touchdown, capped by another Rodgers-to-Nelson score. Stafford hit Marvin Jones for a 73-yard touchdown pass on the Loins' subsequent possession, but Green Bay still led 31-10 at halftime.
-- Detroit scored a touchdown on a 12-play, 77-yard drive to start the third half, cutting the Packers lead to 31-17. Green Bay responded with a nine-play, 47-yard drive of its own, which Crosby capped with a 46-yard field goal. Lacy was especially effective on the drive, rushing five times for 30 yards.
-- Detroit sustained another long drive after taking over at its own 18-yard line, going 50 yards on 10 plays for a field goal to make the score 34-20. The Lions then intercepted Aaron Rodgers on Green Bay's next drive but were unable to score. They did force a Green Bay three-and-out, however, and took over trailing 34-20 with 5:05 remaining. Stafford led the Lions' offense down the field for another touchdown with 3:40 remaining, cutting the deficit to seven.
-- Green Bay took over at its own 25-yard line with 3:34 remaining. The Lions forced the Packers into a third-and-eight with 3:22 to go, but Rodgers rushed for 11 yards. He completed a nine-yard pass to Adams on the next play, followed by a nine-yard Lacy run to seal the win.
DULY NOTED
-- Rodgers targeted Nelson a team-high seven times. He passed to eight other players, but no one else had more than three targets.
-- Nelson played on 91 percent of the team's offensive snaps (49 plays). Cobb played on 78 percent of the team's offensive snaps (42 plays), Adams played on 46 percent (25 plays) and Davis, the rookie out of Cal, played on 25 percent (12 plays). Ty Montgomery played four offensive snaps, and Jeff Janis played three.
-- Both teams were missing notable players due to injury. The Lions were without Pro Bowl defensive end Ezekiel Ansah, while Green Bay was missing cornerback Sam Shields, safety Morgan Burnett, linebacker Clay Matthews, defensive end Datone Jones and defensive tackle Letroy Guion.
-- Green Bay finished with 324 total yards for an average of 6.5 yard per play. The Packers rank 28th in total offense and 29th in passing yards in the NFL through three weeks, though they are fourth in the league with seven touchdown passes. The team ranks 28th in passing yards allowed (307.3 per game) but first in rushing yards allowed per game (42.7). The Lions rushed for just 50 yards on 23 carries Sunday, a 2.2 yards per carry average.
WHAT IT MEANT
-- Green Bay is better offensively than it showed against the Vikings two games ago. Its run defense continues to be the best in the league, but the team is susceptible against the pass. The return of Shields could help with that.
PLAYER OF THE GAME
Nelson had his first 100-yard receiving game since Dec. 21, 2014, and he did it in the first half alone. He showed great speed on his 49-yard reception in the first quarter and made a nice catch for a touchdown in the second. The 2014 Pro Bowler appears to be back in top form after missing 2015 with a torn ACL.
DON'T FORGET ABOUT ME
Nick Perry led the Packers defense with two sacks and finished third on the team with seven tackles while also deflecting a pass. The defense had nine tackles for a loss and one interception on the game.
THAT MOMENT
The party was on at Lambeau Field after Nelson's 17-yard touchdown reception in the closing minutes of the second quarter that gave the Packers a 31-3 lead. That proved to be an insurmountable deficit for the Lions to overcome.
THIS NUMBER
137.5 -- Rodgers' first-half passer rating after he completed 12 of 18 passes for 174 yards and four touchdowns. It was just the second time this year that Rodgers has posted a passer rating over 100 in a half.
THEY SAID IT
"Jordy and I connected. Whenever we're doing that, it kind of opens other things up for the offense." -- Rodgers
"Offensively the focus was to be a good, healthy mix of run and pass, so we accomplished that today." -- coach Mike McCarthy
"Coming into this week, we felt that as an offense that we just weren't having enough fun. We wanted to bring some extra energy to the game. . . . We're just having some fun. It's what we got to do." -- Nelson
WHAT'S NEXT
The Packers have a Week 4 bye before hosting the New York Giants on Oct. 9, the second of four straight home games.
Follow Nate Gotlieb on Twitter