Unheralded front court trio key for 16th-ranked Hawkeyes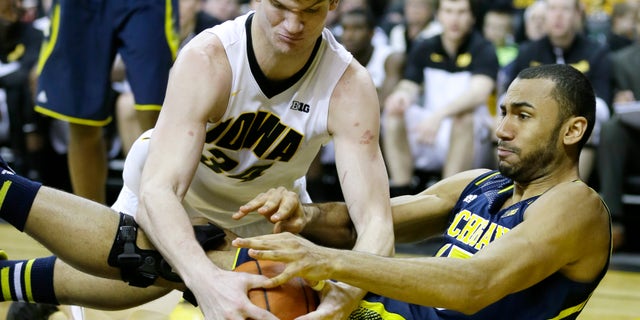 DES MOINES, Iowa – Iowa's high-scoring, up-tempo attack has made it tough for its big inside players to get much notice.
Still, it has been the consistent efforts of players like Melsahn Basabe, Adam Woodbury and Gabe Olaseni that have made the 16th-ranked Hawkeyes so good.
The Hawkeyes (18-6, 7-4 Big Ten) head into Saturday's game at Penn State ranked first in the Big Ten in scoring and second in rebounding margin and blocked shots. Iowa is also second in both offensive and defensive field-goal percentage — and it can thank Basabe, Woodbury and Olaseni for that.
They're all shooting over 50 percent from the field, playing strong interior defense and helping start all those fast breaks typically finished by Aaron White and Devyn Marble.
"They do a good job of...switching in transition from defense to offense and getting out and running the floor and getting easy baskets that way. They're also really good offensive rebounders, so when guys are missing shots they do a really good job of cleaning that up and putting it back in," said Marble, the team's leading scorer at 16.5 points per game.
Perhaps no Hawkeye has been better at putbacks than Basabe, whose steady play comes after an up-and-down career.
Basabe was one of the nation's most promising power forwards as a freshman, averaging 11 points and 6.8 rebounds for a team that won just 11 games. But Basabe tailed off so much as a sophomore that he lost his starting job, and last season he scored a career low 6.8 points a game.
Coach Fran McCaffery has committed to starting Basabe as a senior, and he has responded with more rebounds, fewer fouls and improved court awareness.
McCaffery even put him on small forward Glenn Robinson III in Saturday's 85-67 blowout of Michigan, and Robinson finished with just two points in 24 minutes.
"It has something to do with his athletic power. He's a little bigger than Robinson, and he's also experienced and he played him really well," McCaffery said.
The 7-foot-1 Woodbury has yet to live up to the hype that preceded his arrival as one of the nation's top recruits. But he and Olaseni have combined to give Iowa quality production at the center spot.
Woodbury's size is a big advantage on defense, of course, and he runs reasonably well for such a big player. The sophomore is averaging 5.7 points on 50.5 percent shooting from the field and 69.1 percent from the line to go along with four rebounds a game.
"He's able to use his length and his strength to do what he needs to do," Marble said. "He just finds different ways to put his mark on the game. And to be honest, most of it isn't going to show up on the stat sheet."
Woodbury's development can be credited in part to Olaseni, who has become arguably Iowa's most potent interior presence. Olaseni has scored in double figures from the bench four times in the last seven games, including double-doubles in road wins at Northwestern and Illinois, and his 35 blocks are by far the most for an Iowa player.
According to McCaffery, Olaseni's efforts to improve his jump shots and to finish inside with both hands have paid off this season.
"You saw a little bit of indecision his first year. He was unsure a lot. But some of that I think came from his desire to be perfect. He's such a perfectionist," McCaffery said. "He's figured out that the game is much more fluid and (to) rely on his athletic ability and to rely on his instincts a little bit more. And if you make a mistake, it's not the end of the world."
___
Follow Luke Meredith on Twitter: www.twitter.com/LukeMeredithAP