Unhappy birthday for Babcock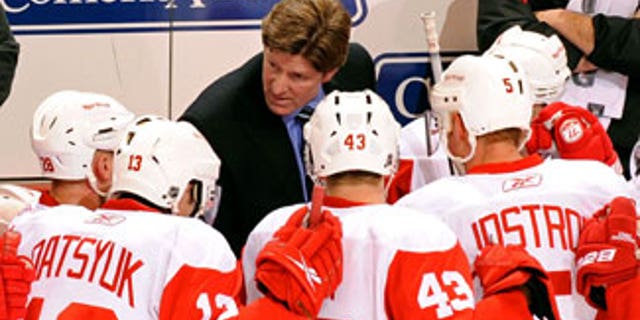 SAN JOSE, Calif. – Friday was Mike Babcock's 48th birthday, but the Red Wings' coach had no cause for celebration after watching San Jose rookie Benn Ferriero celebrate his 24th by getting the winning goal in overtime for a 2-1 victory.
While Ferriero and the Sharks celebrated, Babcock was in no mood for a party. Instead of blowing out candles, he lit into his forwards, criticizing their performance in the series-opening loss at HP Pavilion.
"They were better than us, especially up front," Babcock said. "I didn't think we skated very good."
Babcock's team lost three of four regular-season meetings to the Sharks and was ousted by San Jose in a five-game second-round series a year ago. Clearly, he doesn't want to witness a repeat.
In order to avoid that, he said, the Wings' forwards will have to be a lot better – and a lot harder on the Sharks' defense.
"(The Sharks') defense had the night off," Babcock grumbled.
Much was said before the series about the need for both teams to stay out of the penalty box as much as possible. Babcock was not pleased that his team was short-handed six times Friday, though the Wings did kill five of those power plays.
"We took too many penalties," Babcock said. "You can't be in the penalty box and expect to survive."
He had a simple explanation for the parade to the penalty box.
"The team that has the puck the most is going to take the least penalties," he said.
On Friday night, that team was the Sharks.