Underdog Astros, Keuchel again prove they belong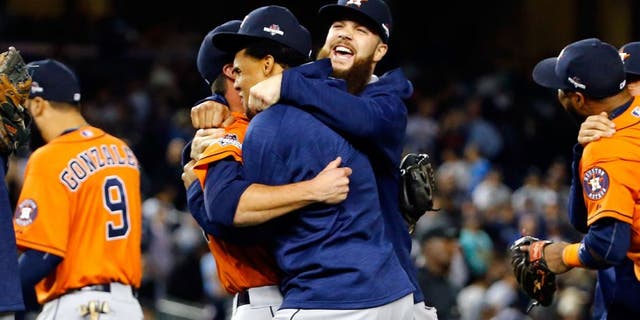 NEW YORK -- The clock struck midnight, and where was Cinderella? Not crawling through the Bronx, looking for a glass slipper. No, Cinderella was gathered on the mound at Yankee Stadium, posing for photos, hooting and hollering, spraying champagne. Cinderella, the tanking, 100-game-losing, No. 1-drafting Houston Astros, had just vanquished the New York Yankees.
Cinderella will move on from its 3-0 victory in the American League Wild Card Game on Tuesday night, on to the Division Series to face the defending AL champion Kansas City Royals. The Astros will be underdogs, just as they were -- in theory -- against the Yankees. But who expected them to make it this far? Who expected a team that Sports Illustrated proclaimed 2017 World Series champions to make even a sliver of an impact in '15?
Well, here they are, led by a bearded pitcher, Dallas Keuchel, who looked utterly comfortable pitching six scoreless innings on three days rest -- and a passionate center fielder, Carlos Gomez, who looked clearly uncomfortable playing with a left intercostal strain, but still hit a home run to give the Astros a 2-0 lead.
Actually, the Astros had many heroes on this night. They scored their first run on a homer by Colby Rasmus, whom general manager Jeff Luhnow drafted with the Cardinals, then signed as a free agent for the Astros. They scored their third run on a body-bending single by Jose Altuve, who contorted his 5-foot-6 frame downward to hook a fastball down-and-away from Dellin Betances. They closed out the game with three scoreless innings from relievers Tony Sipp, Will Harris and Luke Gregerson.
Keuchel, though, was the player who gave the Astros their best shot, the pitcher at the center of it all. Pitchers historically wilt on three days' rest in October; Keuchel delivered the longest scoreless outing in the postseason on short rest since the Marlins' Josh Beckett beat the Yankees in the clinching game of the 2003 World Series.
Oh, Keuchel was erratic early, but he quickly settled in, at one point retiring 10 straight hitters. His performance evoked that of another left-hander from the University of Arkansas in Yankee Stadium -- Cliff Lee, who pitched a complete-game victory for the Phillies in Game 1 of the 2009 World Series.
Keuchel, the Astros' seventh-round pick that year, has the same agent as Lee, Darek Braunecker. He recalls watching Lee's masterpiece in the Series. And he mentioned that game to Braunecker in New York on Monday night, explaining later, "I was just hoping to mimic what he did."
Then came the sixth inning, two on and two out, Alex Rodriguez at the plate, Astros leading, 2-0. The new Yankee Stadium, so lifeless for much of its seven-year existence, was loud from the start, and never louder than at that moment. Astros manager A.J. Hinch, walking to the mound to visit Keuchel, would say, "That's probably the most adrenalin I've had in this chair in my short managerial career."
Hinch wasn't about to remove Keuchel, not when the lefty had allowed only three hits and one walk, not when he is the leading candidate for the AL Cy Young Award. No, the manager just wanted to "check (his) heartbeat, look in his eyes a little bit . . . gather a little bit of information."
Said Keuchel, "The stadium was rocking, that's for sure. A-Rod's coming up. Doesn't get any more exciting than that. The job that he's done throughout his career in Yankee Stadium . . . I just tried to calm myself down and make as good a pitch as I could."
In the fourth inning, Rodriguez had drilled Keuchel's first pitch, an 89-mph fastball, down the right-field line, only to see it run down by George Springer. Keuchel figured that he might induce a popup if he threw Rodriguez a cutter up or middle in. Good idea. Again, Rodriguez swung at the first pitch -- and popped out to center field.
"I was playing blackjack there," Keuchel said, "and it paid off."
He appeared afterward in the interview room with Gomez, saying, "The taste of the champagne and the beer in your eyes, I want more of it." Gomez nodded, smiled and said quietly, "Tastes good." Earlier, Gomez had called Keuchel the best pitcher in the AL, said he had proven it on this night. Keuchel slapped him twice on the thigh in appreciation.
Gomez, of course, had taken a circuitous journey to this point, nearly getting traded from the Brewers to the Mets, who backed out because of concerns about his hip, then then getting sent to the Astros the next day. He had batted only .242 with a .670 OPS in 163 plate appearances after joining the Astros, started just one of the team's final 20 games due to his injury. But when Hinch called him Tuesday and asked if he was ready, Gomez replied, "Write my name in the lineup. You're going to have me for sure."
Before the game, Hinch worried that Gomez might aggravate his condition, just as he did making a game-ending throw in Seattle last Wednesday. Hinch knew that Gomez loved the stage, but had a vision of walking to the outfield or the batter's box to remove him. It didn't come to that, but Gomez was in obvious pain during his third plate appearance. Hinch did not allow him to get another, inserting Jake Marisnick into the game.
"Every time I swing, swing and miss, I feel it," Gomez said. "But when you step on the field and you've got all the adrenalin and you hear those fans, it's a lot of things that come through your body and push you in a situation like that. It's not time to be a hero, because I understand my body. I know my body really good. And I say let me stay in, let me stay in, I can handle this."
He handled it. They all did. The team with the lowest Opening Day payroll in the AL beat the team with the highest. The team that averaged 108 losses from 2011 to '13 is seven victories away from the World Series.
The clock struck midnight. Cinderella drank champagne.