Undefeated Sun Devils look for national respect against Cal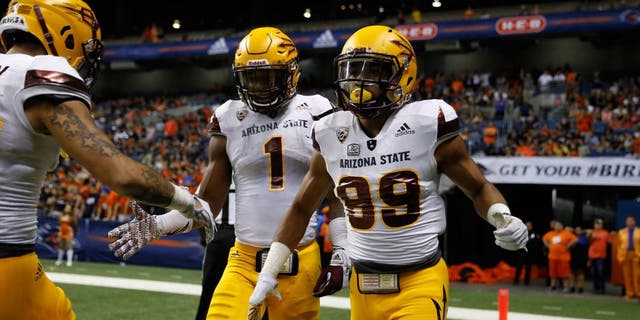 TEMPE, Ariz. -- Arizona State has won as many games as it has AP Top 25 Poll votes -- three. What is it going to take to get respect as one of the country's 37 undefeated teams?
"Just keep winning," ASU coach Todd Graham said Monday. "We're pleased to be 3-0 and growing and learning and getting better each week, but now it all starts over."
ASU faces its first Pac-12 matchup Saturday hosting Cal (2-1), which upset No. 11 Texas after losing to San Diego State in week two.
"I was very, very impressed with their physicality and the heart (Cal) showed against Texas," Graham said.
Graham made comparisons between Cal and ASU's earlier opponent, Texas Tech, citing the size of Cal's defense and the Bears' highly rated offense.
"Obviously, the strength of their team is their offense and their ability to score points," Graham said. "They are very well coached."
Saturday's game will see the return of wide receiver Tim White and linebacker Salamo Fiso, as well as the potential return of offensive lineman Zach Robertson and defensive lineman George Lea.
The Sun Devils are focusing on tackling and controlling the ball. Reducing offensive turnovers is high on Graham's to-do list.
"We've overcome a lot of adversity, but we need to take care of the football," Graham said. "The whole deal when we talk about Sun Devil football, you've gotta take care of the football."
Graham also voiced concern about quarterback Manny Wilkins taking care of himself.
"I'd rather him hurdle somebody than get cut by 'em," Graham said. "You'll learn as you go, but I'll tell you this, he's tough as nails and I don't want him to play cautious."
Wilkins will go head-to-head against former Texas Tech QB Davis Webb, who now leads Cal's offense with 13 passing touchdowns to Wilkins' four.
ASU lost a close game to Cal in Tempe last year after a late field goal produced a 48-46 loss. ASU hasn't beaten Cal in Tempe since the 2000 season.
Graham and the Sun Devils look to break that streak, remain undefeated and earn respect nationally.