Umpire Joe West suspended for 1 game without pay for grabbing jersey of Phillies' Papelbon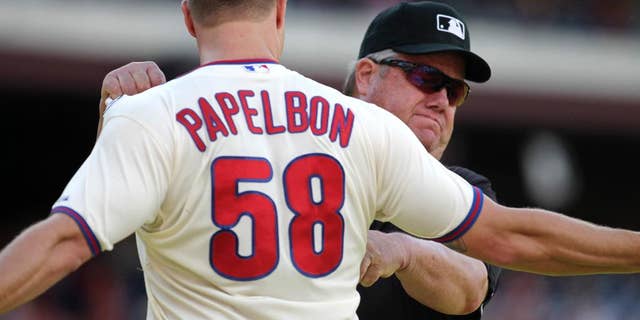 NEW YORK – Umpire Joe West has been suspended for one game without pay for grabbing the jersey of Philadelphia Phillies closer Jonathan Papelbon.
Major League Baseball executive Joe Torre said in a statement Wednesday that West "admitted that there was a better way to handle the situation."
Papelbon was suspended seven games and fined Monday for making a lewd gesture and then bumping West. The right-hander has insisted he wasn't making a vulgar motion toward fans as he walked off the field to boos after giving up four runs in the ninth inning of Philadelphia's 5-4 loss to the Miami Marlins on Sunday.
West will serve the suspension Wednesday night instead of working his assigned game between the New York Yankees and the Tampa Bay Rays in St. Petersburg, Florida.