UMD beats Michigan 3-2 for NCAA title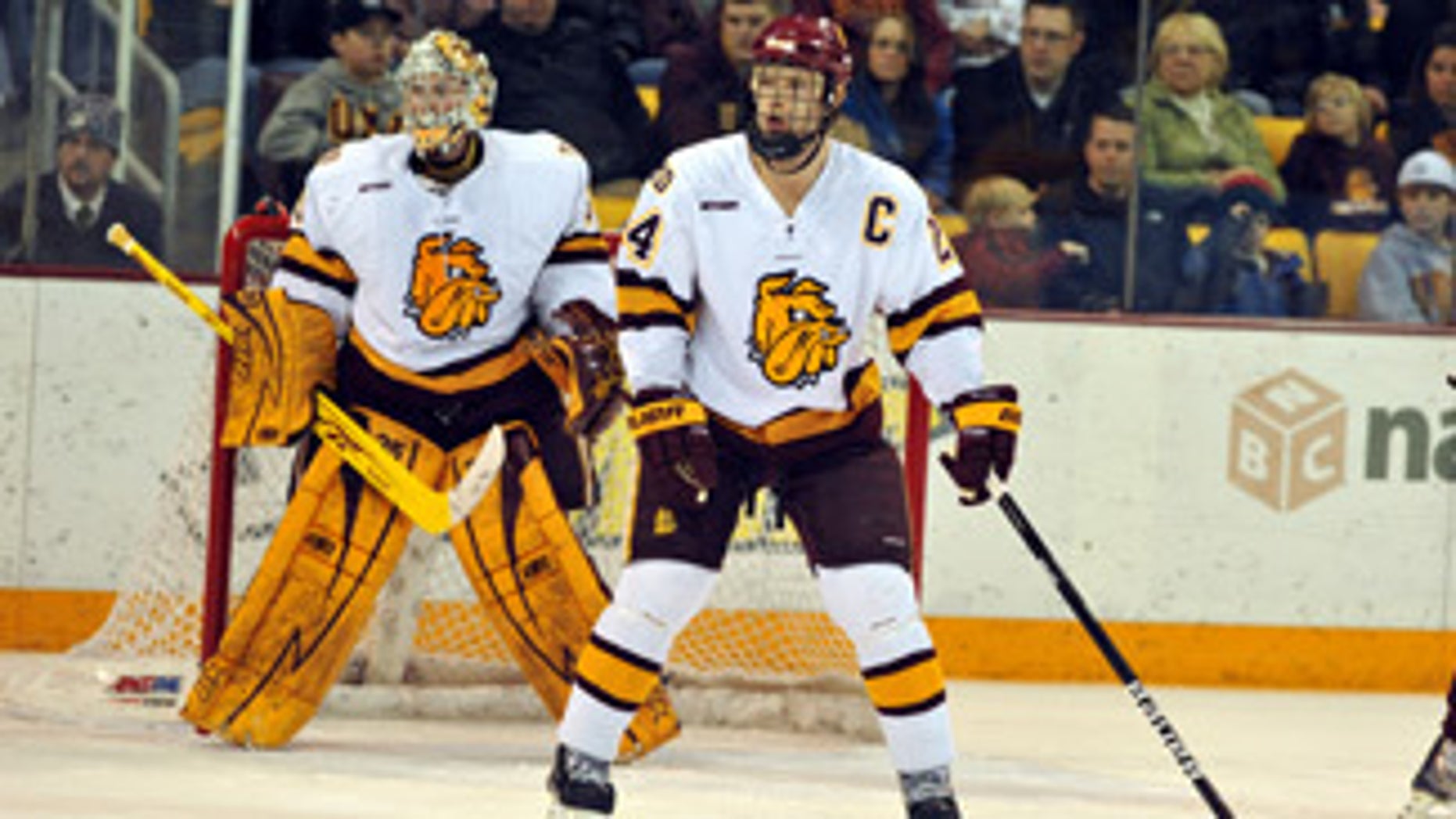 Minnesota Duluth won its first NCAA hockey title when Kyle Schmidt scored 3:22 into overtime to give the Bulldogs a 3-2 victory against Michigan in the championship game at St. Paul, Minn.
Freshman Justin Faulk had a chance to give the Bulldogs the win in the opening moments of overtime, but his shot from below the left circle was stopped by Shawn Hunwick. But a few shifts later, Travis Oleksuk fed a backhand passout in front of the net to Schmidt, who one-timed it into the net for the winner.
"I didn't get over and across in time," said Hunwick, who had no chance. "It happened so fast. I'm not sure what really happened."
Oleksuk and Max Tardy also scored for UMD (26-10-6), which lost its only other appearance in the championship to Bowling Green 27 years ago, losing in four overtimes. Kenny Reiter made 22 saves as Minnesota Duluth kept the Wolverines from securing their 10th national title.
"Just a tremendous feeling to be a part of the first Minnesota Duluth team to ever bring a national championship back home," Tardy said. "And it's something that we're going to be able to look back on a long time from now and all that, we did it. And it's great for all the fans back home."
Hunwick, who made 40 saves on Thursday as the Wolverines upset North Dakota, made 35 saves.  Ben Winnett and Jeff Rohrkemper scored for Michigan, which had won its last two titles in overtime -- both by 3-2 scores, in 1996 and '98. The Wolverines fell to 9-3 in championship games.
"We told them that during the intermission — this is going to be our game," Michigan coach Red Berenson said. "We were very positive with our team and they played hard. … We got tired and made a mistake, and the game was over."
Winnett gave the Wolverines the lead with 5:18 left in the opening period. Michigan won an offensive zone faceoff and Winnett skated to the slot before beating Reiter with a wrist shot.
The Bulldogs got even 1:39 into the second period when Oleksuk knocked a bouncing puck from below the right circle past Hunwick. Tardy's power-play goal at 9:31 put UMD in front for the first time. Tardy banged his own rebound past Hunwick for his first goal of the season -- and the Bulldogs' only goal in nine power-play opportunities.
But all those power plays took their toll -- UMD outshot Michigan 38-24. The power-play goal was the Bulldogs' ninth in their four NCAA games.
"Just too many penalties," Berenson said. "Were they good penalties? I can't tell you what I really think."
Michigan tied the game at 17:46 on Rohrkemper's third goal of the season, a rebound from the slot.
Minnesota Duluth freshman J.T. Brown was named the tournament's most outstanding player.
"Definitely we have a lot of confidence on our team. We knew if we kept getting pucks behind their defense we'd eventually get something," Brown said.
Material from wire services and school media was used in this report.