Ultimate Fighter: Team McGregor vs. Team Faber full cast announced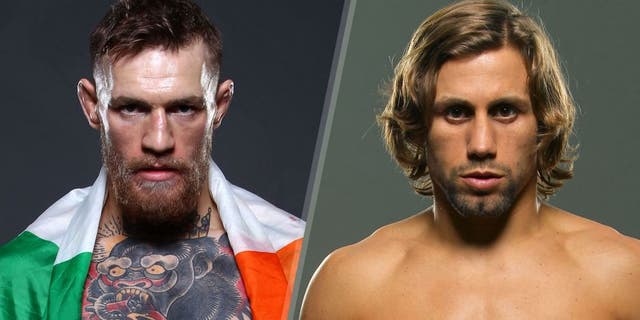 The new cast of 'The Ultimate Fighter' has been revealed with 32 competitors joining the show from the United States and Europe for the opportunity to earn a contract with the UFC.
The newest installment of the show will debut on Sept. 9 on FOX Sports 1 with the competition being whittled down to 16 fighters who will then move into 'The Ultimate Fighter' house with Faber coaching the American team while McGregor will lead the Europeans.
For Faber this will be his second stint as 'Ultimate Fighter' coach after working opposite long-time rival Dominick Cruz during the only live season of the show.
McGregor will be on 'The Ultimate Fighter' for the first time after defeating Faber's teammate Chad Mendes at UFC 189 for his interim featherweight title in July.
McGregor is currently preparing for his UFC 194 showdown with featherweight champion Jose Aldo in December after coaching on the newest season of the reality show.
Here are the 32 fighters who will compete under McGregor and Faber for the chance to fight on 'The Ultimate Fighter' Finale on Dec. 11 in Las Vegas, with the winner earning a UFC contract joining a long list of former champions and top contenders to emerge from the show.
United States:
Andreas Quintana (8-1) from Albuquerque, N.M.
Austin Springer (8-0) from Portland, Ore.
Billy Quarantillo (6-1) from Tampa, Fla.
Brandon Ricetti (7-1) from Chico, Calif.
Brennan Sevin (7-1) from Chauvin, LA.
Chris Gruetzemacher (12-1) from Peoria, AZ
Jason Soares (8-0) from Miami, Fla.
Johnny Nunez (5-1) from Las Vegas, NV
James Jenkins (8-1) from Long Island, NY
Jason Gonzalez (9-2) from Colton, Calif.
Julian Erosa (14-1) from Yakima, Wash.
Mike Flach (7-1) from Rancho Cucamonga, Calif.
Ryan Hall (4-1) from Falls Church, VA
Thanh Le (4-1) from New Orleans, LA
Tim Welch (12-5) from Glendale, Ariz.
Tom Gallicchio (19-8) from Perth Amboy, N.J.
Europe:
Artem Lobov (11-10-1-1) from Dublin, Ireland
Abner Lloveras (19-7-1) from Barcelona, Spain
David Teymur (3-1) from Stockholm, Sweden
Djamil Chan (19-2) from Amsterdam, Netherlands
Frantz Frank Slioa (4-0) from Stockholm, Sweden
Marcin Wrzosek (10-2) from Bydgoszcz, Poland
Martin Delaney (10-1) from Bathgate, Scotland
Martin Svensson (14-5) from Malmo, Sweden
Mehdi Baghdad (11-3) from Toulon, France
Mohamed Grabinski (10-1) from Dusseldorf, Germany
Paulo Boer (10-1-1) from Holland
Sascha Sharma (8-2) from Stuttgart, Germany
Saul Rogers (10-1) from Bolton, England
Sean Carter (10-1) from Essex, England
Thibault Gouti (10-0) vs. Avignon, France
Vladimir Sikic (10-0) from Frankfurt, Germany
The new season of the show will run for 12 episodes, airing Wednesday nights on FOX Sports 1 all leading to 'The Ultimate Fighter' Finale on Dec. 11 in a card headlined by former lightweight champion Frankie Edgar facing Chad Mendes in the main event.
The premiere episode on Sept. 9 will showcase the fights to get into the house as 32 competitors begin but only 16 will survive to move into the house with a chance to win the newest season of 'The Ultimate Fighter'.