UK picks Sarah Stevenson for Olympic taekwondo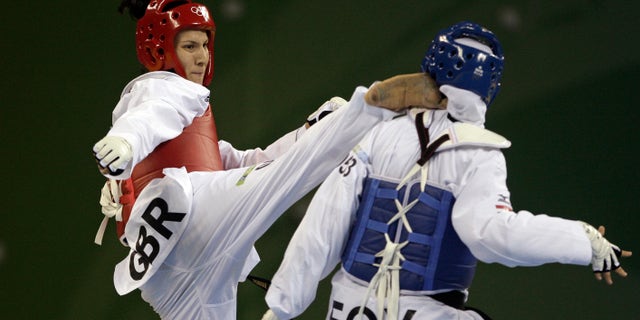 NEWYou can now listen to Fox News articles!
LONDON – British taekwondo officials on Friday picked Sarah Stevenson for the Olympic team at the London Games even though the world champion has not competed for months due to knee injury.
Stevenson, 29, won a bronze at the Beijing Olympics and has twice won the world championships in the 67-kilogram division. She last won the world title in 2011.
In February, Stevenson tore her cruciate knee ligament during a training camp in Mexico. She flew back to Britain to undergo surgery, and has not competed in any major competitions since.
Stevenson is currently ranked 10th in the world. She is hopeful for Olympic success this summer, although she downplayed her chances of winning big at the London Games.
"If I win gold, that will top everything I have ever achieved," she said in a statement. "But that might not happen because that's the way sport is."
Two other fighters were named to the squad: Jade Jones in the female 57-kilogram division and Martin Stamper in the male 68-kilogram division. Jones, 19, is the current Olympic youth champion. Stamper won a bronze at last year's worlds.
The remaining spot is being scrutinized by the British Olympic Association after they rejected the U.K. taekwondo officials' choice of Lutalo Muhammad, ranked 104th.
They overlooked Aaron Cook, who is ranked No. 1 in the same division. Earlier this week, Cook appealed to the BOA to intervene in his behalf.
BOA has demanded the taekwondo selection committee reconvene with an outside observer and reconsider their choice.
The four-member BOA panel said it "could not ratify" Muhammad's nomination.
Cook's omission sparked outrage among some British Olympians, including five-time rowing gold medalist Steven Redgrave. He said Cook was "the only choice" for the taekwondo team.
Cook has won more titles than any other British fighter in his division. He fell out with taekwondo officials after abandoning the elite training program last year. He hired his own team of coaches and went on to win a string of tournaments and several sponsors.
He often trains in a gym his parents built in the backyard of their family home in Manchester.