Ugly scene at Rogers Centre in Game 5 can't happen again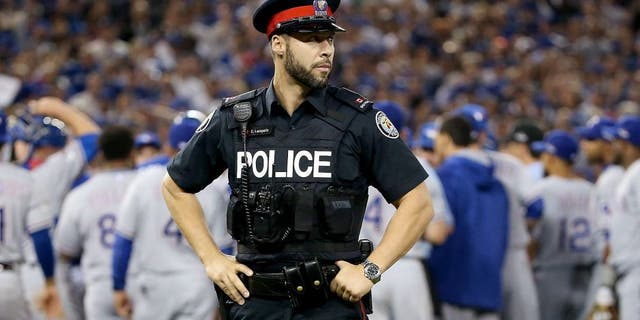 NEWYou can now listen to Fox News articles!
TORONTO -- Everyone needs to clean it up. Blue Jays fans. Blue Jays management. Major League Baseball. Everyone.
In the interest of fairness, let's view the ugly fan reaction to a controversial call during the Jays' thrilling Division Series clincher as an isolated incident, the work of a few dozen idiots, nothing more.
Fine, but know this: It can't happen again.
The Jays are going to the American League Championship Series. The best-of-seven series will start in Kansas City, after which two and possibly three games will take place at Rogers Centre.
What happens if another disputed call goes against the Jays?
Will fans again trash the field?
The Rangers were close to pulling their team off the field during the top of the seventh inning, while the umpires and major-league officials were close to ordering both teams to the dugouts, sources said.
The trouble stemmed from one of the more bizarre calls you will ever see -- a live ball that resulted from a throw back to the pitcher by Jays catcher Russell Martin, a throw that struck Shin-Soo Choo's bat while he was in the batter's box, prompting Rougned Odor to race home from third.
Plate umpire Dale Scott initially signaled that the ball was dead, a decision that he later admitted was a mistake. Scott, to his credit, reversed the call after conferencing with the other umpires, allowing Odor's run to stand and the Rangers to take a 3-2 lead.
The confusion and even anger among Jays fans were understandable; imagine your favorite team falling behind on such a play in a winner-take-all game. But some fans took it too far, tossing water bottles, cans, rally towels and paper products onto the field -- and continuing their misconduct after Jose Bautista's go-ahead, three-run homer in the bottom half.
The hitter after Bautista, Edwin Encarnacion, stood at home plate with his arms raised and his back to the field, pleading with the fans to stop. The benches emptied after Rangers reliever Sam Dyson appeared to misinterpret Encarnacion's actions and the two exchanged words.
At one point, a fan sitting near the Rangers dugout threw something at manager Jeff Banister, enraging Banister and others around him.
Mario Coutinho, the Blue Jays' vice-president of stadium operations and security, told Fox Sports that 39 fans were ejected and no one was seriously hurt.
"Quite frankly, I think it was an emotional reaction to a call on the field," Coutinho said. "It was not the normal behavior of fans in Toronto. They're pretty docile, for the most part. But passion is running pretty high now. Unfortunately, they reacted. You can't prepare for something like that."
Indeed, it wasn't the first such embarrassment in a major-league park, and it won't be the last. Similar field-trashing incidents after disputed calls occurred during the Wild Card Game in Atlanta in 2012 and Game 4 of the ALCS in Boston in 1999. And last Friday, in an even more disturbing event, two people at Dodger Stadium critically injured a Mets fan in a stadium parking lot.
Still, security officials from rival clubs do not agree with Coutinho that fans in Toronto are "pretty docile" -- those officials frequently tell me that the crowd in Toronto is the roughest on visiting players in the AL. I'm sure many Blue Jays fans would object to that description, and heaven knows we're talking about only a small percentage -- most Jays fans, like most fans everywhere, are well-behaved.
Here's the part that troubled me: The Rangers wilted after the initial fan eruption, making three errors in the bottom half, two by shortstop Elvis Andrus. Were the Rangers unnerved? Did mob rule prevail, even if the mob consisted of only a small number of fans?
The first question to Banister afterward was about what went through his mind watching his defense crumble.
"I think about a group of players in a tough situation," Banister said. "The sequence of events that happened prior to that inning, of not being able to slow the heart rate down and make a baseball play. It's a challenge, it's tough, I feel for them. And look, one inning won't define who this ballclub is and who they've been all year long."
That one inning, though, effectively ended the Rangers' season. No excuses -- the Rangers are major leaguers, professionals trained to perform under various forms of duress. It's just that you hate to see this kind of thing happen, on a day that for the Jays and their fans, should only have been filled with joy.
John Skinner, baseball's director of security and facility management, did not attend Game 5, but he spoke afterward with Toronto police and Blue Jays officials. Skinner, like Coutinho, said the disruption was fueled by the call and the importance of the game. But he also mentioned alcohol as a factor.
Baseball always will be in a tricky spot with alcohol, given its reliance on advertising from beer companies, and the sheer fact that many fans enjoy downing a cold one or two at games. But how about at least ordering beer to be sold in plastic cups at ballparks so that fans can't throw cans?
Cans are used at Rogers and many other parks; heaven forbid the liquid turn warmer more quickly in a cup.
"I can't make that call," Skinner said, "but it's certainly up for discussion."
Coutinho said the Jays will meet Thursday morning to discuss any adjustments in security that need to take place for the ALCS. Here's one suggestion: Stop the lame, "Fans are warned not to throw anything on the field," announcements if a disturbance occurs. Get tough and threaten an actual forfeit by the home team.
Would baseball order a forfeit of a postseason game? I doubt it. But perhaps some of the tough guys in the crowd would have cooled it if they thought their behavior might have caused the Jays to lose.
One other thing: Baseball needs to streamline its rulebook, make it easier for everyone to understand. Part of the problem Wednesday was the confusion about the rule after Martin's throw struck Choo's bat. Scott didn't know it at first. I sure didn't know it. I'm willing to bet that 99.9 percent of the fans didn't know it either.
Crazy stuff happens -- and part of the game's beauty is that you can see something new every day. But too often, a ruling on the field baffles fans in attendance, and an explanation is either not given or not given quickly enough. The number of interference rules and possible outcomes alone is enough to give anyone a headache.
I know, I know -- we're talking about only one game, one bizarre call, one ugly day at the yard. But shame on everyone involved if they fail to learn from Wednesday's unfortunate turn of events.
Clean it up. Let's have a passionate -- and peaceful -- ALCS.