UGA pursuing Auburn commit David Marshall leading up to his visit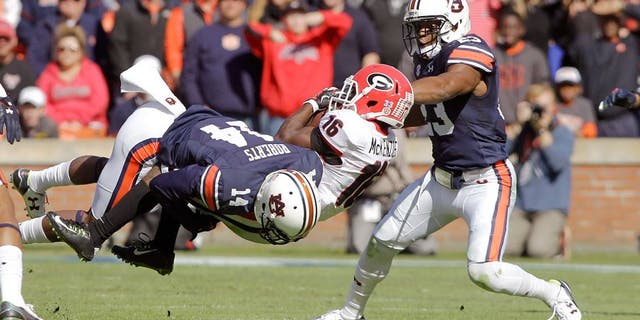 Hybrid defender David Marshall may be currently committed to Auburn but that hasn't stopped new Georgia head coach Kirby Smart from pulling out the full court press in UGA's pursuit of the talented prospect.
Fresh off an official visit to Auburn, Marshall received an in-home visit from Smart and assistant coach Glenn Schumann Monday. The Thomaston, Georgia native is scheduled to take his next official visit to Athens this weekend and apparently will be bringing his parents along with him:
After visiting the Bulldogs, Marshall is scheduled to take one last official visit to Ole Miss the weekend before National Signing Day. Marshall has twice had to commit to Auburn, after decommitting once before and naming Ole Miss as his leader during the fall.
Where Marshall finally ends up is anyone's best guess at the moment but coming off three visits in the final three weekends of recruiting gives all three schools the opportunity to leave their mark on the defender.