UFC: Sanchez A Win Away From Title Shot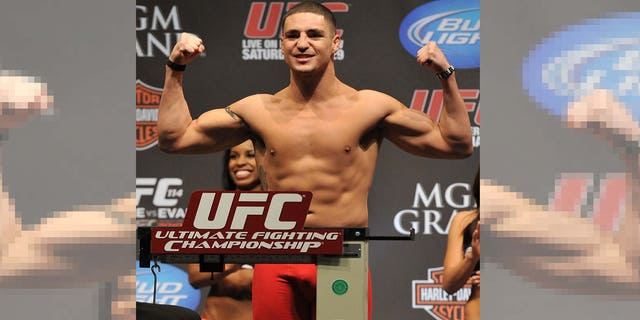 The Ultimate Fighting Championships' welterweight title picture may get clearer after the UFC on Fuel TV live event in Omaha, Nebraska is over Wednesday night.
With Georges St. Pierre, the welterweight champion, out rehabbing from ACL surgery and Nick Diaz looking at a suspension for testing positive for marijuana after his fight with Carlos Condit, a challenger for Condit's interim welterweight champion may emerge from tonight's main event.
Diego "The Dream" Sanchez has reemerged from a two-fight losing streak, and some personal issues involving drugs and alcohol.
He has won his last two fights and is a win away from title contention.
His opponent Jake Ellenberger, an Omaha native, surprised everyone last September by knocking out former contender Jake Shields, a move that injected him into the title picture.
Sanchez knows what a win over Ellenberger will mean to his career and isn't shying away from talking about it.
"You know, this is a big fight with Jake Ellenberger because I believe he is one of the top guys in the division," Sanchez said at a recent open workout. "He has more momentum than a [Josh] Koscheck or a [Johny] Hendricks right now, and I think a win over him is going to set me up in a good position in the division and a shot at the title."
Ellenberger isn't taking Sanchez lightly.
"The Jake Shields fight was a great win, but you need to look at it one fight at a time," said Ellenberger at a recent open workout. "Sanchez is a completely different type of fight for me. I've really put in the work, I have been around the sport a long time and the hard work and travelling the hard road is really paying off."
And while Ellenberger may have home field advantage, Sanchez isn't fazed by it.
"I have to go in and beat him and I have to beat him convincingly and that's what I came to Omaha to do," said Sanchez. "There's no added pressure fighting him in his hometown."
Also on tonight's card is a heavyweight matchup between Stefan Struve, the tallest fighter in the UFC at 6-foot-11, who takes on Dave "Pee Wee" Herman.
Follow us on twitter.com/foxnewslatino
Like us at facebook.com/foxnewslatino