UFC: Joseph Benavidez On His Flyweight Future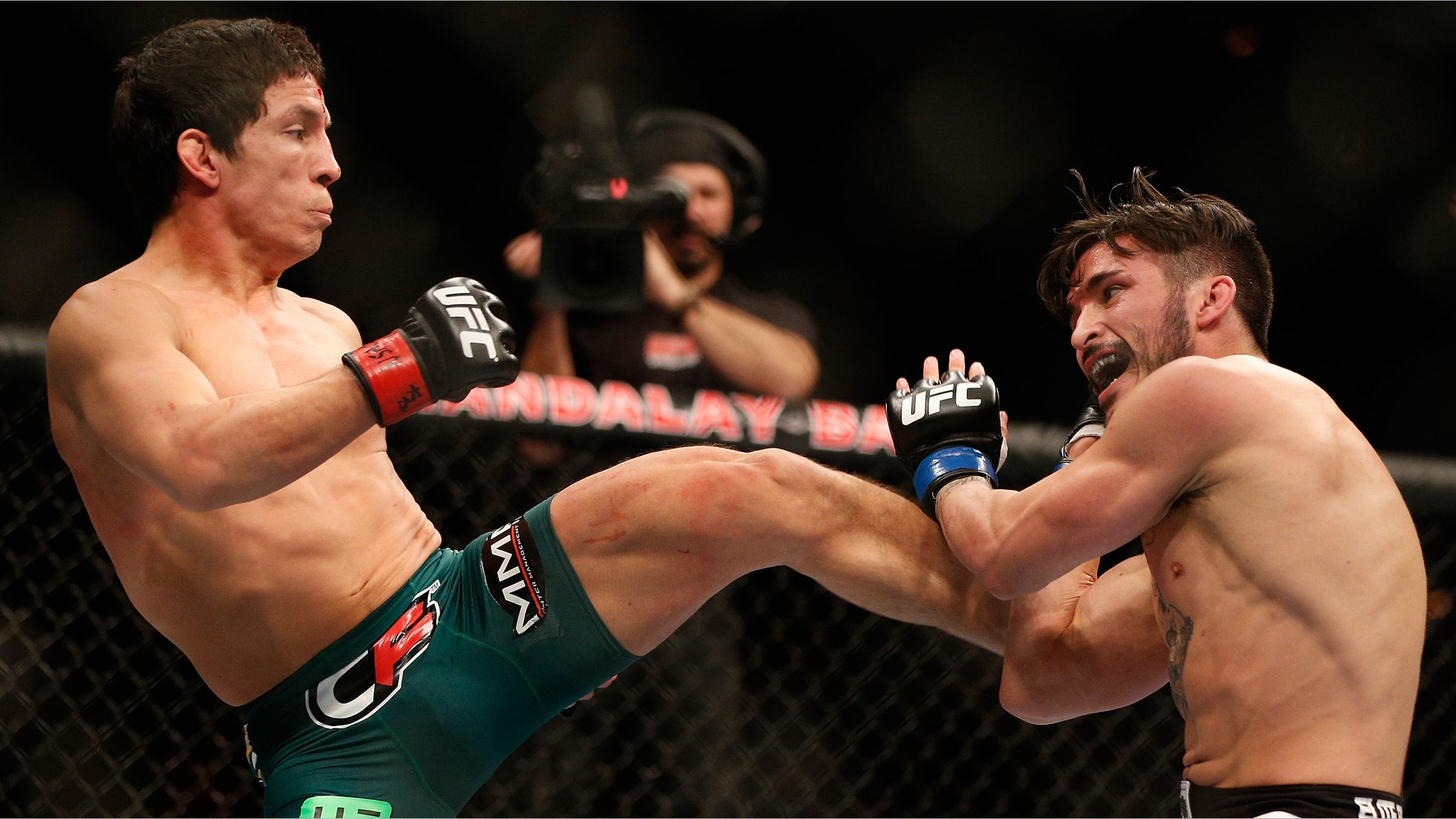 Joseph Benavidez came up short in a five-round battle last September for the UFC's first ever flyweight championship.
"I put even more expectations on myself for that fight," Joseph Benavidez said about his loss to Demetrious "Mighty Mouse" Johnson.  "Months after, I'd be driving with my girlfriend having fun and then [the thought of losing that fight comes up]."
Leading into his second fight since the loss, Benavidez told Fox News Latino he's "earning" himself an eventual rematch with Johnson and helping build something he's invested in. He fights this Saturday with Darren Uyenoyama on UFC on Fox 7 card.
"I could have asked and pleaded for a title shot after my win over Ian McCall, but the way I look at it, man, is I have just fought Demetrious," said Benavidez.  "I wanted to let the division grow, get better."
The Las Cruces, N.M., native also doesn't begrudge Arizona State wrestler John Moraga the title shot he's expected to receive when Johnson is fully recovered from shoulder surgery.
"The guys worked hard like everyone else," said Benavidez.  "He's got two impressive finishes."
"I think it's a great division.  The people need to know about guys like John Moraga," said the Team Alpha Male product.  "This is the weight class where I should be."
This dedication to fighting at 125 pounds has also stopped him so far from reentering the bantamweight division fray, where things have become a little chaotic.
"I've been looking at the division and it's crazy," said Benavidez, who noted he beat Eddie Wineland handily.
Wineland now faces Renan Barao for the interim championship in June, while champion Dominic Cruz is still recovering from knee surgery.
Benavidez's only career losses have been to Cruz twice and Johnson this past September.
"I'm not going to say I'm never going to fight at bantamweight again," said Benavidez, who then said he wouldn't make a move just because someone he's beaten has received a title shot in that division.
"I want to prove I'm a great, exciting fighter.  I always want to prove that I've improved," said Benavidez.
He said it's inevitable there will be a rematch with Johnson.
"He beat me fair and square.  He's beat the top three guys in the division," said Benavidez.  "I'm ready to fight him again and, on any given day, I can be considered to be the best fighter in the world."
And don't think Benavidez has forgotten the task at hand. Like this Sunday's fight against Uyenoyama.
"I think I can beat anyone in the world," said Benavidez.  "That's what I train for.  It's just a test of skills for me."