UFC flyweight champ Demetrious Johnson on fight IQ and the will to win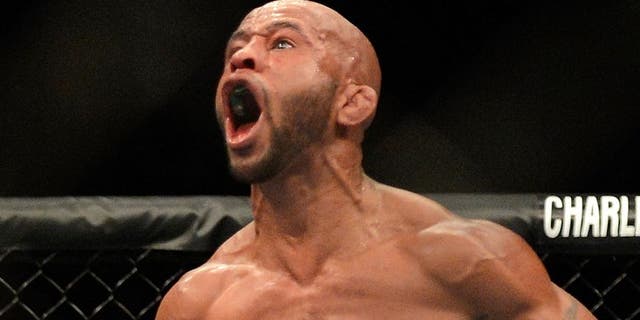 NEWYou can now listen to Fox News articles!
UFC flyweight champion Demetrious Johnson is becoming well known for a lot of impressive qualities and accomplishments.
Beyond Johnson's blinding speed, well-rounded skills and impressive finishing rate, behind the UFC flyweight's long streak of title defenses and his overall dominance, is his peerless ability to push through difficulty and nimbly change up tactics whenever needed.
Take his most recent title defense, in April against Kyoji Horiguchi, in which Johnson had trouble timing the Japanese challenger. The champion looked solid but initially wasn't able to control the young contender.
Then he made slight adjustments and focused on grinding down Horiguchi with his grappling. Eventually, Johnson wore him down and submitted him with an arm bar in the fifth round. A more stark example of Johnson making adjustments to turn the tide can be found in his first title defense, back in January 2013.
In John Dodson, the champ faced a pure southpaw with more power and at least as much speed as he had, and he struggled early on. In the first two rounds Dodson knocked down Johnson three times and appeared on his way to ending the champ's reign just as soon as it had begun.
Three rounds later, however, Johnson once more had the UFC gold belt wrapped around his waist. Johnson survived, then adjusted, and ended up punishing Dodson in the latter part of the fight.
Oftentimes that ability to adjust midstream is referred to as "fight IQ". To be sure, "Mighty Mouse" is intelligent, but how many of his adjustments are done without thinking, in the moment, and how often are they based on conscious observations and decisions?
As he readies to rematch Dodson this Saturday in the main event of UFC 191 in Las Vegas, Johnson told FOX Sports there are a few factors that go into it. The champion insisted that he was never so dazed that he couldn't still think clearly, but also explained how he trains his body and brain to work in reflexive conjunction well in advance of bouts, so that he can react automatically.
"There's both things happening," he said.
"For me, it's about fighting smart and seeing what's available in the moment. It's about knowing when to push and when to conserve energy. It's also a battle of wills. I train that a lot in the training room.
"I train my will in everything I do. I might be doing conditioning work, mits, or I might be sparring a 160-pound guy who is 5-9 and we're going after it and there's a big scramble where we both take a deep breath. There, it's about who is going to back up and who will go forward. Everything I do in training is about training myself to always push forward and build that awareness of what's going on."
Suffice to say Johnson believes he's once more appropriately trained to be ready for Dodson and all his speed and power. The 29-year-old believes he was able to survive Dodson's big knockdowns in ways that others have not because he doesn't fear defeat.
"Dodson scares a lot of people when he hits them," he opined. "He scares people with his power, so they don't want to engage. F*** that. You've got to keep on pushing. What's the worst that can happen, you lose the fight? If you don't do anything, you're going to lose, anyway. That's my mindset."
Johnson's go-to strategy for when he's at risk is to up his pressure and aggression. "The only time I was ever close to desperation was my [135-pound title] fight against Dominick Cruz, only because I knew I was losing the fight. So, I needed to knock him out, so I swung for the fences," he explains.
"Against Dodson, I wouldn't call it desperation, I just decided to go after him. I don't care if I get hit. Against Horiguchi I had to decide to chase him down. I'm chasing these guys down now. It isn't about desperation, it's just about finishing fights. When I started fighting I was all about angles, and I still am, but now I come forward a lot more."
There's little doubt that Johnson will go right after Dodson in their rematch, in no small part due to Dodson's ceaseless trash talk since they fought two and a half years ago. Because Dodson fought Johnson so closely in their first fight, the champ was pressured to grant his smiling foe a rematch right away.
Instead, Johnson chose instead to fight the many other contenders waiting in line first. Dodson has said he's here to save the flyweight division and makes the ludicrous claim that Johnson is a "boring" champion, to anyone willing to listen.
The reigning king at 125 pounds clearly still is aggravated by the insults, though he says he's been able to dismiss them as silly. "I was never the type of person to ask for a rematch, especially when I've already beaten a guy," he says.
"When you look at a guy like [Dodson teammate] Donald Cerrone, now that's a man on a mission. He's on a tear and deserves a title shot. He's got something like eight consecutive wins. Now that f***ing man deserves a title shot. To go out there and ask for a rematch because you call me boring, that's a different thing. I've never come across anyone else who has called me boring. Even my previous opponents. And uneducated fans and Dodson think that."
Indeed, Johnson has proven himself to be one of the most dangerous finishers in the UFC. The champ has taken out four out of his past five opponents inside of the allotted time, submitting three of them.
"I'm pretty sure if you go to his gym and talk to all his training partners, and you ask Carlos Condit, you ask Andrei Arlovski, you ask his coach Greg Jackson, they'll tell you, 'No, Demetrious can do it all. He can strike, wrestle, and submit people,'" Johnson surmised.
"When was the last time you submitted someone, John?"