UFC Fight Night: Teixeira vs. Saint Preux Crystal Ball Predictions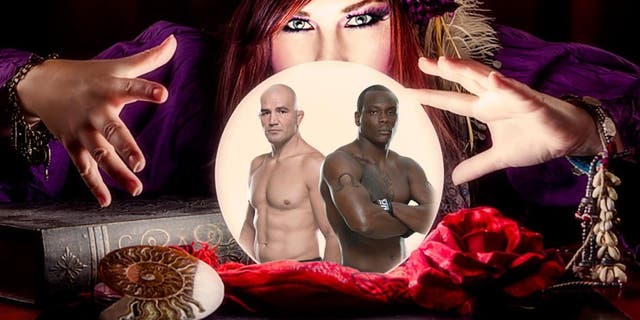 The UFC brings the latest great Fight Night card to the South when it hits Nashville this Saturday for a main event matchup between top-10 light heavyweights Glover Teixeira and Ovince Saint Preux.
In the co-main event, two of the lightweight division's best young contenders, Michael Johnson and Beneil Dariush, clash to decide who moves up the ranks. Read on to get our take on those bouts and the rest of the UFC Fight Night card.
Then, let us know your picks on Twitter and Facebook!
Glover Teixeira (22-4) vs. Ovince Saint Preux (18-6)
This fight pits two of the light heavyweight division's biggest sluggers against one another. Saint Preux is also one of the hottest fighters at 205 pounds, having won two straight by KO and seven of his last eight, overall.
Teixeira, however, has not won a fight since 2013. That said, the former title challenger has not fought yet in 2015, and his two losses in 2014 were to then-champion Jon Jones and top contender Phil Davis.
As such, Teixeira should still be viewed as one of the very best fighters in the world. Jones is the best in the division and Davis was a tough matchup for Teixeira with his superior wrestling.
As dangerous as he is, Ovince Saint Preux does not present that type of grappling risk. He does, however, have much-improved defensive wrestling, as he demonstrated against Patrick Cummins in his previous fight.
On the feet, either man has the KO power to win the fight, but OSP has the height and reach advantages. If Teixeira can't get the better of his younger opponent on the feet, he'll likely have a lot of trouble putting him on his back, especially considering two-time All-American wrestler Cummins struggled to do so.
We like OSP's improvement and activity levels, but we also like Teixeira's technical boxing and his time off, as it likely gave him a chance to heal his body. This fight is a toss-up.
Prediction: Teixeira by decision.
Michael Johnson (17-8) vs. Beneil Dariush (11-1)
These two lightweights are some of the best young contenders in the division. Both have won four straight, and each have beaten some of the toughest veterans at 155 pounds during their current streak.
Johnson has the power and striking speed to hurt Dariush, on the feet. However, the Blackzilian's takedown and ground defense will need to be better than ever as Dariush has some of the most effective and stifling grappling in the division.
Prediction: Dariush by decision.
Derek Brunson (13-3) vs. Sam Alvey (25-6)
In recent years, Brunson has mostly lost to only the best in the middleweight division. He got stopped by both Yoel Romero (in 2014) and Ronaldo "Jacare" Souza (in 2012).
He also lost a close decision to former TUF winner Kendall Grove a few months before his loss to "Jacare," but Grove is vastly underrated. In addition to those rough losses, Brunson has won his last two, and four out of his last five.
Before eventually fading against Romero, he was winning the fight with the top contender, early. All that is to say that Brunson is a dark horse at 185 pounds and a potential future top contender.
Sam Alvey is perhaps best known for his big smile and model wife, but he's also emerged as one of the toughest young prospects in the division. Since losing his UFC debut by decision to Tom Watson in 2014, Alvey has won three straight fights by TKO or KO.
The Wisconsin native has good reason to smile, lately, and a win over Brunson will be the biggest of his career. Alvey may just be able to do it.
Alvey likely has a small speed advantage on the feet, while both men have dangerous striking power. Whoever has the better conditioning may get this done.
Prediction: Alvey by decision.
Jared Rosholt (12-2) vs. Timothy Johnson (9-1)
Rosholt's power-wrestling game is some of the best at heavyweight, while Johnson has one of the sport's best hair-for-hair mustache games. In all seriousness, Johnson has fight-ending striking power and isn't lost on the ground with submissions, either.
Rosholt has a tendency to get hurt early in a fight but has great conditioning and wrestling to keep going. Johnson will need to keep Rosholt off of him, hurt him with strikes and prepare for return fire in order to win.
Prediction: Rosholt by decision
Sara McMann (8-2) vs. Amanda Nunes (10-4)
This fight between top bantamweight contenders is one of the more important ones on the card. McMann has proven that she has what it takes to get to the top of the division, already, and if Nunes can beat her, she'll show the world that she's on the verge of title contention.
Nunes has a great all-around game and powerful strikes on the ground. However, McMann will threaten with takedowns all fight long.
Nunes had better be ready to defend takedowns and cage-walk back to her feet to give herself a chance. The Olympic wrestling silver medalist and former world title challenger McMann should be considered the favorite here because of her dominant grappling, but we think Nunes has as good a chance as any underdog could, so we'll go for the upset.
Prediction: Nunes by decision.
Ray Borg (8-1) vs. Geane Herrera (8-0)
Herrera makes his UFC debut here, after a successful stint in top feeder promotion RFA, but he's getting a tough draw in Borg. Herrera has yet to lose and is dangerous on the ground but Borg is tearing it up in the UFC's flyweight division and is straight scary with his ground game.
Prediction: Borg by submission
Uriah Hall (11-5) vs. Oluwale Bamgbose (5-0)
Hall is coming off a disappointing loss in May, while Bamgbose has yet to lose while fighting on the regional circuits and will be making his UFC debut. Hall is the more polished and experienced fighter, by far.
Both men have big power, however. And, Bamgbose tends to be more of a volume striker than the sniper-like Hall, who searches for perfect shots.
Prediction: Hall by decision.
Chris Camozzi (21-10) vs. Tom Watson (17-8)
Camozzi gets a chance to fight with a more reasonable training camp under him, after volunteering to fight top contender "Jacare" Souza, earlier this year. Still, he faces a cagey and tough veteran in Watson.
Watson has power but we think Camozzi is slightly more technical on the feet with his strikes.
Prediction: Camozzi by decision.
Dustin Ortiz (14-4) vs. Willie Gates (12-5)
Gates is rangy, sharp with his strikes and tough to pin down. Ortiz may still be a bit too good of a grappler and well-rounded for him, at this point, however.
Prediction: Ortiz by decision.
Frankie Saenz (10-2) vs. Sirwan Kakai (13-2)
This is a phenomenal bantamweight bout. We like Saenz because he's got a bit more pop in his strikes.
Prediction: Saenz by decision.
Chris Dempsey (11-2) vs. Jonathan Wilson (6-0)
The debuting Wilson has the size advantage, but Dempsey has faced and beaten the more skilled opposition, thus far.
Prediction: Dempsey by decision.
Marlon Vera (6-2-1) vs. Roman Salazar (9-3-1)
Salazar is likely chomping at the bit after getting just a couple minutes of ring time last February before accidental but illegal eye-pokes from former world champ Norifumi "Kid" Yamamoto ended their bout in a no contest. Both men will be in search of their first UFC wins.
Vera has the size and submission advantage, while Salazar has the striking power edge.
Prediction: Vera by decision.
Anthony Christodoulou (12-5) vs. Scott Holtzman (7-0)
Holtzman is well rounded with good punching power, while Christodoulou may be the slightly better submission fighter.
Prediction: Holtzman by decision