UFC: Dominick Cruz Has No Problem With Fighter's Gay Porn Past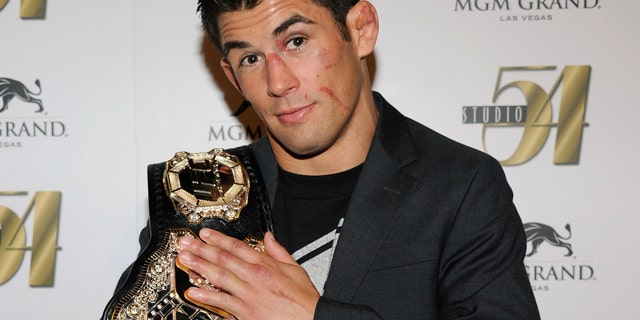 [A full interview with UFC bantamweight champion Dominick Cruz will be up next week regarding The Ultimate Fighter, Urijah Faber and more.]
In the macho world of mixed martial arts a gay fighter has yet to emerge in the major league fight organizations like the Ultimate Fighting Championship.
But on this upcoming season of "The Ultimate Fighter" the UFC and mixed martial arts will get their first litmus test of tolerance in one competitor.
Dakota Cochrane, with 13 wins and two losses, is a blue chip prospect at lightweight but he comes with a past.
Cochrane, while in college, performed in gay adult films.
As the story goes Cochrane was experiencing financial issues and made a decision to make money by performing in gay pornography.
Cochrane, who is straight, has two children and is engaged to his college girlfriend.
The question is how will other fighters react to his past indiscretions?
UFC bantamweight champion and Ultimate Fighter coach Dominick Cruz spoke with Fox News Latino yesterday and he doesn't see it as an issue.
"I have absolutely no issue with it and I have nothing to say about it really," said Cruz. "It's just a guy on the squad."
Fellow Ultimate Fighter contestant Mike Rio told MMA Junkie Radio he also has no issue with Cochrane and praised him some for his fighting prowess.
"I'll tell what, if there's a gay fighter in the UFC, I wish he would come out," said UFC President Dana White this past November. "I could care less if there's a gay fighter in the UFC. There probably is and there's probably more than one. It's 2012."
While Cochrane maintains he is straight this will be the first time that fans, fighters and the UFC will deal with this type of situation and in such an open manner on live television.
Follow me on twitter @MrVicGarcia
Follow us on twitter.com/foxnewslatino
Like us at facebook.com/foxnewslatino