UFC: Diaz beats Cerrone, Overeem Overcomes Lesnar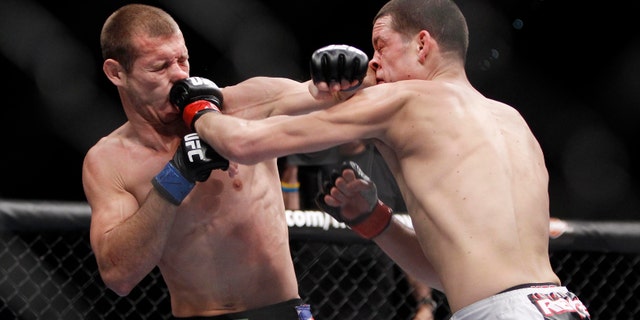 Fight of the Night
In a classic battle that lived up to hype and won "Fight Of The Night" honors, lightweight Nate Diaz coming off of the biggest win of his career against Takanori Gomi in September, beat "Cowboy" Donald Cerrone in the co-main event of UFC's last card of 2011.
Bad blood was evident earlier in the week at a press conference where Diaz shoved and knocked off Cerrone's trademark cowboy hat.
Cerrone had been on a 6 fight win streak and was making waves in the UFC lightweight division.
The match up started off with even more fireworks as instead of the traditional handshake/ fist bump, Cerrone extended his middle finger as Diaz backed away.
I hope [the UFC] gives me one of the top contenders...I'm trying to get a championship belt.
Both men exchanged punches with Diaz's boxing superior to Cerrone's.
Cerrone utilized low, hard leg kicks to knock Diaz down to the mat but refused to follow up with any ground game. Diaz brushed these falls off and continued his strategy of making Cerrone box with him.
There was very little if any ground game and Diaz dominated the war of punches.
At the start of the third round Diaz motioned to Cerrone and extended his middle finger on one hand before adding the second hand and few expletives to make his point.
Both men slugged it out again in the third round with Diaz clearly keeping control and Cerrone looking tired and bleeding from his mouth.
The crowd, which at first leaned toward Cerrone, in the end became split and some began to appreciate what Diaz had done at the MGM Grand Garden Arena in Las Vegas.
In the end Diaz was awarded the victory by unanimous desicion (30-27, 30-27, 28-28). "I hope I didn't look too sloppy but I'm glad I got the win," said Diaz in the post fight interview.
Speaking with Fox News Latino for a brief interview after the press conference Diaz called the fight "tough."
Nate Diaz along with his brother Nick (a UFC welterweight contender who will fight for the interim title in February) are known for their dislike of the non-fighting aspects (press conferences and other media functions) of Mixed Martial Arts as well as for their tough demeanor and vicious fighting style.
However Nate's goals remain the same as any fighter.
"I hope [the UFC] gives me one of the top contenders," said Diaz. "I'm trying to get a championship belt."
The Main Event
Heavyweight Brock Lesnar (5-3) has faced his share of tough opponents the last few years that he's been in MMA, but never someone like Alistair Overeem (33-11).
Coming back from a second bout of career and life threatening diverticulitis, Lesnar was struck with hard knees to his ribs by Overeem and was unable to defend himself from a barrage of punches. The bout was called at 2:26 in the first round and Lesnar announced afterwards that this was his last fight in the "octagon."
Lesnar spoke about the difficulty and adversity he had faced over the past two years with his disease and that he promised his wife that this would be his last bout if he lost.
Overeem now moves on to challenge UFC heavyweight champion Junior Dos Santos sometime in 2012 for the championship.
Earlier in the night...
Danny Castillo beat Anthony Njokuani by a controversial split decision. Castillo seemed upset with the fans who booed the decision.
Jacob Volkmann beat Efrain Escudero (a former Ultimate Fighter winner) by unanimous decision.
Victor Garcia is a Fox News Latino regular contributor from Fox News Channel.
Follow us on twitter.com/foxnewslatino
Like us at facebook.com/foxnewslatino