UFC 195: Lawler vs. Condit Crystal Ball Predictions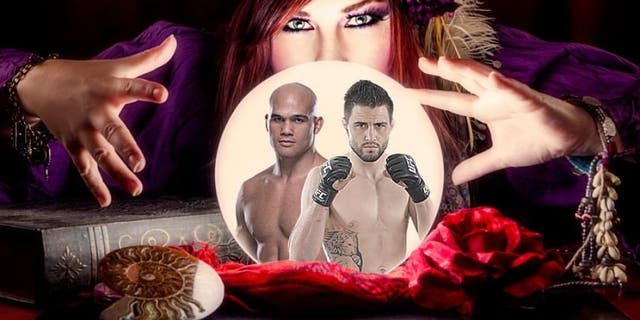 We know you're probably still talking about UFC 194, but it's time to get with the program and move on to 2016's first huge event! The headlining bout is a doozy as Carlos Condit challenges Robbie Lawler for his welterweight championship.
In the co-main event, former heavyweight champion Andrei Arlovski takes on fellow top contender Stipe Miocic in an unpredictable clash of big men. Read on for our analysis and picks for some of the night's biggest bouts, and then let us know who you're picking, and why!
Robbie Lawler (26-10-1) vs. Carlos Condit (30-8)
This main event pits two cerebral brawlers against one another in a fight that very well could end up being one of the best fights of the year. Condit is one of the most diverse stand-up strikers in MMA -- able to score with kicks, elbows, punches, and knees anywhere on opponents, seemingly at any time.
With his accuracy and volume, Condit is also capable of putting down and taking out opponents with his strikes. He's comfortable standing and trading shots in the pocket, like he did against Dan Hard, but Condit is also adept at using his footwork to come in and out of range selectively, like he did against Nick Diaz.
On the ground, Condit transitions nicely, and is the rare fighter who can also end a fight off of his back. To put it simply, Condit has a lot of ways to end this or any fight.
Lawler is still thought of as a brawler, because of his aggression and willingness to stand and exchange strikes in close quarters. His defense is solid, however, from his takedown prevention, to his head movement and ability to cover up with his arms and hands.
Lawler is a monster, but he's a monster with a brain. His stand-up striking game is one of centimeters, and he is able to hit his target over and over, throughout a fight, chipping away at even the toughest opponents, as he did against Rory MacDonald in July.
Both men have proven conditioning and will likely be able to go hard for five rounds, somehow. Lawler may have the advantage in terms of deciding whether or not the fight goes to the ground, however.
Once on top, Lawler is not easy to sweep or submit, and his ground strikes are punishing. Lawler also has the advantage of being more active against tougher competition over the past couple of years, and has looked pretty hard to take out.
Condit will be a threat the whole fight, but Lawler has the edge because of his power, technical boxing and wrestling ability.
Prediction: Lawler by decision
Stipe Miocic (13-2) vs. Andrei Arlovski (25-10-1)
Both of these big men have the punching power to stop a mule. Miocic typically throws more volume at opponents, but Arlovski has the one-shot KO power.
If no one goes down early from the other's strikes, the fight could very well come down to who is better with their takedowns and in the clinch. Miocic is a solid wrestler but Arlovski has underrated takedown defense and clinch striking ability, when he lets go of his hands and elbows.
Miocic is the safe bet, given how great he's looked against the likes of Mark Hunt and Junior Dos Santos recently. We'll go with the resurgent former champion because of his KO power, however.
Prediction: Arlovski by second-round KO
Lorenz Larkin (16-4-1) vs. Albert Tumenov (16-2)
This fight should be a slugfest. Larkin is powerful and lean at welterweight, able to handle himself in the clinch but also explode with punches.
Tumenov is smooth and well-rounded, with thudding power in all points. We like Tumenov's fluidity and power here.
Prediction: Tumenov by decision
Diego Brandao (24-10) vs. Brian Ortega (9-0-1)
Brandao is an excellent grappler but he'll want to keep it on the feet against Ortega. If the Brazilian can make it messy on the feet, he has the ability to make Ortega uncomfortable.
If Ortega gets a bit flustered, he could give an opening for a looping Brandao punch. Ortega needs to get inside and stay there against Brandao.
If Ortega can force clinches and ground exchanges, he stands a very good chance of catching a limb before time runs out. This is the biggest test of Ortega's career, as he faces an opponent with much more experience than he.
He's got the technique to make it happen. We'll see if he can stand Brandao's heat.
Prediction: Ortega by submission, third round
Abel Trujillo (12-7-1) vs. Tony Sims (12-3)
Both men are powerful and have good wrestling. Neither is afraid to let the punches fly on the feet, either.
I think the less predictable man will be the victor, here. That is to say, whoever mixes their punches together with takedown and clinch attempts best will have the advantage.
If both men insist on going one direction without any misdirection, it could end up being a grueling bout.
Prediction: Sims by decision
Dustin Poirier (18-4) vs. Joe Duffy (14-1)
After a couple extra months of waiting, this excellent lightweight contenders contest is finally upon us, headlining the UFC Fight Pass portion of UFC 195. Initially, this fight was a tough one to call, but I don't like Duffy fighting so soon after suffering the concussion which forced him out of the UFC: Dublin card this fall.
For that reason, I give Poirier the edge, here. When things get hairy, and punches start to thud, I think Poirier may be the fresher and healthier guy, better able to absorb shots.
We shall see.
Other than that, I like Duffy's hand speed and think he has the edge in boxing. Poirier has powerful punches and good length, which he doesn't always use.
Poirier may have the wrestling and ground advantages, though. If he doesn't get caught in a slug-em-out mentality, he may have opportunities to change levels and put Duffy on his back.
From there, Poirier is a slick submission fighter.
Prediction: Poirier by decision