UFC 194: Aldo vs. McGregor Crystal Ball Predictions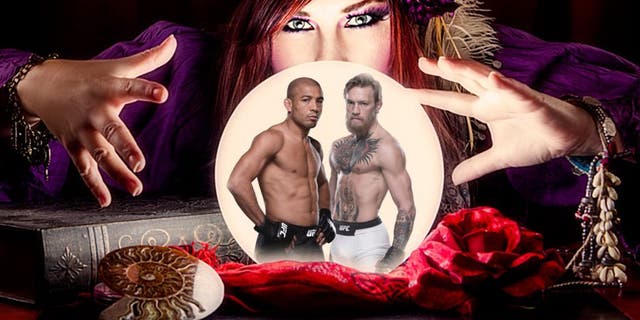 One of the most stacked cards in UFC history is finally upon us. UFC 194 is headlined by the featherweight title grudge match between champion Jose Aldo and challenger Conor McGregor.
Will the Irishman's size, unorthodox style and power prevail over the Brazilian's lethal basics and blinding speed? In the co-main event, middleweight champ Chris Weidman takes on a man who may very well end up being his biggest challenge to date - Luke Rockhold.
Rockhold tells us that he's too technical and smooth for Weidman, and just grittier, to boot. Weidman says he's going to give the surfer a wake up call.
Read on to see who we're picking in the main card bouts, and then let us know who you've got, on Facebook and Twitter!
Jose Aldo (25-1) vs. Conor McGregor (18-2)
Conor McGregor poses a real threat to the reign of the UFC's most dominant champion, Saturday, with his size, timing, good sense of distance, and punching power. Furthermore, Aldo is an old 29, having gone through wars in the cage, and he also hasn't fought in over a year and is likely rushing this fight after a rib injury in July.
With that being said, up to this point, Aldo has proven that he's the best fighter in the world, pound for pound. At the end of the day, that's hard to pick against.
If both men are close to their best at Saturday night's main event, Aldo has to be considered the favorite. Unless McGregor has become suddenly excellent at checking leg kicks, we can expect the champion to do real damage with his nasty low strikes.
And, yes, Jose Aldo can kick the legs of Southpaws effectively. He's done it before, so there's no reason to believe he can't, again.
Aldo doesn't move and swing around with his arms low and taunting the way McGregor does, choosing instead to set up his finishes with basics that he honed under Pedro Rizzo. However, the basics work.
Aldo is rarely out of position with his feet or his hands, has great accuracy with his strikes, and hides his nasty cross well behind his jab – which may be the best in all of MMA. That bodes well for him against McGregor, who has a tendency to get a whole hell of a lot, especially by the cross, even in short fights.
What's not basic about Aldo is his speed. McGregor is quick as can be, but we don't know that he's faster than Aldo, just yet.
The champion's strikes and grappling transitions have caught even the most skilled and nimble featherweights off-guard many a time. It will be interesting to see whether McGregor will use his reach better than Aldo can close the distance – and he does it fast – with his punches.
With the resilience and chins both men have, this fight could end up being a brutal, long fight. It could also end fairly quickly, given that they both possess such speed and power.
As of now, however, the featherweight division is still Jose Aldo's, and this fight is his to lose.
Prediction: Aldo by decision.
Chris Weidman (13-0) vs. Luke Rockhold (14-2)
This has to be one of the hardest fights to pick, along with Friday's Frankie Edgar vs. Chad Mendes main event. On the one hand, there is no particular reason to pick against the champion Weidman, who has been utterly dominant throughout his entire career, against some of the best fighters in history.
On the other, Rockhold appears to have the size, youth, and grappling ability to give Weidman a serious test. Weidman believes he'll ragdoll Rockhold around the cage with his wrestling, but he may very well end up being surprised at the fight he'll put up, and the AKA fighter's ability to threaten off his back with submissions, and get up.
I'm guessing Rockhold will have a real hard time with Weidman's wrestling, but that he won't be overwhelmed by it, mentally, after having trained for years with Cain Velasquez and Daniel Cormier. Rockhold also has amazing Brazilian jiu-jitsu skills on the mat, but Weidman is an underrated jiu-jitsu artist himself after a career of training with the legendary Matt Serra.
If Rockhold can scramble or create enough space to get behind or on top of Weidman – and I believe he can- he has the ability finish the fight. But, it's unlikely he or anyone else will be able to finish a fight from underneath the All-American.
On the feet, Rockhold is convinced that he's too smooth and slick for Weidman. He may be.
He's surprised others, like Lyoto Machida, with his skill and power with strikes. Rockhold is certainly more fluid of a striker than Weidman.
With that said, the champ has good balance on his feet, covers up well when he needs to, and and has used strike volume and length of reach to deal very well with fast and diverse strikers like Anderson Silva, Lyoto Machida and Vitor Belfort. So, Rockhold may be underestimating Weidman on the feet a bit.
If they connect clean, either man can finish on the feet. It will be crucial for Weidman to stay poised, as he always has, if things start to go poorly for him on the feet, and look for the takedown without telegraphing it.
Rockhold is likely looking to make Weidman take bad shots from too far away after frustrating him on the feet. It's a long-fight, however, and I wouldn't be surprised if both men are cautious and patient in the opening rounds.
Rockhold has shown he has the conditioning and grit to go the distance, and he could here as well. I think the fight favors him the most if it is a quick one, however, because he may surprise Weidman on the feet early, before he's gotten a chance to get the challenger's timing down, and because a submission may be easier before the two are sweating a whole lot.
Prediction: Truly impossible to call with certainty but I predict Rockhold wins if it ends within the first three, and a grinding wrestling-based victory for Weidman if it goes the distance.
Ronaldo "Jacare" Souza (22-3-1) vs. Yoel Romero (10-1)
Also a tough one to pick, here. Souza would appear to be the more well-rounded fighter, but Romero has deceivingly good conditioning, and lulls opponents to sleep a bit at times, while always remaining an explosive threat.
Souza has good power on the feet, but he gives Romero his best chance if they stand and slug it out. Souza should strike enough to hide his takedown attempts and concentrate on putting the former Olympic wrestler on his back. Romero will likely be good at popping back up to his feet, but of Souza can continually put the Cuban on his back, he'll likely force him to open up eventually for a submission.
Prediction: Souza by third round submission.
Demian Maia (21-6) vs. Gunnar Nelson (14-1-1)
This fight will either be a grappling fan's dream come true, or a tentative striking bout on the feet if no one can get the clear takedown advantage. I'm betting that Maia will have that, however.
Maia has some of the best wrestling in the division and should eventually be able to drag the Straight Blast Gym: Ireland fighter down. Once on the mat, Nelson certainly knows what he's doing, as one of the best Brazilian jiu-jitsu black belts in the world.
Unless age and speed become too much of a factor in the younger Nelson's favor, however, I expect Maia to be able to edge him out on the ground.
Prediction: Maia by decision.
Max Holloway (14-3) vs. Jeremy Stephens (24-11)
Fans are sleeping on this amazing featherweight contender's bout but they shouldn't. Stephens is motivated and always a KO threat. Holloway has looked like a world-beater of late.
Neither man minds slugging it out, but Holloway may be a tad slicker with his footwork and angles, right now.
Prediction: Holloway by decision.