UFC 190: Rousey vs. Correia Crystal Ball Predictions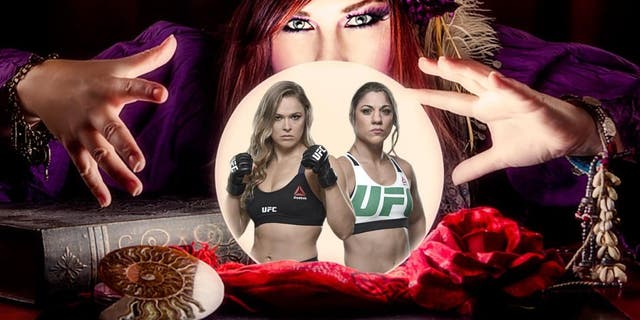 UFC 190 is headlined by superstar Ronda Rousey as she defends her women's bantamweight championship on enemy soil against Brazilian Bethe Correia, but the rest of the card is filled with other legends and former champions, as well as top contenders. In the co-main event, for example, Mauricio "Shogun" Rua will fight Antonio Rogerio Nogueira in a rematch of their 2005 PRIDE bout, which still stands as one of the very best fights of all time.
Nogueira's big bother and former world champion "Minotauro" will face yet another giant when he takes on Stefan Struve. Top strawweight contenders Claudia Gadelha and Jessica Aguilar will also fight to decide who gets the next title shot.
Neil Magny will also try to move into the welterweight division's top 10 when he takes on former world title challenger Demian Maia in the featured fight on the FOX Sports 1 prelims. The event is quite good, from bottom to top, and we'll provide full coverage of it all weekend long.
First, however, check out our analysis and picks below to help get you ready for UFC 190! Then, let us know who you're picking on Twitter and Facebook!
Ronda Rousey (11-0) vs. Bethe Correia (9-0)
You can't underestimate any opponent in something as chaotic as an MMA fight. UFC bantamweight champion Ronda Rousey knows this, and that's why she's insisted time and again that challenger Bethe Correia is her toughest test to date.
And, Correia in particular certainly shouldn't be dismissed as she's a hard-hitting volume puncher who is well-rounded, and who will be fighting at home, Saturday. That said, the matchup favors Rousey greatly.
Rousey is likely just as good a striker as Correia. However, no one in the world is as good at grappling (both on the feet and on the ground) as the champion.
So, you can see where we're going with this. Rousey may very well end up dominating on the feet with strikes, but if things get into close quarters, she'll likely dominate there.
All that said, Rousey is not very elusive as a striker. She has learned to throw lightning quick punches, knees, and elbows, but her head stays pretty much on the center line, so she is capable of being tagged a good deal, like she was by Miesha Tate in their second fight.
It's hard to hit someone without getting within grabbing distance, however, and there's a good bet Rousey could go to grappling safety if she's tagged early. It will be interesting to see, however, if Rousey fights smart or finally lets emotions get in her way as she has been infuriated by the pre-fight trash talk from Correia.
The challenger's best chance is an emotional Rousey who wants to prove a point by standing and trading punches in the center of the cage.
Prediction: Rousey by submission, third round.
Mauricio "Shogun" Rua (22-10) vs. Antonio Rogerio Nogueira (21-6)
Their first fight, in the 2005 PRIDE middleweight Grand Prix, still stands as one of the very best fights in MMA history. If the rematch had taken place even a year or two later, we would have worried about the health of either fighter, even as he took deep interest in the outcome of battle between these two great fighters.
Now, a decade later, both men have taken far too much damage over the course of their legendary careers, and this fight is downright scary precisely because it has a good chance of being so exciting. Both Brazilians are looking for a statement win at home to put a spark in their careers, so don't expect either to give in at any point.
It's a good bet this fight will be like their first one, just in a bit slower. Nogueira's hands are crisper and his punches come straighter, but Rua can put you out with one shot.
It will be interesting to see if either man has a takedown advantage, and if either could possibly edge out the other on the ground. However, there's a good chance that their grappling could cancel one another's out and this fight will be another brutal war of attrition.
In that fight, it is anyone's to win. Hopefully, neither takes too much damage, either way.
Prediction: Rua by decision.
Glaico Franca (13-3) vs. Fernando Bruno (16-2)
These two vets get a bump to the main card in their respective UFC debuts. Doubtless they are thrilled at the spotlight.
Who deals with its bright shine best may determine who wins. Bruno is an excellent submission fighter who is teammates with UFC champion Jose Aldo.
Franca also has real submission skills, but pairs it with good KO power. It's a tough call but we'll go with Franca because of his power and size.
Prediction: Franca by decision.
Reginaldo Viera (13-3) vs. Dileno Lopes (19-1)
This is another fight with Brazilians getting a home nation bump to the main card over much more established names. Both Viera and Lopes are very good on the ground, with high submission finishing rates.
Lopes, however, may have a striking power edge, here. For that reason, we'll go with Dileno.
Prediction: Lopes by decision.
Stefan Struve (29-7) vs. Antonio Rodrigo "Minotauro" Nogueira (34-9-1, 1NC)
Nogueira is one of the best MMA fighters in history, and a multi-time heavyweight champion. The 40-year-old has sustained as much or more brain damage than any other active high-level UFC fighter, however, and has not won a fight in nearly three years.
In fact, going back to late 2008, Nogueira has lost five times while only winning three bouts. When he's lost, he's lost badly - usually by ugly knockout or brutal submission.
When a fighter so great and so adept at pulling off comebacks sees their performance fall steeply, it is time to start worrying. When said fighter continues to fight on for nearly a decade after that's happened, it's well beyond time to be worried for their health.
Stefan Struve has had his own health problems, of a different sort. But, he's nearly 15 years younger than Nogueira, probably about 30 pounds heavier, and will have about an 8-inch height advantage.
In another decade, we'd pick Nogueira to win. Now, however, Struve has to be considered the favorite.
Whoever wins, hopefully Nogueira doesn't eat too many shots up to that point.
Prediction: Struve by decision.
Antonio Silva (18-7, 1NC) vs. Soa Palelei (22-4)
These two big men both hit hard. Silva also has excellent Brazilian Jiu-Jitsu, however.
If "Pezao" can get inside on Palelei and get him to the ground, repeatedly, that would be his best route to victory. Palelei has improving takedown defense but may struggle off his back against a solid black belt like Silva.
Prediction: Silva by decision.
Claudia Gadelha (12-1) vs. Jessica Aguilar (19-4)
Gadelha lost narrowly (she would say controversially) to current strawweight champion Joanna Jedrzejczyk recently. Aguilar owns a win over former champion Carla Esparza.
As such, whoever wins this fight is likely in line for a world title shot. Aguilar is a bit more methodical and slower than Gadelha -- especially when it comes to striking -- but she is savvy and stifling, at her best.
Gadelha is a real hard puncher, and will have to be ready to go three rounds at her typical break-neck pace in order to ensure a win.
Prediction: Gadelha by decision.
Demian Maia (20-6) vs. Neil Magny (15-4)
Magny is one of the hottest fighters at welterweight, right now. If he can beat Maia, in Brazil, he should be considered ready for anyone in the top five.
Magny will have a hell of a time keeping things on the feet, but he needs to try. Maia is simply too good a wrestler and ground grappler to mess around, there.
Prediction: Maia by decision.
Rafael Cavalcante (12-5, 1NC) vs. Patrick Cummins (7-2)
If he weren't fighting so soon after a brutal KO in April, Cummins would be a good pick, here. He still may be, with his great wrestling.
However, we'll go with the fresher Cavalcante by decision. Cummins is going to go out faster and faster each time if he continues to not rest enough after bad losses.
Prediction: Cavalcante by decision.
Warlley Alves (9-0) vs. Nordine Taleb (10-2)
Both men are comfortable in scraps but we like Taleb's striking skills, here.
Prediction: Taleb by decision.
Iuri Alcantara (31-6, 1NC) vs. Leandro Issa (13-4)
Issa is a solid bantamweight, but Alcantara is one of the world's best and is too experienced.
Prediction: Alcantara by decision.
Vitor Miranda (11-4) vs. Clint Hester (11-4)
Miranda is cagey, but Hester has the power advantage with takedowns and strikes.
Prediction: Hester by decision.
Hugo Viana (8-3) vs. Guido Cannetti (6-3)
Cannetti is a better striker but Viana may have the advantage on the ground.
Prediction: Viana by decision.