Uehara's unlikely rise to BoSox closer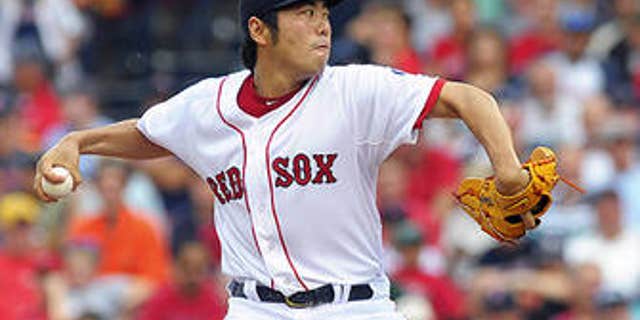 NEW YORK – How the heck is Koji Uehara doing this? And why was he the Boston Red Sox's fourth choice to close this season when no reliever in baseball is hotter?
I've got a whole bunch of crazy numbers for you, but let's start with these:
Entering Thursday night, Uehara's average fastball speed of 89.2 mph was the second-slowest among closers with at least 10 saves, according to STATS LLC.
Yet Uehara's swing-and-miss rate of 36.3 percent ranked third, behind only Kansas City's Greg Holland and -- just barely -- Cincinnati's 100 mph man, Aroldis Chapman.
Huh?
"Throw the radar gun out. He has two above-average pitches, and they're both swing-and miss," Red Sox manager John Farrell said, referring to Uehara's fastball and splitter.
He's deceptive. He's efficient. He's -- ah, you've heard it all before.
Except for this ...
"Honestly, I sit there and think the guy has got like a sixth sense," Farrell said. "He has such a feel for what the hitter is looking for and if they're going to swing. It's uncanny. The pitch he makes is always the right one."
Sox left-hander Craig Breslow said, only half-joking, that Uehara senses which pitch the hitter is expecting even before the hitter senses it.
Sox catcher David Ross took it a step further.
"We say he's a Ninja," Ross said. "He just knows ."
* * *
The Sox named Uehara their closer in late June, after injuries to Andrew Bailey and Joel Hanrahan and a plan to close with Junichi Tazawa that never quite came to fruition.
Uehara, since taking over the role, has pitched 33 1/3 innings. Struck out 45. Walked two. Produced a 0.27 ERA. And averaged only 13.0 pitches per inning.
The major-league leader in pitches per inning (among pitchers with enough innings to qualify for the ERA title) is the Reds' Bronson Arroyo, averaging 14.1. The major-league average is 16.3.
On Thursday night, he earned his 18th save in 21 opportunities, extending his scoreless-innings streak to 26 and his consecutive-batters-retired streak to 24 in a 9-8, 10-inning victory over the Yankees. The teams continue their series this weekend (Saturday, MLB on FOX, 1:05 p.m. ET).
To think, the Red Sox considered Uehara something of a luxury when they signed him last Dec. 6 to a one-year, $4.25 million free-agent contract.
At the time, their potential right-handed relievers included Tazawa, Bailey, Daniel Bard, Alfredo Aceves and Mark Melancon, who later was traded for Hanrahan.
"It wasn't necessarily an area that we were looking to add to," Sox general manager Ben Cherington said. "But we liked him so much we decided to pursue him anyway."
Uehara's agent, Mark Pieper, said that "plenty" of teams inquired about his client. The Baltimore Orioles, Uehara's original major-league club, were among them. But as Pieper put it, "Once Boston engaged, they were committed to getting something done."
The Red Sox coveted Uehara's strike-throwing ability, knowing their bullpen might include a number of relievers -- Bard, lefties Andrew Miller and Franklin Morales -- who at times lacked control.
Good thing the Sox got Uehara, too, considering the way their season evolved.
Uehara, 38, advanced from setup man to impromptu closer to perhaps the team's most indispensable player.
And if you think this is a fluke, think again.
Uehara was on a similar roll in 2011 before the Orioles traded him to Texas for right-hander Tommy Hunter and -- ahem -- first baseman Chris Davis.
In five major-league seasons, Uehara has a 2.49 ERA in 275 innings, with a strikeout-to-walk ratio of nearly 10-to-1.
* * *
Two Japanese pitchers were available as free agents after the 2008 season. One was right-hander Kenshin Kawakami, who signed a three-year, $22 million contract with Atlanta. The other was Uehara, who reached a two-year, $10 million agreement with Baltimore.
Andy MacPhail, then the Orioles' president of baseball operations, credited John Stockstill, then the team's director of international scouting, for recommending Uehara.
"John liked Uehara better," MacPhail said. "We thought he might end up in the bullpen. But a condition of signing him was that he came in as a starter.
"It was his condition. It was his agent's condition. And it was my first year with the Orioles. We could not beg, borrow or steal pitchers through free agency. They simply were not coming. We had to look elsewhere."
Uehara made 276 appearances in 10 seasons with Japan's Yomiuri Giants, 205 as a starter. His initial contract with the Orioles included performance bonuses and escalators based on innings and starts. He made 12 starts in '09 before season-ending elbow tendinitis ended the experiment.
He became a reliever the following year.
Buck Showalter, who became the Orioles' manager on Aug. 2, 2010, said that Uehara is comparable to Mariano Rivera, whom Showalter managed with the Yankees in 1995.
"He reminds me so much of Mo with the way he ambushes hitters," Showalter said.
And the way he finishes games.
"It's a sharp knife, not a slow death," Showalter said. "It's not very stressful, and I'm talking about for the entire club, not just for the manager."
* * *
How good is Uehara's split-fingered fastball?
Entering Thursday night, his swing-and-miss rate on the pitch was 43.4 percent, the second-highest in the majors after the Chicago Cubs' Jeff Samardzija, who was at 48.4 percent (minimum 200 splitters).
Red Sox scout Eddie Bane, who as the Los Angeles Angels' scouting director in 2006 tried to sign Uehara, said Uehara's splitter rates at the top of the 20-to-80 scouting scale.
"You remember Sutter -- that was a revolutionary pitch," Bane said, referring to Bruce Sutter, the Hall of Fame reliever who popularized the splitter. "This is not that. But it's an '80' pitch."
Ross, the Red Sox's backup catcher, said that most pitchers throw their splitter down the middle and allow the pitch's natural diving action to take over.
Uehara, on the other hand, spots his pitch to both sides of the plate and constantly keeps hitters off-balance with his mix.
"Let's say he faces a power-hitting lefty," Farrell said. "He'll throw a fastball up and away, (as if to say), 'Take a look at that.' Then here comes maybe a couple of splits. And as he gets them looking for that, here comes his 88 right by the guy."
So, what can possibly go wrong?
Uh, don't ask.
"With Koji, it's not a question of ability, just durability," said MacPhail, the Orioles' former executive.
Uehara likely will exceed his career-high of 65 innings, set in 2011 with the Orioles and Texas Rangers. Not bad, considering that he went on the disabled list with elbow trouble in both 2009 and '10, his first two seasons in the majors.
Cherington said that the Sox investigated signing Uehara as a free agent after 2010, but had "concerns" about his elbow. The team was more comfortable two years later after Uehara had established more of a track record, but nonetheless handles him with care.
Uehara has appeared in three consecutive games only once this season. He has pitched in back-to-back games only once since the All-Star break. And Farrell said that Uehara has warmed up only three times this season without getting into a game.
"In talking to him, he feels like he has had elbow issues in the past when he has not pitched for a stretch, and then pitches," Farrell said. "He feels like (pitching regularly) keeps his arm in shape."
So far, so good -- Farrell even has coaxed four-out saves out of Uehara twice in the past two weeks. Uehara threw just 15 pitches in the first of those, appearances just 17 in the second.
His efficiency helps: Opposing batters are batting just .134 with a .416 OPS against Uehara this season. The numbers against Rivera, who has pitched 10 fewer innings, are .246 and .643.
"People ask all the time if we're worried about him holding up," Cherington said. "With any pitcher, there is risk. But he told us that he feels better than he has in a long time. He wants to play long-toss every day, out to 200 feet. Guys don't do that if they're not feeling good."
Cherington traded outfielder Josh Reddick and two minor-leaguers for Bailey and since-departed outfielder Ryan Sweeney. He traded Melancon and three minor-leaguers for Hanrahan and infielder Brock Holt.
Little did the GM know, his ultimate closer would be a guy he signed for $4.25 million -- and will retain next season now that Uehara has made 55 appearances to trigger his $4.25 million vesting option.
The lesson: Don't spend big money or give up talent trying to find a closer.
Sometimes, he's behind Door No. 4.