UEFA President Platini wants European sports police force, laws to punish match-fixers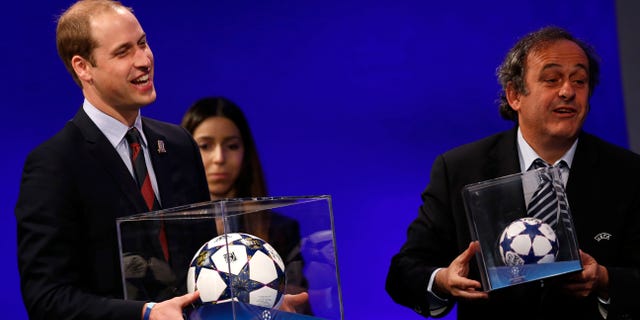 LONDON – UEFA President Michel Platini wants to establish a European sports police force to address betting, corruption, match-fixing, doping and hooliganism.
Speaking to the UEFA Congress in London on Friday, Platini said his previous calls have been ignored by governments for six years.
"Given the absence of any reaction and the lack of awareness on the part of politicians, I renew that call today," Platini said. "And if, by misfortune, this call again falls on deaf ears, I ask that each country, at the very least, adopts specific provisions of national legislation addressing the issue of match-fixing, in order to finally have the legal tools necessary to rigorously punish these cheats."
Only 10 nations have such provisions, Platini said.
Europol, the European Union police liaison agency, said in February that it reviewed 680 suspicious recent cases of match-fixing.
Platini said manipulating matches "strikes at the soul of our sport, the very essence of the game."
"We are not dealing with petty criminals who are looking to make ends meet," he added. "It would seem that we are, in some instances, dealing with mafia-type organizations that are using certain matches to launder money, tarnishing our sport in the process."
European soccer leaders are gathering in London ahead of the Champions League final on Saturday between Bayern Munich and Borussia Dortmund at Wembley Stadium.
The congress was opened by Prince William, the second in line to the British throne who is president of the English Football Association.
"My money is on Bayern Munich 2-0," the Duke of Cambridge quipped.
During Platini's speech, the "worrying financial situation at certain clubs in Europe" was addressed as the UEFA president underlined the need for them to abide by Financial Fair Play regulations.
Platini highlighted the failure of clubs to pay their tax debts, which is a condition of getting a license from their national association to play in UEFA competitions.
UEFA has barred Malaga from European competition next season for failing to pay player wages and taxes on time.
The Spanish government last month said clubs in the country collectively owed $866 million in taxes.
Urging European clubs to operate in a more "responsible manner," Platini said it's "about making clubs pay the money they owe to tax authorities, other clubs and all of their employees, both players and coaches."
"In order to prevent the current system from collapsing and stop the bubble from bursting, UEFA had a duty to step in, and it will be up to independent bodies to punish the few clubs that have not realized that football can no longer live above the rules," Platini added.
UEFA General Secretary Gianni Infanti also confirmed plans to enhance the status of the Europa League. Starting in 2015, the winner of the Europa League will earn a place in the next season's Champions League.