UConn says Calhoun's surgery a success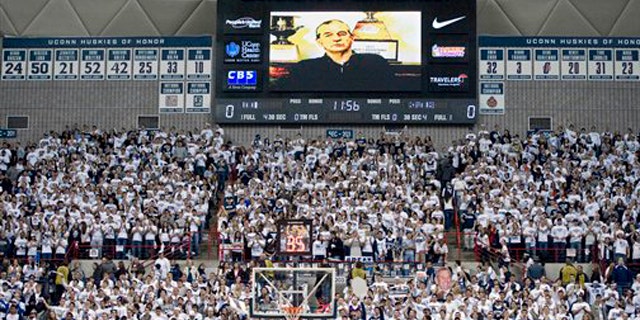 NEWYou can now listen to Fox News articles!
STORRS, Conn. – University of Connecticut men's basketball coach Jim Calhoun underwent what the school says was successful surgery to address the spinal condition that has forced him to miss the Huskies' past seven games.
The two-hour surgery was performed Monday morning at Beth Israel Medical Center in New York and involved removing a "large extruded disk fragment" that had been pressing on a spinal nerve, the school said. The surgeons then decompressed the area around the nerve.
Calhoun had been diagnosed with spinal stenosis, a narrowing of the spine, normally associated with aging and sometimes with arthritis.
"I am very fortunate to have been treated by three of the very best surgeons," Calhoun said in a statement. "My heartfelt thanks to them and the entire Beth Israel community, who have made every effort to ensure my stay is as comfortable as possible. Lastly, thank you to the people across Connecticut and beyond who have reached out to offer their support.
"It means a great deal."
The school says Calhoun's coaching status will be monitored on a day-to-day basis, and there is no timetable set for his return. He is expected to be released from the hospital on Tuesday and his recovery will be monitored by his personal physician, the school said.
UConn (17-11, 7-9 Big East) has gone 3-4 during Calhoun's medical leave and 5-5 without its coach this season. He missed three earlier Big East games serving an NCAA suspension. The team will play without him again at Providence on Tuesday night.
Calhoun told The Associated Press Saturday that he hopes to be back in time to coach the March 3 season finale against Pittsburgh. The Huskies may have to win both games and perhaps another in the Big East tournament to secure an at-large bid to defend their national championship in the NCAA tournament.
Calhoun turns 70 in May and is a three-time cancer survivor. There has been talk after the past several seasons of his possible retirement, but center Alex Oriakhi said he doesn't believe this latest health setback will mean the end of the coach's career.
"It takes a lot to bring Coach Calhoun down," he said. "I definitely think this is really nothing for him. That's a man who fell off his bike, broke his ribs and kept riding. I definitely think you're going to see him back soon. This is just a little bump in the road, but he'll get through it."
Former star Rudy Gay, now a forward with the Memphis Grizzlies, echoed those sentiments.
"He's not going to be finished until he says he's finished," Gay said Saturday night. "His back or anything else is not going to stop him from coaching.
"It's going to be his decision."