UCLA's Jim Mora calls Jared Goff a 'pretty darn special' QB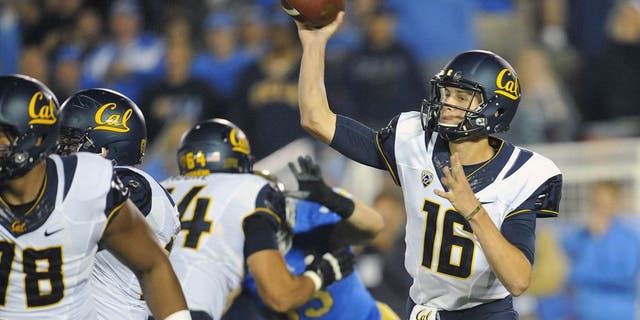 October 12, 2013; Pasadena, CA, USA; California Golden Bears quarterback Jared Goff (16) throws a pass against the UCLA Bruins during the first half at the Rose Bowl. Mandatory Credit: Gary A. Vasquez-USA TODAY Sports Gary A. Vasquez USA Today
Jared Goff's performance on the field this season has drawn rave reviews from opposing coaches all year. Add UCLA's Jim Mora to the list of coaches who think Cal's QB is something special.
"Goff is pretty darn special," Mora said, according to the San Jose Mercury News. "He has that mindset that all great quarterbacks have in that they're able to put a bad play behind them and keep going.
"As an observer of football, it's been fun to watch him develop. As somebody who has to play him, it's not that fun."
Goff is coming off perhaps the worst game of his career as he threw five interceptions against Utah in the Bears' 30-24 loss in Salt Lake City. However, offensive coordinator Tony Franklin had some words of encouragement for Goff.
"I told him (Peyton) Manning threw six picks in a game. Brett Favre threw six picks in a game," Franklin said. "The shame of it was it was a game we could have won if he has a good ballgame. But that's part of it. He's got to overcome it, and he will."
(h/t San Jose Mercury News)