U.S. Soccer president says 2026 World Cup bid undecided, haven't talked Mexico joint bid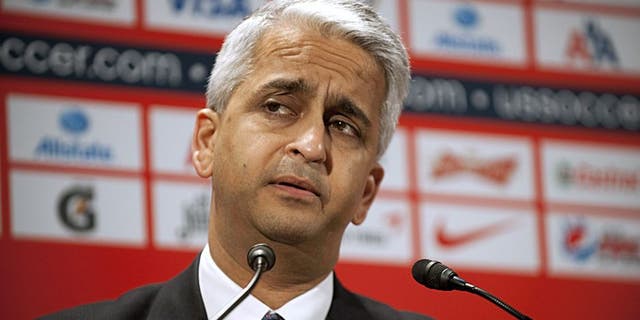 The United States Soccer Federation has not had talks with Mexico about a joint bid for the 2026 World Cup and has not committed to bidding on the tournament at all, federation president Sunil Gulati told the LA Times.
"We haven't made a decision about the [2026] World Cup. Until we know what the rules are of the bid process -- which won't be until October at the earliest -- we're not going to be making a decision," he told the newspaper. "And we certainly haven't had any formal discussions with the Mexican federation at this point."
After the FIFA Congress last week, USSF board member John Motta told reporters that the U.S. would definitely bid on the 2026 World Cup and that they had already chatted with Mexico about sharing the hosting responsibilities.
Motta's comments were surprising because Gulati has made it clear that the U.S. will not bid on a World Cup until the bidding process was made more fair and would eliminate any bribery. The U.S. was the favorite to host the 2022 World Cup, but lost out to Qatar in a process that has since been plagued by allegations of corruption. Gulati has made it clear that the U.S. will not enter another similar process.
That the U.S. would consider bidding for a World Cup with Mexico is bizarre too. While new FIFA president Gianni Infantino is a fan of joint bids, they are mainly to allow smaller countries that cannot host on their own to partner and bring the World Cup to new nations. That's not the case with the U.S. or Mexico, both of whom have the size, money and infrastructure to host a World Cup on their own -- and have done so already independently. In fact, the Americans' biggest challenge would be deciding which cities to cut out and leave out of a bid.
Mexico has already made it clear that they intend to bid on the 2026 World Cup. If the U.S. decides to bid, they will almost certainly become the favorites to win the hosting rights, but whether they jump in is still to be determined. FIFA set out a timeline for the 2026 bid process and are currently evaluating the requirements from bidders as well as the rules that will govern the bid. When that is done, the U.S. will make their decision on whether to enter the race.
MORE FROM FOX SOCCER