U.S. Soccer president Gulati explains absence from Senate subcommittee hearing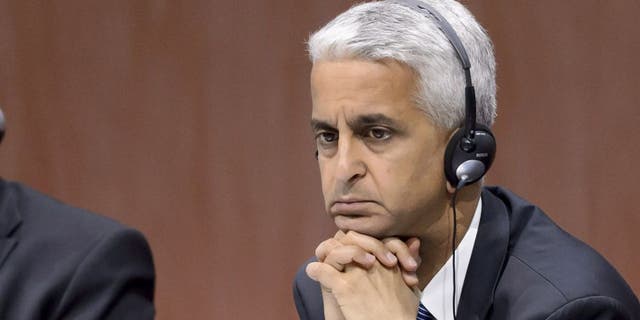 ST. LOUIS --
U.S. Soccer president Sunil Gulati cited the initial focus of hearing as the primary reason why he did not testify before a U.S. Senate subcommittee in July.
Gulati did not appear before a panel convened to investigate the governance and integrity at FIFA this summer. U.S. Soccer CEO Dan Flynn instead fielded several hours of pointed questioning about what U.S. Soccer executives knew about corruption at CONCACAF and FIFA prior to the indictments of 14 international soccer executives by the U.S. Justice Department in May and why they did not do more to address or stop it.

The decision to send Flynn instead of Gulati drew withering criticism in the wake of the hearing, including several pointed inquiries from Sen. Richard Blumenthal (D -- Conn.) seeking an explanation.
Gulati said U.S. Soccer discussed the potential topics prior to the hearing and selected Flynn to testify given his expertise in certain areas.
"When we were first asked, it was a pretty broad range of topics that were suggested," Gulati said during a roundtable ahead of the World Cup qualifier against St. Vincent and the Grenadines. "Everything from the FIFA issues to concussion issues to gender issues to field issues human rights issues and so on. Dan [Flynn] is as versed in those [issues] -- if not better in some of those -- than I am. It's not as if we sent our summer intern. We sent the CEO of the organization.
"And, frankly, we didn't know the other participants in the panel until a couple of days before or, in one case, one day before," Gulati continued. "Once we saw the other constituents and the other members of the panel, it was clear it would be about that. That wasn't the focus early on. That was the primary reason. It became a bigger issue once Andrew Jennings and Michael Hershman were there."
Gulati declined comment on whether he has spoken to American or Swiss investigators in regards to their ongoing inquiries, but he said he did not receive specific legal advice not to testify before the Senate subcommittee.
"No," Gulati said. "We talked about it with counsel. We came to a decision as to what made the most sense for the organization."
The decision also spared Gulati awkward questions about his relationship with former CONCACAF general secretary Chuck Blazer and what he knew or should have known about Blazer's activities.
Blazer pled guilty to wire fraud, racketeering, income tax evasion and money laundering and served as a cooperating witness in the U.S. Department of Justice investigation over the past few years.
"Chuck was a good friend for a long time," Gulati said. "He had a lifestyle that was different than mine, but he was involved in financial markets, separate and apart from what he did in the soccer world. I don't know what else I can tell you other than that."

In hindsight, Gulati said U.S. Soccer might have taken a different approach given the way those hearings unfolded, but he backed the process used in the buildup to that hearing.
"Look, might we do some things differently? Perhaps," Gulati said. "But that was the rationale and I think it made sense."
Gulati also said U.S. Soccer plans to meet with all candidates before deciding who to back in the upcoming FIFA presidential election.
The FIFA ad-hoc electoral committee approved five candidates for the Feb. 26 election after completing its integrity checks on Nov. 9.
U.S. Soccer nominated Jordanian Football Federation president Prince Ali to challenge incumbent president Sepp Blatter in the previous election on May 29. Gulati expressed his admiration for Prince Ali, but he said U.S. Soccer planned to meet with every eligible candidate before deciding how to cast its vote in this election.
"At this point, we haven't made any public declaration of what we're going to do," Gulati said. "As we did the last time, we will meet with all of the candidates. The last go-around, we nominated Prince Ali, but we met with all of the candidates. And we'll do that again. I've met with some of them already. Some of them I've known going into that process."