U.S. Soccer National Team Kicks Off World Cup Training In Brazil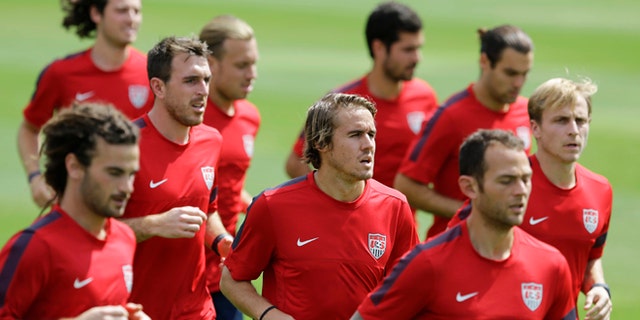 São Paulo (AP) – Jurgen Klinsmann is giving American players an early chance to get to know Brazil ahead of the World Cup.
The U.S. began a 12-day training camp Tuesday in São Paulo, where the team will be based during the tournament in June. The Americans, with a roster of 26 players mostly from Major League Soccer, are the first of the 32 World Cup nations to arrive in Brazil this year in an effort to get acquainted to the host country.
The U.S. coach calls the dry run for the World Cup a great chance to know more about what to expect.
"This is a wonderful opportunity for us," Klinsmann said after the team's first practice session at the training center of São Paulo Futebol Clube.
"It gives us the opportunity to be already at the facility we are going to stay in the World Cup, to get to know the hotel we are going to stay at and to get a feeling for the country," Klinsmann said. "What we want to get out of it is that the players experience all those things. In the technical side there is a lot that we can achieve, on the organizational, logistical side there is a lot we can experience."
Klinsmann even wants his staff to start learning Portuguese in order to know some basic words by the time the team returns.
The Americans will stay in Brazil until Jan. 25 before heading home for an exhibition against South Korea on Feb. 1 at Carson, Calif., where it began its 11th annual January training camp last week.
Klinsmann is using mostly U.S.-based players, including 10 who helped the Americans qualify for their seventh straight World Cup. Among them are midfielder Graham Zusi, defender Omar Gonzalez and forward Eddie Johnson. Star midfielder Landon Donovan also is in Brazil, but new Toronto FC signing Michael Bradley is among the absences.
"We can bring more players because the European-based players are not coming in, obviously," Klinsmann said. "So it gives more spots to young players who want to show how good they are. Maybe they can still jump on the train for the World Cup. They all have a point to prove. They all want to prove to me that they deserve to be back during the World Cup."
Klinsmann originally intended to bring only 23 players to São Paulo but after watching last week's training was pleased and decided not to trim his roster.
He never considered moving the team's World Cup training base from São Paulo after last month's draw gave the U.S. first-round matches in the northern cities of Manaus, Natal and Recife.
"We have probably the worst travel schedule of all teams, but we will take it as a challenge," he said.
The U.S. opens against Ghana on June 16, plays Cristiano Ronaldo's Portugal six days later and closes the group stage against Germany on June 26. Klinsmann said the Americans may stay up north between their second and third matches rather than return to São Paulo, which would cut a group-stage itinerary currently at about 9,000 miles.
Follow us on twitter.com/foxnewslatino
Like us at facebook.com/foxnewslatino