U.S. men beat Ecuador 1-0 in exhibition soccer match ahead of Copa America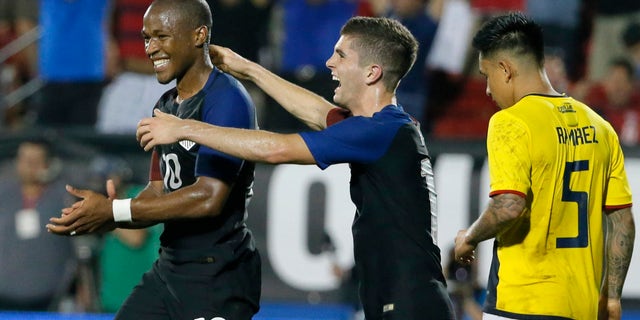 FRISCO, Texas (AP) – Darlington Nagbe's first international goal was a lift for the United States in its next-to-last tuneup before hosting next month's Copa America.
Nagbe scored on a 90th-minute volley, and the U.S. beat Ecuador 1-0 in an exhibition Wednesday night for just its third win in 21 games against South American teams over the past nine years. The U.S. had 14 losses and four draws in that span.
Born in Liberia, Nagbe was making his fifth international appearance following his debut in November, made shortly after he became a U.S. citizen.
"It gives you a lot of confidence," Nagbe said. "To come out here and have a little bit of the ball and create some chances and get a goal and get the win, it's good."
The No. 29 Americans face Bolivia on Saturday in an exhibition at Kansas City, Kansas, then open the tournament against fourth-ranked Colombia on June 3 at Santa Clara, California.
After a listless first half, the U.S. attack improved with the entry of Nagbe and Bobby Wood after the break and of 17-year-old Christian Pulisic in the 63rd minute.
The goal developed after Alejandro Bedoya dribbled down the right flank and cut the ball back to DeAndre Yedlin. He beat a defender and crossed into the penalty area, where Juan Carlos Paredes at the 6-yard box tried to clear with a header.
Wood outjumped Robert Arboleda not far from the penalty spot and headed a pass to Nagbe. The 25-year-old midfielder chested the ball and, while falling, volleyed a right-footed shot from about 8 yards past Esteban Dreer, who replaced injured starter Alexander Dominguez when the second half began.
"It says that Darlington understands the moment in time," said U.S. coach Jurgen Klinsmann said. "He knows that he has to push the envelope. He knows that he's a couple of years late for us because he couldn't play before that. So he's not a youngster anymore."
Dempsey, who grew up in the East Texas town of Nacogdoches but trained in the Dallas area as a youth, didn't have many other chances on the same field where he scored twice in a CONCACAF Gold Cup-opening win over Honduras last July.
American goalkeeper Brad Guzan, starting ahead of Tim Howard, was rarely tested by Ecuador, which was missing Antonio Valencia following last weekend's FA Cup final and left back Walter Ayovi, who is with Monterrey for Liga MX playoff game at Pachuca on Thursday.
"They didn't really create a whole lot, and I think that was a testament to the work of the guys in front of me," Guzan said. "Tonight was a taste of what we're going to probably experience in the next couple of weeks. It was good not only to get a clean sheet, but I think it was really important in terms of getting a result."
After Sunday's 3-1 win at Puerto Rico, the U.S. starting lineup turned over with the addition of seven players who had been with their Major League Soccer teams last weekend: central defender Steve Birnbaum, midfielders Kyle Beckerman, Jermaine Jones, Michael Bradley, and Dempsey flanked by Zusi and Zardes in the attack.
In addition, Fabian Johnson played the entire match at left back after recovering from a groin injury, his first game action since April 24 with Borussia Moenchengladbach in the Bundesliga.
"I thought defensively was a very, very good game," Klinsmann said. "It just helps us, the learning curve in a short amount of time with these two games to give the guys a feeling of what they can expect in the Copa America."
With Geoff Cameron nursing an injured groin sustained in Stoke's season finale on May 15, Birnbaum was paired in the center of the defense with John Brooks.
Klinsmann coached against Ecuador's Gustavo Quinteros, 22 years after the former German star played in the World Cup against Quinteros, who was born in Argentina and represented Bolivia.
Ecuador opens Copa America against Brazil on June 4 at Pasadena, California.
Like us on Facebook
Follow us on Twitter & Instagram